OKLAHOMA CITY — Darin Erstad picked his moment, then lobbed a joke to Alex Henwood.
What, you can stay in the game with a separated shoulder but not with some missing teeth?
The senior second baseman left Friday's NCAA regional game in the bottom of the first inning when he was struck in the face by a ball. While covering first base on a bunt play, he lost track of the throw when the runner's helmet fell across his sight line.
The Nebraska coach said Henwood was taken to a dentist and had one tooth reconstructed. Another was lost and left a "big, gaping hole."
Henwood stayed in during last weekend's Big Ten tournament semifinal after separating his shoulder and popping it back in.
Sign up for Big Red Today news alerts
Get a daily Husker news roundup, recruiting updates and breaking news in your inbox.
"I wouldn't be surprised if he wants to try and play (Saturday)," Erstad said. "I think they said he might be able to play."
The injury isn't unlike what happened to senior infielder Angelo Altavilla late last season, when a high foul popup blew back into play and struck him in the mouth.
"I don't know if (his) was as bad as mine," Altavilla said. "But yeah, he was still in a horrible situation. He's a fighter and he's not going to want to go home or lay over."
The injury prompted outfielder Mojo Hagge to enter the game in left as Jaxon Hallmark filled in at second. Hagge, who usually sits against lefties, got a bunt single and walk.
"It was a little bit sooner than I expected (to enter) for this game," Hagge said. "But as soon as (Erstad) told me to grab my glove and go out to left field, I was ready to go and just go out there and compete."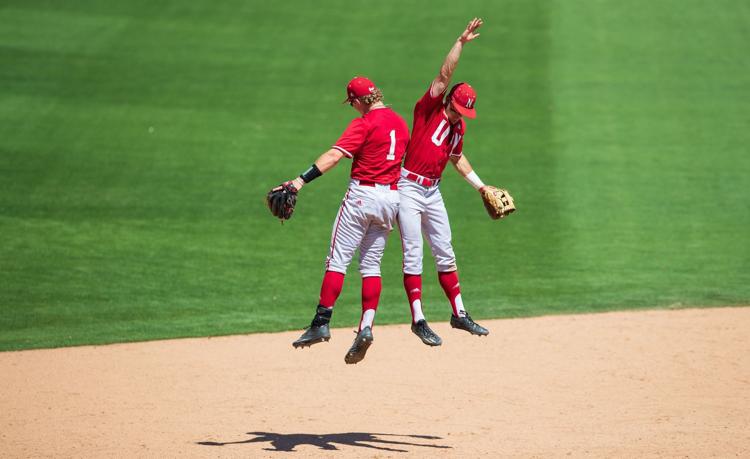 Waldron set for Saturday
Erstad mulled the decision during the seven-hour bus ride to Oklahoma City. Ultimately, he thought starting Nate Fisher was the way to go.
Sure, the senior left-hander from Yutan had been fighting an illness — "I don't know, the sniffles or something," Erstad deadpanned — but his 2.88 ERA was still the best among Husker starters. He was rested and able to handle the moment.
"All those things kind of played into it," Erstad said. "It just made sense."
And while UConn pelted Fisher for a career-worst 13 hits, three double plays helped limit the damage to five earned runs in Nebraska's 8-5 win.
That leaves regular Friday ace Matt Waldron to go Saturday. The Omaha Westside grad threw 121 pitches last Thursday, then 59 in Sunday's Big Ten tourney title game.
Said Erstad: "We just felt that Matt would be a better matchup for somebody else."
OSU pitching possibilities
Both top-seeded Oklahoma State and fourth-seeded Harvard threw their top pitchers Friday in OSU's 2-0 victory. What the Cowboys do Saturday is less obvious.
Ace Jensen Elliott is the only Cowboy with more than 63 innings pitched this spring. The most likely Saturday choice appears to be sophomore left-hander Parker Scott (3-1, 1.45 ERA in 37 1⁄3 and six starts). Redshirt freshman righty Brett Standlee (3-1, 4.14 in 63 and 10 starts) is another possibility.
Oklahoma City roundup
No. 1 Oklahoma State 2, No. 4 Harvard 0: Jensen Elliott and Peyton Battenfield combined on a four-hitter in the Cowboys' seventh shutout of the season. Harvard never advanced a runner past second base.
Saturday: UConn (36-24) vs. Harvard (27-14), 1 p.m. Nebraska (32-22) vs. Oklahoma State (36-18), 7 p.m.
Sunday: Game 3 winner vs. Game 4 loser, noon. Championship: 5 p.m.
Second championship, if needed, 6 p.m. Monday
Photos: Nebraska faces UConn in NCAA Regional game