Greg McDermott isn't one to spend too much time analyzing a preseason coaches poll that slotted his team seventh in the Big East, particularly because this conference has been so congested in the middle.
Four squads tied for third in the league last season, and four others finished within two games of third. Three teams tied for third two years ago — two others were one game back. And in 2016-17, there was a four-way tie for third place.
How do you go about projecting the league standings when so many squads have been so evenly matched?
To McDermott, it's a guessing game.
So as the 10th-year coach made his rounds meeting with reporters during Creighton media day Wednesday, he indicated that he doesn't plan to make a big deal of what outsiders think about the Bluejays right now. The finish line is five months away.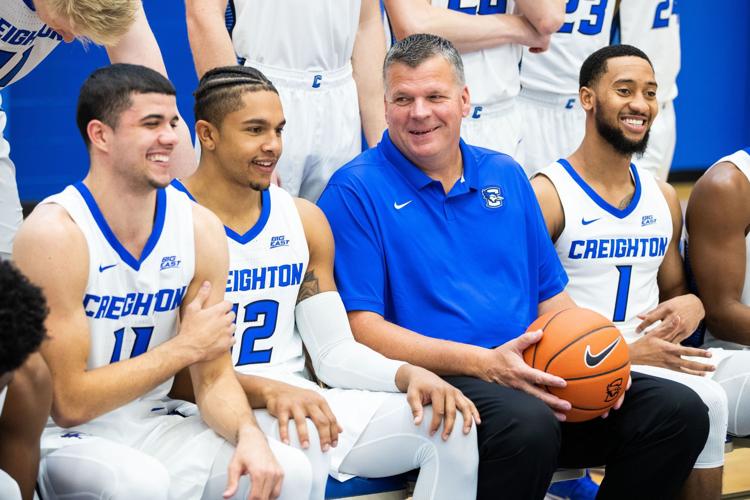 "It's a preseason prediction," he said. "We've been picked a little low just about every year we've had it. And that's OK. I'm more worried about what takes place at the end of the season."
Or what is going on now in preseason camp — like how his players are handling their responsibilities in ball screen defense, or how they're spacing the floor offensively, or how well they're communicating on the court.
McDermott seemed encouraged when asked about the team's progress up to this point.
But it's difficult for him to make a full assessment without at least mentioning the status of Jacob Epperson — because working the sophomore center into the mix, to complement big men Kelvin Jones and Christian Bishop, could have such a dynamic impact on the offense.
"I like the way that combination of those three could give us some different looks," McDermott said. "Because they can bring some different things to the table."
But Bishop is still growing after his rookie season last year. And Jones, a graduate transfer, still has plenty to learn. The coaches hope to have Epperson available when the season begins Nov. 5, but he may be limited throughout nonconference play.
So the Jays are doing their best to prepare them and everyone else.
"We're getting there," McDermott said.
Here's more on Creighton's two basketball teams:
Men's basketball
2018: 20-15, 9-9 Big East
2018 NCAA tournament: none
Who's back: Six of the top seven scorers, including preseason All-Big East first-teamer Ty-Shon Alexander
Who's gone: All-Big East honorable mention Martin Krampelj and reserves Kaleb Joseph and Connor Cashaw
Who's new: Junior guard Denzel Mahoney (eligible in December), freshman guard Shereef Mitchell, senior center Kelvin Jones
Prediction: Picked to finish seventh in the Big East preseason coaches poll
Key question: The return of nearly the entire core from last year certainly creates the potential for the program to take a step forward. But there's a burden, too: The same deficiencies that haunted the Jays last season could resurface if not properly addressed. So how much will Creighton improve?
Preseason schedule: Closed scrimmage at Missouri (Oct. 26); Exhibition game vs. McKendree (Nov. 1)
Women's basketball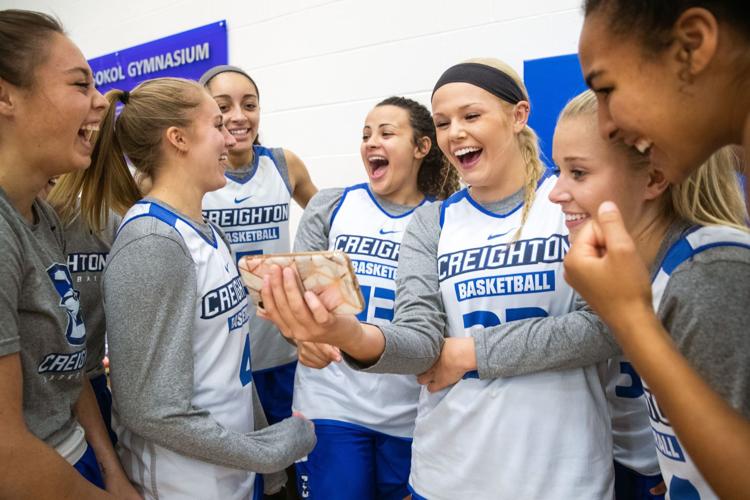 2018: 15-16, 8-10 Big East
2018 NCAA tournament: none
Who's back: Preseason All-Big East honoree Jaylyn Agnew, and guards Tatum Rembao, Temi Carda and Olivia Elger
Who's gone: All-Big East second-teamer Audrey Faber and starting point guard Jade Owens
Who's new: Freshman guard Dee Dee Pryor, freshman forward Carly Bachelor and freshman forward Mykel Parham
Prediction: Picked to finish fourth in the Big East preseason coaches poll
Key question: Opposing teams often built their defensive schemes around Faber, and yet the versatile scorer still found a way to get buckets. Faber led the team in scoring each of the past four seasons. But she's graduated. So how do the Jays attack now, and who steps up?
Preseason schedule: Exhibition game vs. Concordia (Tuesday); Closed scrimmage vs. Iowa (Oct. 25)
Photos: History of Creighton men's basketball in the NCAA tournament
Creighton has made the NCAA tournament 21 times in program history. Here are some of the best photos taken in that time.