Creighton opens its 10th season under Greg McDermott this week, and it's already a season like no other.
There's an optimism with CU returning perhaps the best backcourt in the McDermott era — and maybe the best since the days of Ryan Sears and Ben Walker.
There's a restlessness in the fan base, which hasn't seen the Jays win an NCAA tournament game in six years.
ESPN reported in the summer that CU was one of several programs currently under NCAA investigation. Creighton Athletic Director Bruce Rasmussen confirmed that to me last week and added that he expects the NCAA to wrap up the investigation soon.
"We think we'll hear from the NCAA in the next month or two in terms of the results of the investigation," Rasmussen said.
That may be more of a hope than an expectation, as nobody in the college basketball world knows what to expect from the NCAA — other than it could drop the hammer on a lot of schools.
There's no good time to be under NCAA investigation, but this might be a particularly bad time.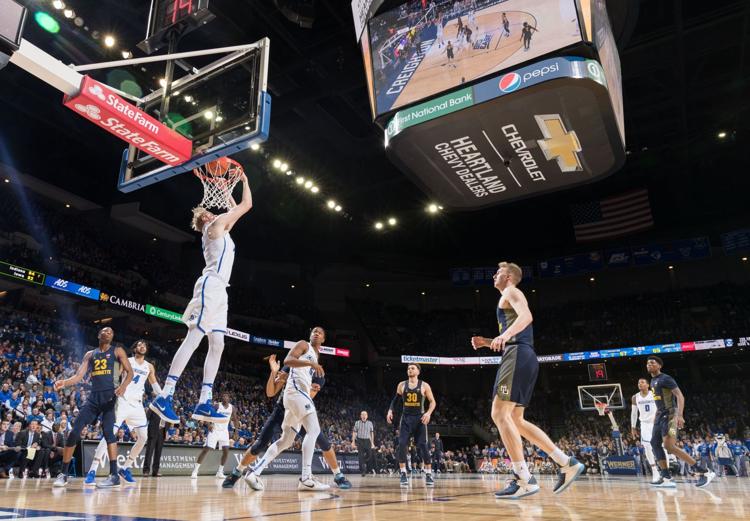 The NCAA investigation into several college basketball programs comes on the heels of an extensive FBI probe into the sport, including wire taps, a juicy court case and guilty verdicts for a couple of would-be player agents, including Christian Dawkins — a friend of Murphy.
This was not a good look for the NCAA, which had to come in after the FBI — with access to legal wiretaps — had done a lot of dirty work. Many in the college hoops community think the NCAA will go hard after those schools named in the FBI probe — to show that the NCAA has a handle on the money culture in the sport.
On Sept. 20, national college basketball analyst Jeff Goodman tweeted that he expected Kansas to get hit with "Level I violations." He added that "the news will be when the penalties are released for all these programs and coaches (i.e. Arizona, LSU, N.C. State, USC ... and Auburn. And Creighton. And Louisville."
In May, the NCAA's Stan Wilcox told The Athletic, "It's go time. We're not going to be holding back."
In its history, the NCAA has followed the burden of proof. But many in college athletics circles believe this time the NCAA is going to punish coaches and schools just because they don't believe a coach or assistant when he says he had no knowledge of any wrongdoing. Apparently, "I didn't know" isn't going to be a defense.
Handing out sanctions without proof would be a new approach for the NCAA, and, if the organization does it, it would likely set off a series of loud protests and court cases by the schools.
Murphy, a longtime family friend of Dawkins, was videotaped accepting a $6,000 bribe from Dawkins in front of an undercover FBI agent. In court, Dawkins said that Murphy gave back the money in a hotel lobby bathroom.
Murphy was put on administrative leave in March. Rasmussen said Murphy is still on administrative leave, is not part of the program and can't come to practice. However, Murphy remains on the staff and his photo and bio are in the new Creighton media guide, though there's nothing in his bio of the administrative leave.
Rasmussen wouldn't comment further on Murphy, but his status does raise a couple of questions: Could he come back? And why hasn't Creighton fired him? Other schools, including TCU, have fired assistants who were named in NCAA cases.
My take: Creighton is going to wait to see what the NCAA rules on Murphy. Firing an assistant who is under investigation can be a proactive move to help ease sanctions, but it's also like an admission of guilt. If the NCAA clears Murphy, then it's like the record and image of Creighton and McDermott are cleared, too.
Unless, of course, there are other things that come out.
Hang tight, Creighton fans. Those who are following this story think it could last all season, because the NCAA is taking its time.
"We're waiting on some direction from the NCAA," Rasmussen said. "The NCAA is trying to conduct a number of investigations simultaneously. They have a number of people on them. Once they get the data on a lot of programs, they are trying to get together and look at them in totality rather than as separate entities. It's taken a lot longer than we thought it would take."
Sign up for World-Herald daily sports updates
Get the headlines from Creighton, Nebraska, UNO, high schools and other area teams.
In the meantime, play ball.
» Our thoughts are with former Husker player and coach Barney Cotton, who received a heart transplant last week in Omaha. Cotton, who is the offensive coordinator at UNLV, told the Las Vegas Review-Journal last summer that he hoped to return to coaching and go six or seven more years. Take your time, Barney.
» I thought of my friend Don Germer, the head golf pro at the Players Club in Omaha, as Tiger Woods won his 82nd career tournament on Sunday — tying Sam Snead's record for the most in a career.
Several years ago, in a debate over Woods and Jack Nicklaus, Germer told me that he thought the Holy Grail of golf was actually Snead's 82 and not Nicklaus' 18 majors.
On Monday, Germer said in his mind there's no debate.
"His (Woods') 82 victories to Nicklaus' 73, there's a greater margin there than there is between Jack's 18 (majors) and Tiger's 15," Germer said. "That trumps him, I think that makes him the best of all time."
Germer, a longtime Omaha pro and golf historian, acknowledges the weight put on winning majors. But said, "The majors sometimes are freaky deals. But just to consistently keep winning, you know, wow. I'm on board with saying Tiger's 82 vs. Jack's 73 is a greater feat than Nicklaus' 18 vs. Tiger's 15 majors."
I don't know if Woods can get to 18. But the way he looked over the weekend, he's not going to stay on 82.
» One more and I'm outta here: I'm a baseball guy, grew up on the sport, and I have no interest in watching this World Series. I'm very worried for the sport.
Photos: Leading scorers for Creighton men's basketball since 2000
Who has paced the Creighton offense over the last several years? Find out in our gallery of the Jays' top scorers since 2000.