The NBA draft's official early entry list was unveiled Tuesday night, and it included the name of a third Creighton player who'll use the next few weeks to gather intel on his professional stock.
The 6-foot-5 forward joins Denzel Mahoney and Ty-Shon Alexander in declaring for the 2020 NBA draft.
Alexander, the team's leading scorer, already announced that he'll forgo his senior season with the Jays to turn pro.
Mahoney is hoping to spend the next several weeks gathering feedback from NBA personnel — he signed with Trinity Best Sports, an NCAA-certified agency that won't jeopardize his remaining college eligibility. Jefferson hadn't previously announced his plans before Tuesday's finalized list was sent to NBA teams.
But perhaps just as notable Tuesday: the fact that sophomore Marcus Zegarowski wasn't on the list.
The All-America point guard decided not to test the NBA draft waters. He will be playing for CU next season.
Zegarowski told The World-Herald Tuesday that he thought about entering the draft process. But he was persuaded not to after considering the uncertainty created by the coronavirus pandemic, his own current injury status and the goals he still has with the Jays.
"I trust my parents, and they think no matter what I do, I'll be OK," Zegarowski said. "I don't want to say I didn't feel ready — because I'm always going to believe in myself. But I didn't feel it in my heart. Coming back is the best move for me, for sure."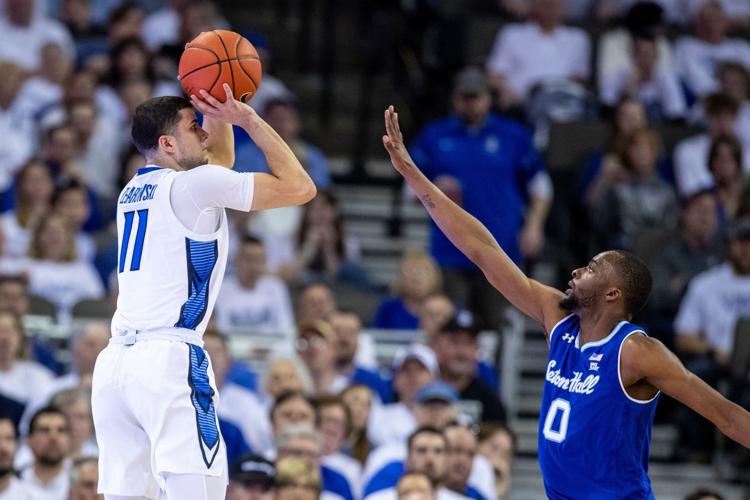 Coach Greg McDermott said previously that he submitted paperwork for feedback from the NBA's undergraduate advisory committee on multiple CU players, including Zegarowski.
Had the sophomore declared, he could have done so without penalty within the framework of the college game's rules — so long as he avoided agreeing to terms with agents who did not go through the NCAA certification process.
This year, 163 nonseniors declared. Last year, 175 did — and half ultimately returned to school.
College players who decide to enter into the draft process have until June 3 to withdraw and still keep their NCAA eligibility.
Alexander made his decision last week. Now Mahoney and Jefferson will deliberate over their next move.
Mahoney was the Big East's sixth man of the year. He averaged 11.8 points per game — and during conference play, he ranked first in the league in free-throw shooting (89.8%) and 12th in 3-point accuracy (38.1%). Jefferson started 29 games for CU, scoring 9.4 points per outing and making 59.9% of his shots against Big East opponents (fourth in the conference).
If they return to school, both again project to be key contributors next season for Creighton, which could bring back four starters from a team that earned a share of the league crown.
Zegarowski is expected to be the headliner, regardless.
ESPN's Jonathan Givony recently released his early mock NBA draft for 2021 and projected Zegarowski as the No. 54 overall pick. Several national college basketball analysts have raved about Zegarowski's play during this season's stretch run — he averaged 17.8 points, 4.8 assists and 1.3 steals during his final eight games, while shooting 60.2% from the floor (61.5% from 3-point range).
But he injured his knee in the final regular-season game of the season, a win over Seton Hall on March 7.
He had surgery a few days later. He'll be rehabbing until June or July.
In Zegarowski's mind, the timing wasn't right to consider the pro ranks. He'd been thinking that way since the Jays earned that memorable victory over the Pirates.
"Right after the Seton Hall game, I remember thinking, 'Hey, I want to get this back,' " Zegarowski said. "I wanted to be able to play under Coach Mac more. It wasn't a hard decision at all. It's the best move for me, for the team and for my family."
Zegarowski said he's been encouraged with the early progress of his rehab work. He's still hobbled — light dribbling drills and free-throw shooting reps are about the only things he's permitted to do on the court.
But he's already adding strength. He's watched a ton of film. The on-court work will be a focus soon enough.
"I feel as if I'll go into the season 10 times better," he said.
Photos: Leading scorers for Creighton men's basketball since 2000
Who has paced the Creighton offense over the last several years? Find out in our gallery of the Jays' top scorers since 2000.