The Bluejays raced up and down the floor Saturday, dazzling the home crowd with pinpoint passing and artful finishes in a fast-paced shootout that's typically not permitted by their cautious Big East opponents.
But St. John's likes to run. It's built for a track meet.
Plus, the Johnnies had a week off to fuel up against a CU team that was three days removed from a draining road defeat and that was still missing a man from its rotation — Shereef Mitchell has a head injury. Still, No. 21 Creighton (18-6, 7-4 Big East) was ready for the challenge.
The Jays enjoyed one of their best offensive performances of the year Saturday, shooting a season-best 60.3% in a 94-82 victory over St. John's at the CHI Health Center.
"We like any team that likes to run with us — we feel we have the advantage there," sophomore Marcus Zegarowski said. "I think down the stretch, they got a little tired. We kept pushing. That's just a testament to our system and how we play."
That proved true in crunch time.
It was a one-possession game at the 10-minute mark, but Zegarowski scored five straight points — he dribbled past a couple of defenders for a layup then was left open for a 3-pointer. That stretched Creighton's lead to 70-62.
Then came Creighton's win-sealing surge.
The Jays made five straight buckets, a 12-5 run capped by another Zegarowski layup to push the advantage to 87-72 with four minutes left. Damien Jefferson's runout layup, after his teammates broke the press, gave Creighton its biggest lead at 17 points.
"We just knew we couldn't let up," Jefferson said. "Coach Mac kept telling us in the huddle, 'Don't let up, don't let up. Keep our foot on their necks. We can rest tomorrow.'"
So they attacked, over and over again, undeterred by the Red Storm pressure defense or the threat of their quick-strike ability on offense.
Creighton ended up with eight turnovers, a season low for a St. John's opponent. The Red Storm (13-11, 2-9) force an average of 10.4 steals per game — they had one Saturday.
"We didn't do a good job of keeping the ball in front of us," St. John's coach Mike Anderson said. "When you let penetration get in there, get into the gaps and they find those guys. They did a pretty good job of that."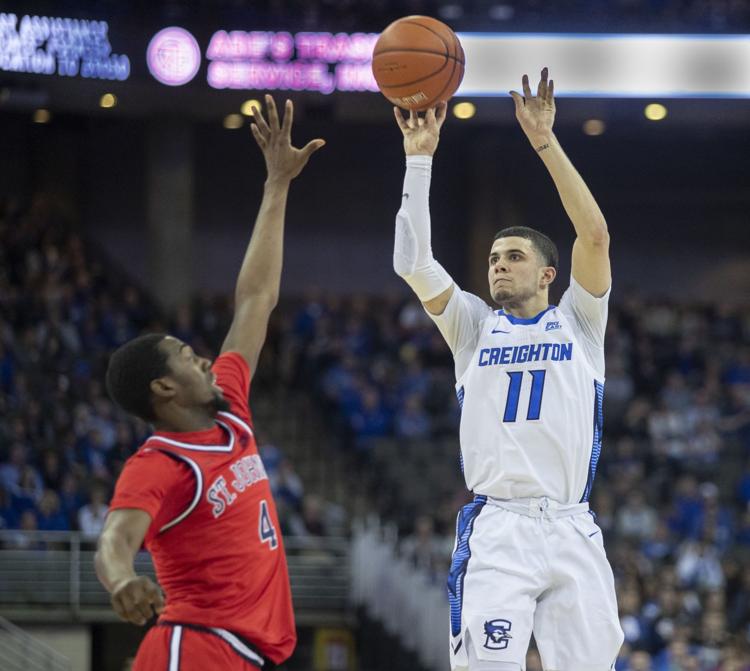 There was Zegarowski snatching the inbounds pass in the first half, bolting down the court and finding Mitch Ballock in the corner. Ballock immediately zipped a pass to Ty-Shon Alexander for an open 3-pointer before the defense could recover.
The largest announced crowd of the season (18,122) erupted when Zegarowski lobbed one to Christian Bishop, whose two-handed dunk came a couple of seconds before the halftime buzzer. Ballock set Jefferson up for a dunk on the first possession after the break. Bishop found Jefferson for a layup a few possessions later.
At the top of the key near the 10-minute mark, in a matter of seconds, the ball went from Zegarowski to Bishop to Ballock and back to Zegarowski. Then Bishop screened Ballock's man to free up the sharpshooting junior. Zegarowski dished and the net barely moved when Ballock's 3-pointer dropped through.
It was that kind of day for CU.
The Jays hadn't shot that well from the field (60.3%) against a Big East team in three years. The 21 assists were the most they've had against a Division I opponent this season. They averaged 1.40 points per possession. There were six Creighton players in double figures — four had three 3-pointers.
"When we share the basketball and we get out in transition, good things happen," Creighton coach Greg McDermott said. "Our guys were really, really unselfish."
CU's win moves it into a tie for second place in the Big East. The Jays will play at first-place Seton Hall (18-5, 10-1) on Wednesday.
Photos: Creighton basketball defeats St. John's
---
Meet the 2019-20 Creighton men's basketball team