Creighton point guard Marcus Zegarowski crouched into a defensive stance and shook his head. Then pressed his right fist against his cheek.
He had just gotten clocked. The back of his skull smacked hard on the court after he was fouled while guiding in a layup. Looked painful.
But Zegarowski and these Bluejays know how to take a punch. They can deliver a few, too.
Creighton built a lead Wednesday with precision and pace offensively — and it was ready with a answer any time Marquette, specifically Markus Howard, tried to flip the momentum. The result was a 92-75 victory to open Big East play in front of 17,289 at the CHI Health Center.
"We didn't get discouraged," junior Mitch Ballock said. "Basketball's a game of runs. We just had to weather the storm, stay true to who we are. I think we did that."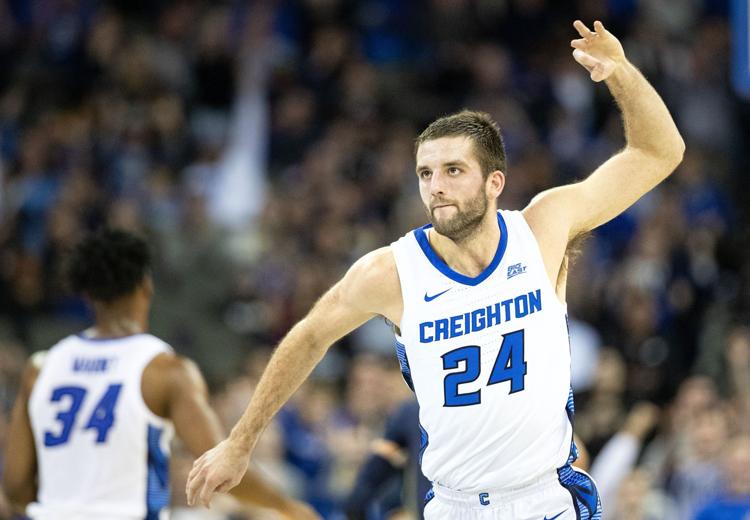 That was evident early after a back-and-forth start. The Jays turned a three-point lead into a 38-28 edge by hitting 9 of their next 10 shots.
Howard got hot late in the first half — you could hear the home fans groaning as the nation's leading scorer rattled off 10 straight points, spotting up for a 3-pointer and finishing silky drives with buckets. But Creighton's lead never dipped into single digits.
The Golden Eagles (10-3, 0-1) even opened the second half with a 6-1 spurt. Their bench players were standing and cheering along the sideline, sensing that their teammates could produce another post-halftime rally in this building.
But no. CU made 7 of its next 9 shots.
Junior Denzel Mahoney capped the run by gliding downcourt for a breakaway layup. Marquette called timeout as the Jays (12-2, 1-0) celebrated, ahead by 20.
"We never found footing in the game," Golden Eagles coach Steve Wojciechowski said. "That's a huge credit to them."
That hadn't happened here recently.
Marquette had won its past four games in Omaha — including the previous two when it trailed by 10 or more in the second half. The agonizing remnants of last year's stunner, when a buzzer-beating shot forced overtime and Howard scored 53, will be forever etched in the dark nooks of Bluejay lore.
Alexander was thinking about it this week. He knew he'd draw the Howard assignment — a defensive matchup that would require tenacity and discipline, and plenty of resolve.
Howard did get loose at times, yes. He scored 18.
But Alexander wasn't deterred. During Creighton's second-half surge, Alexander poked the ball away from Howard. He got a traveling call two possessions later.
"When he made some tough shots, I knew I couldn't put my head down and say, oh, that's it," said Alexander, who had a career-high six steals. "I know I've got the next play."
That attitude seemed to permeate throughout the roster for 40 minutes Wednesday.
It showed up when freshman Shereef Mitchell reached in and slapped the ball away from the taller and stronger Theo John, who just pulled down an offensive rebound. There was Damien Jefferson missing a layup and committing a turnover in the opening moments of the second half, yet he kept attacking — he matched a season-high with 17 points, and 12 of those came after the break.
Ballock never stopped sprinting downcourt. Alexander, too. The Jays ended with a 17-5 edge in fastbreak points. They moved so quickly, and so relentlessly, that Marquette couldn't play its centers Wednesday (John and Jayce Johnson totaled 12 minutes).
And then there was the Zegarowski moment. Nebraska transfer Ed Morrow knocked him to the floor in the first half, but Zegarowski walked himself off the court. Then he came back in and nailed the free throw.
CU wasn't going to be backing down Wednesday. "The outcome speaks for itself," Alexander said.
Photos: Creighton basketball hosts Marquette
---
Meet the 2019-20 Creighton men's basketball team