An ill Marcus Zegarowski couldn't stand without feeling woozy before the game and Ty-Shon Alexander was barely walking after it.
And both gutsy guards had their moments Saturday, when their afflictions appeared to be too much to overcome.
Zegarowski gave the ball away six times, the most turnovers he has had at CU. He was sick. He didn't start the game. He wasn't his normal self.
There was a sequence late where Alexander, after he was beaten baseline and surrendered free throws, shook his head as he huddled with his team and annoyingly declared, "Yo, I can't move." His left knee was throbbing.
Yet in the final 90 seconds, none of that mattered.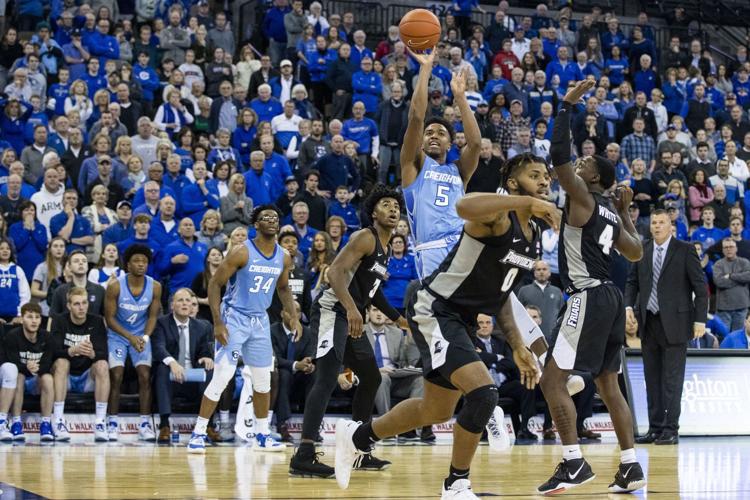 Alexander made back-to-back buckets to wipe away a five-point deficit and tie it 74-74 before Zegarowski knocked down the winning 3-pointer with three seconds left.
The clutch shots clinched a 78-74 victory over Providence and capped a storybook afternoon for two hobbled guards.
"I'll always try to suit up for my guys," Zegarowski said.
Said Alexander: "I had to toughen up and just play through it."
Their resilience late made the difference for Creighton (14-5, 3-3 Big East) — and also secured a spot for Saturday's thriller among the pantheon of all-time Bluejay classics inside the CHI Health Center.
A CU player hasn't hit a game-winning shot in the final seconds at home since Doug McDermott did it against St. John's six years ago. Saturday is believed to be the first time since 2012 that Creighton's won a game where it erased a two-possession deficit in the final two minutes.
And the two main orchestrators of the comeback weren't even close to 100% healthy.
Most players who felt the way Zegarowski did before Saturday's game would have spent the afternoon in bed, coach Greg McDermott said.
And Alexander? He had to be helped off the court when he banged knees with Providence's Alpha Diallo late in the first half.
Consider, too, that reserve center Kelvin Jones reinjured his ankle and starting big man Christian Bishop sat for much of the second half because of foul trouble.
The Friars (11-8, 4-2) spent the first 38 ½ minutes establishing their bullish style of play — they grabbed 19 offensive boards (most by a Creighton opponent) and forced the Jays into 15 turnovers (compared to 11 assists). Sophomore David Duke, who finished with a career-high 36 points, was almost unguardable late.
"A lot of adversity, and yet our guys just kind of stuck to the plan and forged forward, and just did enough to give us the win," McDermott said.
Alexander struck first in the closing moments.
His 3-pointer off a pass from Mitch Ballock trimmed CU's deficit to 74-72 at the 1:26 mark. After the Jays forced a miss on the other end, Alexander was on the attack again — he dribbled to his right and guided a leaner off the glass to tie the game 74-74 with 37 seconds left.
Providence went back to Duke on its next possession, but he lost the ball and junior Denzel Mahoney scooped it up to give Creighton a chance to win with 10 seconds on the clock.
Zegarowski was ready, dribbling up the floor until he saw an open shooting window. He pulled up and buried the 3, his first made bucket of the second half.
"I give a lot of credit to Ty-Shon — he put us in position," Zegarowski said. "I got the ball, they backed up and I hit the shot."
He made sure to cherish the moment. Zegarowski roared and flexed as the crowd erupted, before mimicking his favorite fighter Conor McGregor with a strut around the court. Never mind the dizziness that nearly sidelined Zegarowski before the game. He said he'd never felt that before, but he didn't let it deter him.
Alexander was all smiles afterward, too, though he carried a bag of ice as he limped out of the arena. He told reporters that he's certain he'll be hurting Sunday. The victory was worth it, though.
"Our team needed this win," Alexander said.
Photos: Creighton vs. Providence basketball
Creighton and Providence play a college basketball game at the CHI Health Center in Omaha, Nebraska, on Saturday, January 18, 2020.
---
Meet the 2019-20 Creighton men's basketball team