CINCINNATI — Creighton snapped a two-game losing streak by putting Xavier away with a late offensive surge in a 77-65 road win Saturday.
The Bluejays' lead got trimmed to three points with eight minutes left, but they made six straight shots during crunch time to regain control.
Sophomore Christian Bishop converted three layups while rolling to the rim. Junior Ty-Shon Alexander buried back-to-back jumpers. Junior Mitch Ballock's deep 3-pointer stretched his team's lead to 65-53 with 2:26 left.
Creighton closed the game out from there — then the players doused their coach with water in the locker room to celebrate Greg McDermott's 500th career win.
But Saturday's victory would have been meaningful even without the milestone.
"(It came) at a time when we really needed a win," McDermott said on his postgame radio show.
The Jays had lost their previous two games, falling to No. 6 Butler last weekend before dropping a close contest at home to No. 16 Villanova on Tuesday. In those defeats, Creighton made seven of its 36 3-point tries (19.4%).
And the long-range shots weren't always going in for Creighton on Saturday, either. It started the game 5 for 23 from the floor — making just one of its first nine 3-pointers.
But Xavier struggled to score, too. It wasn't able to use its size advantage early, settling for jump shots instead. The game was tied 15-15 after the first 15 minutes of play as a result.
And the Jays (13-4, 2-2) eventually heated up.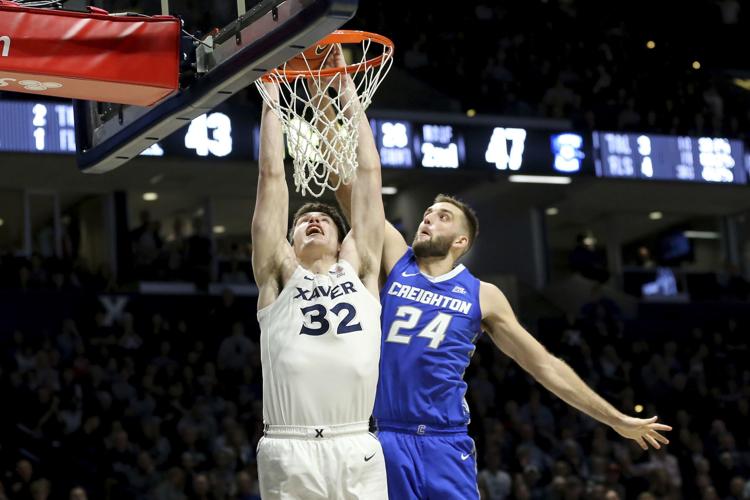 They made their final seven shots of the first half. Ballock had four of them, totaling 10 points during the run.
Then in the second half, after Xavier closed to 51-48, they delivered the decisive scoring stretch. They made six in a row during a 14-5 run.
"When we just stick with our offense and stick with our movement, eventually, if you trust the process, our offense is designed to get paint touches, get kickouts and get guys open," Ballock said.
They also found some rhythm in their big-to-guard handoffs along the perimeter. Ballock and Alexander used their screening teammates to create space from their defenders, each burying pull-up 3-pointers early in the second half.
Alexander's two jumpers late in the game were a result of his movements just outside the arc to find a shooting window. When the Musketeers adjusted to take away the 3s, Creighton dumped the ball off to Bishop down low.
Xavier (12-5, 1-3) didn't have enough firepower to match Creighton's shot-making.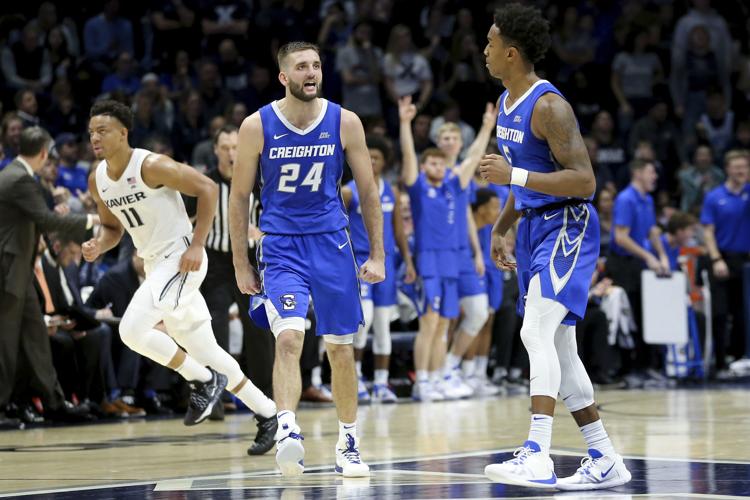 The Musketeers finished with 42 points in the paint — but they made 5 of 26 from 3-point range. They ended up on the wrong end of the rebounding battle (41-37). And they only attempted six free throws.
That was the way the Jays hoped things would go, according to McDermott. He said the tactics worked well, though the players deserve credit for that.
"The plan's not any good if you don't have some fight with it and some teeth to it," McDermott said. "(Saturday) we had some teeth to it."
The Jays will return to action Wednesday when they play at Georgetown at 6 p.m. The Hoyas (11-6, 1-3) lost at Villanova 80-66 on Saturday.
Photos: Creighton basketball at Xavier
---
Meet the 2019-20 Creighton men's basketball team