Creighton's Christian Bishop held his ground as bulkier bigs collided into his still-maturing frame. He leaped toward the rim for rebounds and dived to the floor for loose balls. He absorbed elbows and hip-checks. He got shoved and slapped.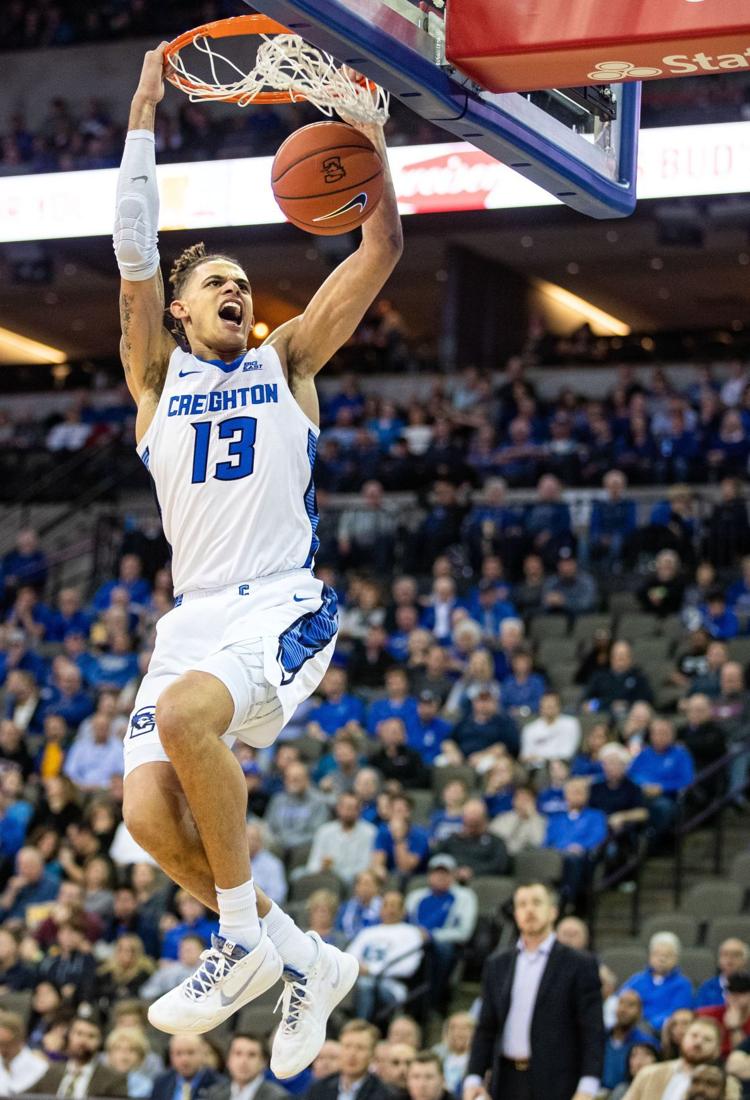 Yet to start every CU possession Tuesday night, Bishop put his head down and started to sprint.
Because he knew that despite the strength and size advantage Oral Roberts might try to exploit on its end, he'd have an edge when his team had the ball. Those slower-footed forwards were assigned to chase him up and down the floor, on pick-and-rolls, in transition or on the offensive glass. So he made them work.
Bishop's effort certainly left an imprint on Creighton's 72-60 win before an announced crowd of 16,427 at the CHI Health Center. The 6-foot-7 sophomore finished with a career-high 17 points, while also grabbing eight rebounds and recording two blocks.
"Whenever you play a defender that's much bigger than you are, you've got to be smarter and quicker," Bishop said. "I tried to implement that into my game (Tuesday night)."
His two putback layups in the final minute of the first half helped the Jays (6-2) maintain a firm grip on the game's momentum following an explosive start.
Bishop rose up and rattled the rim for three separate dunks in the second half, when high-percentage looks started to become scarce as Creighton stumbled into an offensive funk. He was the only one in the lane for one of those two-handed slams, catching a pass in transition, putting CU ahead 68-46 and forcing Oral Roberts to call a timeout with 6:25 remaining.
"Christian outran them every single time," junior Ty-Shon Alexander said.
The Golden Eagles (3-5) did counter at times with their brawny 6-foot-8 duo — Emmanuel Nzekwesi and Elijah Lufile helped their team pick up 14 offensive rebounds, matching a season high by a CU opponent.
But the Jays started collapsing inside and bringing double-teams when any ORU big man put the ball on the floor. Those swarming defensive tactics had an effect.
After Oral Roberts pulled within 50-37 at the 15:34 mark, it made just one field goal on the next 15 possessions.
"It was good to see us be efficient defensively at a time when our offense wasn't," coach Greg McDermott said.
The Jays started 1 of 10 from the floor after halftime. They ended up knocking down just 31.3% of their shots over the game's final 20 minutes. They took their biggest lead at 70-58 with 5:44 left — then they managed just two more points.
Once the game ended and after McDermott spoke to the team in the locker room, Marcus Zegarowski, Damien Jefferson and Shereef Mitchell all made their way back out onto the court in the emptied arena just to fire up a few extra practice jumpers.
The second-half drop-off was something McDermott worried about after his team's five-day road trip to Las Vegas.
But CU also ended up playing much of the second half without senior Kelvin Jones, who limped off the court after trying to draw a charge early in the second half. McDermott said he believes Jones "will be OK," although no specific diagnosis was relayed in the post-game press conference.
No Jones meant more action for Bishop Tuesday. He logged a career-high 32 minutes Tuesday — and played all but 39 seconds after halftime.
Bishop definitely appeared to be straining at times, trying to catch his breath when he could. But his goal was to stay committed to emptying his tank, just like he did Friday when his hustle plays in overtime helped Creighton pick up a bounce-back victory.
"I thought he was instrumental in our win in overtime against Texas Tech," McDermott said. "His activity on the glass and defensively was really, really good. He's making strides."
Oral Roberts...... 31 29—60
At Creighton...... 46 26—72