Two months ago, the Big East was poised to make some noise in the NCAA tournament.
Three of its teams — Creighton, Seton Hall and Villanova — projected to be top-three seeds, each likely to start at close-proximity first-round sites where their energized fan bases could provide an extra advantage and maybe spark a deep run.
Providence, with its 8-2 record since February, was playing as well as anyone in the country. Marquette and Butler had spent portions of the season in the Top 25. Xavier was on the at-large bubble — but if it earned a bid, the conference would have matched its post-reconstruction record of seven NCAA berths.
More prestige, exposure and credibility was on the horizon for the Big East.
And, of course, more money.
The Big East, ever-burdened to keep pace with its big-budget peers, was set to earn a hefty paycheck for its teams' performances during March Madness. Perhaps more than $20 million (distributed over the next six years).
"We were really hopeful," Big East Commissioner Val Ackerman said.
Everyone knows what happened instead.
The country began to respond to the emerging coronavirus pandemic, and the NCAA canceled its postseason tournament. The Big East called off its annual conference tournament after 2½ games.
Ackerman said university and conference administrators have been "picking up the pieces" financially ever since — especially in the Big East, a league whose viability and livelihood hinges on the success of its men's basketball programs.
"When you lose March Madness and the Big East tournament, that does hit you probably harder than it might for an autonomy (Power) Five football powerhouse, which is bringing in revenues by a multiple," Ackerman said.
It should be noted, though, that most of the nation's athletic departments — even the top earners — rack up enough expenses to all but eliminate their profit margins.
That means any significant (and sudden) loss in revenue can be catastrophic, whether the operating budget is $150 million or $30 million.
But still, a league like the Big Ten has an annual per-school distribution from its TV deals — Nebraska received $42.6 million in 2019 — that is larger than the full yearly figure that the entire 10-team Big East receives. According to the Big East's most recent tax filings, it earned $35.3 million in media rights in 2017.
So smaller-budget (non-football) leagues, including the Big East, are certainly feeling a more constraining economic squeeze in the aftermath of the sports shutdown.
The league's event insurance did cover pandemics, so the cancellation of its revenue-generating conference tournament was not a total loss, according to Ackerman. The Big East has also tapped into some cash reserves established during the league's reorganization, Ackerman said.
But it remains to be seen how the conference, which adds 11th member UConn in July, will adjust without its standard annual payment from the NCAA.
A decrease in Big East revenue means a smaller-sized allocation of funds to each league member.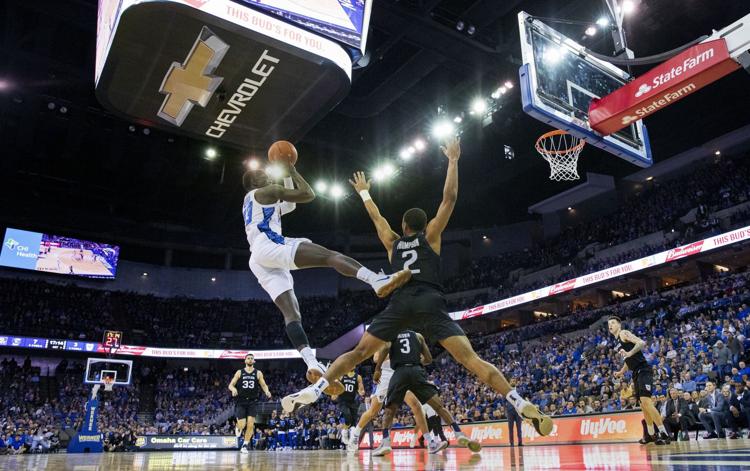 "If you're just looking at the NCAA distribution from the men's basketball tournament, there's a significant impact to the Big East," Creighton Athletic Director Bruce Rasmussen told The World-Herald in a March interview. "And you think about it, how many units would we have earned this year that we've now lost forever?"
In NCAA vernacular, a "unit" refers to the measurement used to credit a team for its success during March Madness.
If you earn a bid, you bank a unit for your league.
And if you win a game, your conference gets another unit. More wins, more units. The units earned don't expire for six years, either.
Those units were set to be valued at $282,100 in 2020, according to The Associated Press.
So a Final Four run in 2020 would have been worth five units — or approximately $1.4 million — to be paid out annually for six years (about $8.5 million in total).
Did the Big East have a Final Four team in 2020? Maybe. Maybe not.
But it was guaranteed to have six (maybe seven) NCAA berths. Its teams have won, on average, at least one NCAA tournament game per bid since 2014 — so, the league presumably would have secured at least six or seven NCAA wins.
That's a minimum of 12 units, equating to a six-year total payout of $20.3 million ($3.4 million per year).
Three years ago, the NCAA's payment of $14.7 million to the Big East represented 25% of the conference's operating budget, according to the conference's tax filings.
This year, the Big East is getting about one-third of what it expected to receive from the NCAA, according to Ackerman. That's the situation for leagues nationwide.
And next year's NCAA distribution? Ackerman said the NCAA's still trying to find ways to adjust its payment system — because the formula's busted. Every D-I team had an input of zero units in 2020.
Whatever the remedy, though, it does appear likely that the Big East will end up missing out on the $3.4 million per-year boost (or more!) that the 2020 NCAA tournament could have provided.
"The loss of March Madness was a very, very tough blow," Ackerman said.
Photos: Creighton faces Seton Hall with Big East crown on the line