World-Herald staff writer Jon Nyatawa made his preseason picks for the order of finish in the Big East and top players for the 2019-20 men's basketball season. 
Predicted order of finish
Last season: 26-10, 13-5 Big East (1st)
Coach: Jay Wright (19th season, 448-175 at Villanova)
Last NCAA appearance: 2019
Returning starters: Collin Gillespie (G 6-3 Jr.); Saddiq Bey (F 6-8 So.); Jermaine Samuels (F 6-7 Jr.)
Newcomer to watch: Jeremiah Robinson-Earl (F 6-9 Fr.)
Outlook: The Wildcats are going to be long, athletic and talented. It's still unclear if this group will be able to shoot from long range as consistently as previous Villanova squads. Plus, there's the question of who's going to replace the production of Phil Booth and Eric Paschall. That duo accounted for 47.6% of the Wildcats' points and 42.5% of their assists last year. But you don't bet against Jay Wright.
Last season: 20-14, 9-9 Big East (T-3rd)
Coach: Kevin Willard (10th season, 170-128 at Seton Hall)
Last NCAA appearance: 2019
Returning starters: Myles Powell (G 6-2 Sr.); Quincy McKnight (G 6-4 Sr.); Myles Cale (G 6-6 Jr.); Sandro Mamukelashvili (6-11 F Jr.)
Newcomer to watch: Ike Obiagu (C 7-2 So.)
Outlook: It is Myles Powell's show. He'll drag Seton Hall through lulls and spearhead his team through surges. But he can't do it all. Not if the Pirates are going to match their lofty expectations (they were ranked No. 12 in the AP preseason poll and league coaches picked them to win the Big East). Powell's supporting cast needs to improve. Those guys have had a full offseason to get to work with that in mind.
Last season: 19-16, 9-9 Big East (T-3rd)
Coach: Travis Steele (second season, 19-16 at Xavier)
Last NCAA appearance: 2018
Returning starters: Quentin Goodin (G 6-4 Sr.); Naji Marshall (F 6-7 Jr.); Paul Scruggs (G 6-4 Jr.); Tyrique Jones (F 6-9 Sr.)
Newcomer to watch: KyKy Tandy (G 6-2 Fr.)
Outlook: The reputation of these Musketeers, who landed at No. 19 in the AP preseason poll, is still being boosted by their finish to last season. They went 6-1 down the stretch. Then beat Creighton in the league tournament and pushed No. 1 seed Villanova to overtime. Their run ended when they lost in overtime to eventual NIT champ Texas. And now everyone, except for a couple of role-playing grad transfers, is back.
Last season: 20-15, 9-9 Big East (T-3rd)
Coach: Greg McDermott (10th season, 207-109 at Creighton)
Last NCAA appearance: 2018
Returning starters: Marcus Zegarowski (G 6-2 So.); Davion Mintz (G 6-3 Sr.); Ty-Shon Alexander (G 6-4 Jr.); Mitch Ballock (G 6-5 Jr.)
Newcomer to watch: Denzel Mahoney (G 6-5 Jr.)
Outlook: Near misses defined the Jays' season last year. That sting has served as a rallying cry for a now seasoned team. CU will have the best collection of long-range shooters in the league, and it hopes that its offensive potency will mask some of the size-related issues that may emerge defensively. A leg injury sidelined center Jacob Epperson, who was expected to help replace departed big man Martin Krampelj. So interior depth will be a question all year.
5. Marquette
Last season: 24-10, 12-6 Big East (2nd)
Coach: Steve Wojciechowski (sixth season, 97-69 at Marquette)
Last NCAA appearance: 2019
Returning starters: Markus Howard (G 5-11 Sr.); Sacar Anim (G 6-5 Sr.); Theo John (F 6-9 Jr.)
Newcomer to watch: Koby McEwen (G 6-4 Jr.)
Outlook: The Hauser brothers (Sam and Joey) announced their plans to transfer in April, and Marquette's stock sank dramatically. For many, the Golden Eagles went from a national title contender to an NCAA tournament hopeful. Realistically, they project somewhere in between. They'll have to attack differently without the floor-spacing Hausers, perhaps using length to disrupt defensively and interior size to jump-start things offensively. But they still have tons of talent.
6. Providence
Last season: 18-16, 7-11 Big East (T-8th)
Coach: Ed Cooley (eighth season, 162-110)
Last NCAA appearance: 2018
Returning starters: David Duke (G 6-5 So.); A.J. Reeves (G 6-6 So.); Alpha Diallo (G 6-7 Sr.); Nate Watson (C 6-10 Jr.)
Newcomer to watch: Luwane Pipkins (G 5-11 Sr.)
Outlook: This shouldn't come as a surprise, but these Friars project to be a gritty group that will force foes to play at its pace, bully you around and win with toughness. Shooting wasn't a strength last year (32.6% from 3-point range), and it won't be again this season. But Providence has more experience within its system, which should help a class of sophomores previously ranked No. 21 nationally, take a big jump.
7. Butler
Last season: 16-17, 7-11 Big East (T-8th)
Coach: LaVall Jordan (third season, 37-31 at Butler)
Last NCAA appearance: 2018
Returning starters: Kamar Baldwin (G 6-1 Sr.); Aaron Thompson (G 6-2 Jr.); Sean McDermott (F 6-6 Sr.); Jordan Tucker (F 6-7 Jr.)
Newcomer to watch: Derrik Smits (C 7-1 Sr.)
Outlook: It's an important season for LaVall Jordan, whose Bulldogs slumped out of NCAA tournament contention and into the NIT last year. They went 2-7 to end the season. Jordan's making waves on the recruiting trail in Year 3, but how he molds and develops Butler's returning nucleus will shape the perception of what this program can accomplish under his stewardship. The Bulldogs haven't missed the NCAA tournament in back-to-back seasons since 2006.
8. Georgetown
Last season: 19-14, 9-9 Big East (T-3rd)
Coach: Patrick Ewing (third season, 34-29 at Georgetown)
Last NCAA appearance: 2015
Returning starters: James Akinjo (G 6-0 So.); Mac McClung (G 6-2 So.); Josh LeBlanc (F 6-7 So.); Jamorko Pickett (F 6-8 Jr.)
Newcomer to watch: Omer Yurtseven (C 7-0 Sr.)
Outlook: The Hoyas' nonconference schedule is perhaps the most telling sign that Patrick Ewing has confidence that his players can compete for an NCAA tournament bid. Instead of touring the MEAC, Georgetown has games against Penn State, Texas, Oklahoma State, SMU and Syracuse. The Hoyas have to replace the top-producing big man in the conference (Jessie Govan averaged 17.5 points and 7.5 rebounds per game). But their exciting backcourt is set to lead the way.
9. St. John's
Last season: 21-13, 8-10 Big East (7th)
Coach: Mike Anderson (first season at St. John's)
Last NCAA appearance: 2019
Returning starters: Mustapha Heron (G 6-5 Sr.), LJ Figueroa (F 6-7 Jr.)
Newcomer to watch: Ian Steere (F 6-9 So.)
Outlook: Chris Mullin stepped down in April, and the ensuing coaching search drew heated criticism as several candidates withdrew from consideration. St. John's ended up hiring a coach who doesn't have local ties and who was fired from Arkansas. But as it turns out, Mike Anderson may prove to be an upgrade. The Red Storm will have an identity, at least. It'll just take some time to establish that end-to-end attack.
10. DePaul
Last season: 19-17, 7-11 Big East (T-8th)
Coach: Dave Leitao (eighth season, 106-116 at DePaul)
Last NCAA appearance: 2004
Returning starters: Paul Reed (F 6-9 Jr.), Devin Gage (G 6-2 Jr.)
Newcomer to watch: Romeo Weems (F 6-7 Fr.)
Outlook: DePaul had its best season last year since the new Big East formed. But it still ended in a three-way tie for last. And it lost its top three scorers — Max Strus, Eli Cain and Femi Olujobi accounted for 57.5% of the points. There is optimism that the Blue Demons have made enough key offseason acquisitions to help retool. But it may not be enough to keep them out of the league's cellar.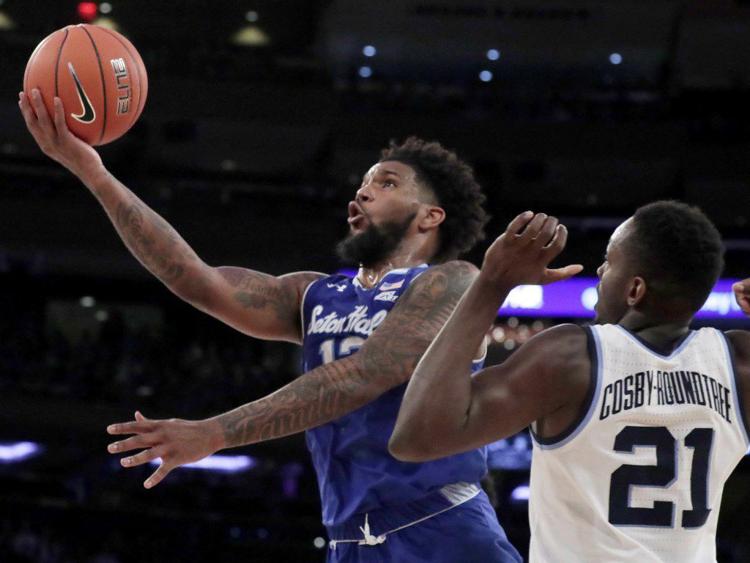 All-Big East predictions
Seton Hall • 6-2 • senior
The preseason All-American could have left for the pros but decided to cement his legacy as one of Seton Hall's greats. He averaged 23.1 points per game last year.
Marquette • 5-11 • senior
When he gets hot, he's unstoppable. Even if he's not, he's still a handful. Howard made 40% of his 3-pointers and 89% of his free throws, scoring 25.0 points per game last season.
Alexander went from averaging 5.5 points as a freshman to 15.7 last year. And after another productive offseason, he'll be eager to showcase his growth.
His breakout game against Marquette last season (29 points and nine rebounds) provided a window into the next stage of his development. He'll be a matchup nightmare.
He might be a darkhorse All-America candidate. Last year, Marshall averaged 16.6 points, 6.1 rebounds and 3.3 assists during league play. He's only getting better.
Player of the year
Powell: The clutch shot-maker carried Seton Hall last year. He's back to do it again.
Newcomer of the year
Jeremiah Robinson-Earl, Villanova: The five-star prospect can score in various ways. He's set to make an immediate impact for the Wildcats.
Coach of the year
Kevin Willard, Seton Hall: If his team makes the kind of jump that almost everyone is predicting, then Willard will deserve the credit.
NCAA tournament teams
Villanova, Seton Hall, Xavier, Creighton, Marquette
NIT teams
Butler, Providence, Georgetown
Photos: Leading scorers for Creighton men's basketball since 2000
Who has paced the Creighton offense over the last several years? Find out in our gallery of the Jays' top scorers since 2000.