LINCOLN — Jim Flanery says Creighton has a hard time recruiting the kinds of post players who stack Nebraska's roster, so he knew points inside might be scarce.
But Flanery also knew his Bluejays attack differently than the Huskers' first five opponents, with more screens away from the ball to free 3-point shooters.
Those shooters delivered Sunday, hitting 14 of 32 from 3-point range as CU outscored the Huskers 42-9 from long range in a 79-74 victory in front of 3,967 at Pinnacle Bank Arena. The Jays (4-1) dropped Nebraska to 5-1 in winning their fourth straight in the series.
"I think they're going to have a good year," Flanery said. "It's a really, really good win for us."
The Huskers, whose starting frontcourt measures 6-foot-5, 6-2 and 6-1, finished with a 46-10 advantage in points inside the free-throw lane against the Jays, who start one 6-footer.
But Creighton set the tone by sinking 3-pointers on its first three shots in jumping to a 9-4 lead.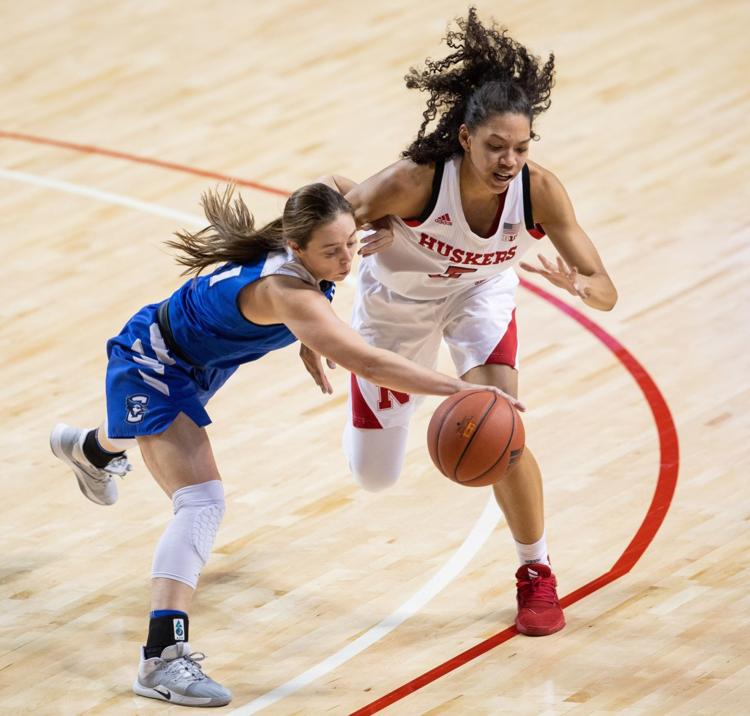 "We thought they were going to pressure us more at the 3," said senior wing Jaylyn Agnew, who hit two of those early 3s and finished with game highs of 26 points and 13 rebounds. "But we found some open spots, got some shots up and they went in today."
That hasn't always been true this season. The Jays entered the game shooting less than 32 percent from 3-point range.
But Agnew finished 5 for 11, junior guard Temi Carda was 4 for 7 and senior guard Olivia Elger was 3 for 5. Carda and Elger scored 18 points apiece.
"You can't expect to go 14 for 32," Flanery said. "But we've got a lot of people who can make 'em."
It was a painful loss for the Huskers and Amy Williams, who dropped to 0-4 against Creighton as Nebraska's coach.
"It's really tough for us to swallow," Williams said. "They had an incredible night shooting, and we didn't get out to their shooters with the same sense of urgency that we needed to."
The Huskers worked the ball inside repeatedly to 6-5 center Kate Cain, who finished with 18 points on 9-of-15 shooting. They also scored on drives by guard Sam Haiby (17 points) and midrange shots by guard Leigha Brown (14).
They overcame the Jays' initial barrage and led for much of the first half before Creighton tied it 32-32 at the half.
But the Jays regained control in the third quarter with early 3s by guard Tatum Rembao and Carda. Elger added 10 points in the quarter on drives, free throws and 3-pointers as the Jays moved ahead 55-51.
Sign up for World-Herald daily sports updates
Get the headlines from Creighton, Nebraska, UNO, high schools and other area teams.
"Olivia really made a huge impact in the second half," Flanery said. "Our two fifth-year seniors were special today."
Elger sank a 3 to open the fourth quarter. Then Agnew, the other fifth-year senior, drove past NU defensive ace Nicea Eliely for a basket and a free throw. Suddenly it was 61-51.
"With Jaylyn, it's easy for those other kids to get open shots because of all the attention she creates," Flanery said.
Down 10, Nebraska needed to modify its plan to attack inside. But the Huskers finished 3 for 16 from 3-point range.
Junior wing Taylor Kissinger, the nation's fourth-best 3-point shooter last season, played for the first time since the opener after going through concussion protocol. She was 0 for 4 from long range.
Then the Jays put the game away at the foul line, finishing 23 for 29. Nebraska was 11 for 18, including Cain's 0 for 4.
Even with their height disadvantage, Creighton fought to a 41-41 draw on rebounds. The 5-7 Elger finished with seven boards, as many as any Husker.
"Overall I thought our grit and our fight, and our understanding of how we could win, was pretty good," Flanery said.
Creighton (4-1, 0-0)...........17 15 23 24—79
At Nebraska (5-1, 0-0).......18 14 19 23—74
CU: Agnew 9-18 3-4 26, Carda 6-12 2-3 18, Elger 4-10 7-10 18, Rembao 2-5 5-6 11, Griglione 0-3 0-0 0, Brotzki 0-4 4-4 4, Bachelor 0-2 2-2 2, Parham 0-1 0-0 0, Dworak 0-2 0-0 0. Totals: 21-57 23-29 79.
NU: Cain 9-15 0-4 18, Haiby 6-10 4-5 17, Verbeek 4-9 1-1 9, Eliely 2-7 0-0 4, Whitish 2-5 0-0 4, Brown 5-10 3-4 14, Bourne 2-3 2-2 7, Mershon 0-2 1-2 1, Kissinger 0-4 0-0 0, Mitchell 0-3 0-0 0. Totals: 30-68 11-18 74.
3-point goals: CU 14-32 (Agnew 5-11, Carda 4-7, Elger 3-5, Rembao 2-4, Griglione 0-1, Brotzki 0-2, Bachelor 0-1, Dworak 0-1), NU 3-16 (Haiby 1-3, Verbeek 0-2, Eliely 0-1, Whitish 0-2, Brown 1-2, Bourne 1-1, Kissinger 0-4, Mitchell 0-1). Rebounds: CU 41 (Agnew 13), NU 41 (Cain, Haiby 7). Assists: CU 16 (Agnew, Elger, Griglione 3), NU 15 (Whitish 5). Total fouls: CU 21, NU 26. Fouled out: Eliely.
Photos: Creighton women defeat Nebraska