Creighton didn't waste a moment Saturday to unleash a scoring surge that resembled many of the onslaughts it has relished when hosting Nebraska in recent years.
The game's first 10 points went to the Bluejays, who stretched their advantage to 27-4 10 minutes in. It was 37-7 when sophomore Christian Bishop's one-handed dunk in transition forced NU coach Fred Hoiberg to use his third timeout of the half.
And, well, that was that.
Creighton's 95-76 victory gave the Jays a one-game edge in the all-time series and extended their regular-season home winning streak to 12 against Nebraska. Saturday was the fourth time in the past eight meetings in Omaha that the Jays galloped to at least a 20-point lead before halftime.
"(Our goal) just was to get a quick lead — making sure that they know that we're here, and we'll always be here," Creighton junior Ty-Shon Alexander said. "It was just our mindset, which is always to attack."
They delivered that message in emphatic fashion Saturday, to the delight of most of the 18,068 inside the CHI Health Center.
Junior Damien Jefferson buried a long-range jumper on Creighton's first possession. He hit another triple that made it 13-2 three minutes later. A pull-up 3-pointer by Alexander extended CU's lead to 18-2 at the 14:16 mark.
Whether it was Marcus Zegarowski capitalizing on crisp ball movement and knocking down 3-pointers or any of CU's playmaking guards driving through NU's spaced-out defense and finishing at the rim, the Jays looked at ease as they showcased the full potential of their small-ball offense.
Creighton's 95 points were its most ever against Nebraska. It led by as many as 32.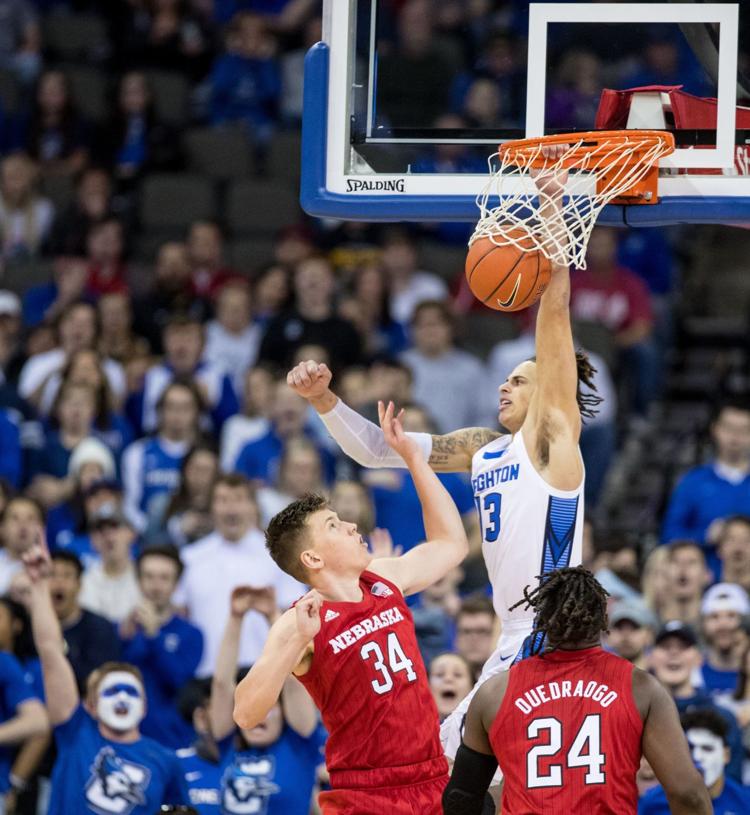 "They obviously came out and threw the first punch," Hoiberg said. "And the second, third and fourth punches, as well."
Hoiberg, hired in the offseason, wasn't on the sideline last year when the Huskers were the ones landing the blows against their in-state nemesis. NU snapped a seven-game losing streak to Creighton with a 94-75 win in Lincoln.
Nebraska reshaped its roster since then. Creighton, on the other hand, has not.
The Bluejay veterans did reference last season's outcome during their preparation these past couple of days. They said the agony never fully dissipated — Alexander indicated that he still remembered hearing the pro-NU chants in Pinnacle Bank Arena and seeing all the Husker-centric social media messages celebrating the result.
But now CU holds the bragging rights. Creighton has won 17 of the past 21 regular-season meetings against Nebraska.
"We took it personal," Alexander said. "We wish we could have beat them by more, but we did what we had to do. It was a great win for us."
Foul trouble for the Jays' only available scholarship big man (Bishop) kept CU from sustaining its edge. So did a drop-off in communication and effort defensively.
And Nebraska didn't exactly wilt away, either. The Huskers showed some life late in the first half and after the break. They had a 12-minute stretch overlapping halftime where they made 16 of 22 from the field. The deficit was 69-49 with 12:10 remaining.
CU answered, though. Zegarowski hit a floater — two of his game-high 30 points. Then Shereef Mitchell poked the ball away from Jervay Green, evaded defenders in the open floor and found an open Mitch Ballock, whose nothing-but-net 3-pointer energized the home crowd again.
Just another highlight in a game full of them for the Jays, who got to enjoy another comfortable win over Nebraska in Omaha.
They were ahead 31-11 at the break against the Huskers in 2005. It was 47-20 at halftime in 2007. Creighton had leads of 18-2 and 38-8 when Doug McDermott was a senior in 2013. Two years later, CU jumped to an 18-4 advantage against the Huskers.
Saturday followed a similar script.
"It's a big game for our entire state, and we won it handily," McDermott said. "So there's a lot to be happy about."
Photos: Nebraska basketball at Creighton