Nineteen years after their last appearance at Rosenblatt Stadium, the Kansas City Royals returned to Omaha for an exhibition game against their top minor league affiliate Monday night at Werner Park.
It took only three pitches for the teams to outdo their last meeting — a scoreless draw in 2000. Adalberto Mondesi's RBI triple off former Storm Chasers teammate Josh Staumont gave Kansas City an early lead.
Omaha eventually won the game 3-2 on a walk-off sacrifice fly by infielder D.J. Burt. His teammates for the night raced out of the Chasers dugout to douse him with water after he'd plated Angelo Castellano.
Monday's exhibition was played in front of a record crowd of 9,351 and hall of famer George Brett. It provided a nice end to the preseason for the big league club, which opens the regular season Thursday.
"You get a little redundant in spring training, just with the practice and the whole schedule," outfielder Alex Gordon said. "To kind of travel and treat this like a game situation during the season, it's nice for a little tune-up before the season gets going. We're happy to be here and happy to take this game on."
Gordon, a Lincoln native and former Nebraska star, received the biggest ovation during the pregame introductions. It was rivaled only by the one given to former Creighton infielder Nicky Lopez of Omaha.
New Kansas City reliever Jake Diekman, who grew up in Wymore, Nebraska, arrived in a T-shirt that read "Nebraska Strong" and talked about the recent flooding that has left his home state devastated. He had been receiving messages from family members during spring training about the ongoing water damage.
"It's just very weird," the left-hander said. "I don't think Nebraska's ever been through something like this. It's really weird because you can't really do anything from Arizona. My father-in-law lives in Columbus, and he was sending me pictures of dead cattle everywhere and stuff. It's just really bad."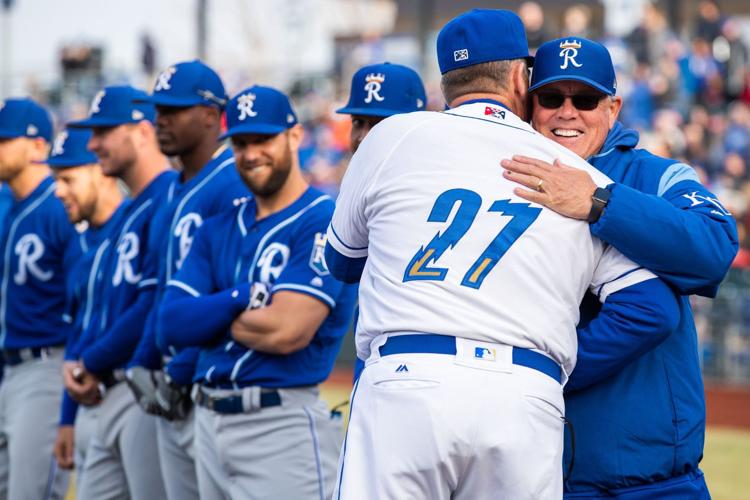 Chasers President and General Manager Martie Cordaro hoped Monday's game provided optimism.
"We hope that we can be small beacon for struggles that the metro, and region, is going through," he said. "The weather has turned. We're extremely appreciative and excited that the Royals are here."
Kansas City and Omaha have the longest parent-affiliate relationship in Triple-A baseball, spanning each franchise's 51 seasons of existence. The teams announced they've extended that deal through 2022.
The Royals and Chasers were scheduled to play an exhibition here last spring at the start of their 50th season together. That game was canceled, however, because of weather conditions unsuitable for play.
Kansas City General Manager Dayton Moore made a commitment that day that the Royals would return.
"Omaha is an unbelievable baseball community, as we all know," he said. "To be here is very rewarding for us. We think it's our professional obligation to spend time in our affiliates with our players. We talk constantly about the importance of the environment in which our players play. It's great to be here."
Most of the players in Kansas City's starting lineup came through Omaha on their way to the big leagues. Ryan O'Hearn, Hunter Dozier and Mondesi were among those who were with the Chasers last season.
Royals manager Ned Yost got a good look at that trio at the end of last summer and liked what he saw.
"These kids came to the big leagues last year and got their feet wet and started to figure everything out," he said. "At the end of the year, they were doing a really good job. It's exciting to see them back here with a little more experience and a little confidence knowing that they can play in this environment."
The starters in the exhibition game played for the first five innings, then both teams replaced nearly their entire lineups for the sixth. Fifty-two players were used in all — 36 position players and 16 pitchers.
Right-handers Scott Barlow and Staumont got the starts for Kansas City and Omaha, respectively. Each struck out four batters through two innings. A game-opening error by Lopez set up the first run.
Eric Mejia pulled the Chasers even by singling in Humberto Arteaga in the fourth. Burt's RBI single in the seventh put Omaha up 2-1. The Royals then tied it at 2-2 on Cam Gallagher's sacrifice fly in the eighth.
Castellano led off the ninth with an infield hit, stole second and then raced to third when Gallagher's throw from behind the plate sailed into center field. One out later, Burt brought him home to win it.
Jorge Soler and Mondesi each had two hits for the Royals. Mejia and Castellano tallied two apiece for Omaha.
Kansas City is off until Thursday's regular-season opener. The Storm Chasers, meanwhile, are headed back to Arizona to finish spring training. Omaha is slated to begin its PCL season on April 4 at Memphis.
Sign up for World-Herald daily sports updates
Get the headlines from Creighton, Nebraska, UNO, high schools and other area teams.
Photos: Omaha Storm Chasers defeat the Kansas City Royals
The Omaha Storm Chasers and the Kansas City Royals compete in an exhibition baseball game at Werner Park in Papillion, Nebraska, Monday, March 25, 2019.