Like every other Triple-A baseball player, Nicky Lopez wants to be in the major leagues.
The Kansas City prospect is on the right path, but he has an added incentive to make it happen soon.
This summer, the Royals face Detroit in a regular-season game in Omaha before the College World Series. It will take place at TD Ameritrade Park, where Lopez starred for Creighton not long ago.
The middle infielder, a three-year starter at Creighton, would love to be on the big league roster by then.
"I've been thinking about it, definitely, for sure," the 24-year-old said. "I think that would be unbelievable. That's something that I want to do and that's something I want to be a part of. Hopefully, it happens."
Lopez has rocketed through the Kansas City farm system since he was selected in the fifth round of the 2016 MLB draft. Two years after that, he was back in Omaha with the Triple-A Storm Chasers.
The Illinois native, rated as the Royals No. 5 prospect by Baseball America, will open the season at Triple-A. He was Omaha's starting shortstop in Monday's exhibition with the big league club.
The Royals are bullish on Lopez, who batted .308 last summer between Double-A Northwest Arkansas and the Chasers. He's a slick fielder who has hit well in the minors, but he also brings a lot of intangibles.
"He's got great personality," General Manager Dayton Moore said. "He's a fan favorite. Our players adore him. The coaches love putting his name in the lineup. He plays with energy. He has a lot of fun. He's got talent. He's got ability. We think he's got a chance to be a part of our middle infield in the very near future.
"Obviously, he's got to come do that, perform and force our hand. But we feel like he will. He's going to give us choices and opportunity as we go forward. We just can't say enough good things about Nicky."
Lopez's performance last season earned him a nonroster invite to spring training with the Royals, where he batted .333 in 48 plate appearances in 20 games — while Kansas City manager Ned Yost was watching.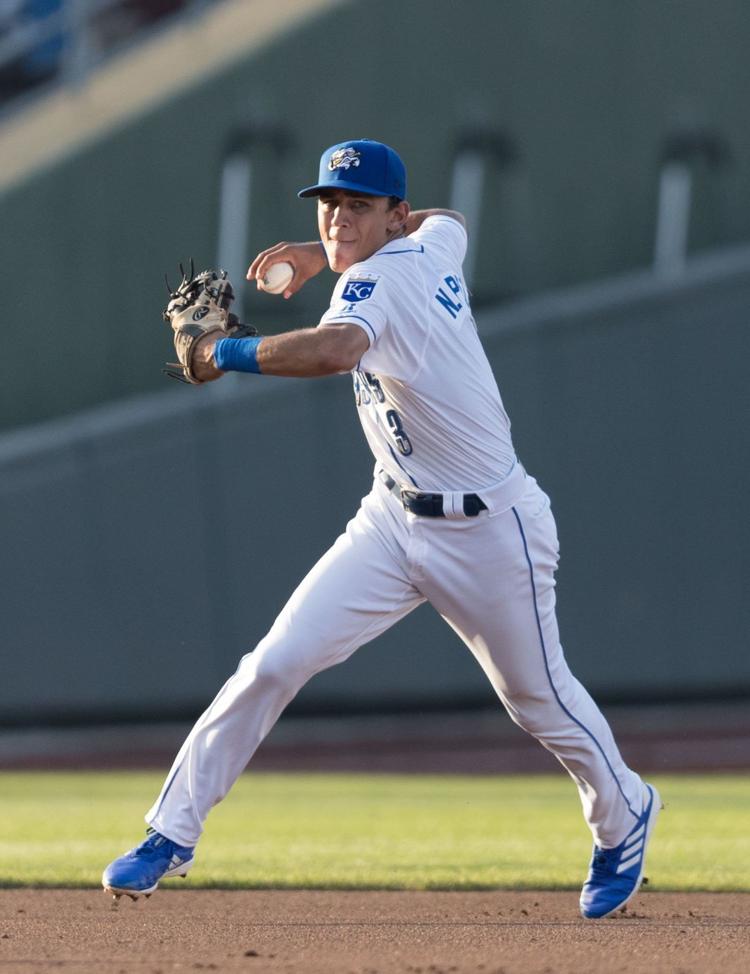 "The experience is all Nicky needs," Yost said. "He had a great spring for us, got a lot of at-bats. And he represented himself extremely well. He's going to be a big-leaguer, no doubt about it, for years to come."
The Royals, however, will be in no hurry to bring Lopez up. Former top prospect Adalberto Mondesi has taken over the shortstop spot while versatile Whit Merrifield, who landed a new four-year deal with Kansas City after leading the league in hits and stolen bases last year, will continue to play second base.
Lopez, right now, would be a utility infielder. But the Royals want him playing every day and getting at-bats. He'll be a regular in the Omaha lineup to begin this summer, expected to pick up where he left off.
"He came in last year and didn't miss a beat," Storm Chasers manager Brian Poldberg said. "He knows how to play. He's a good teammate. He can hit anywhere in the order and (play) short or second base, it doesn't make a difference. I think he's just going to take off running and continue to do what he did last year."
Lopez spent most of the offseason in Omaha, where he took 18 credit hours at Creighton to pull within nine of earning his degree in marketing. He was drafted as a junior but is intending to graduate soon.
"Hopefully, I don't need that back-up plan," he said. "Hopefully, baseball pays off here shortly and I can just do baseball as my profession. You never know what happens. If I have that back-up plan, especially with a Creighton degree, that'll pay dividends for sure."
Lopez said he used the facilities at Creighton to train during the offseason. He also worked with a nutritionist, who gave him advice to keep weight on his 5-foot-11, 175-pound frame during the season.
The Royals prospect intends to enter his third full year as a pro ready, both physically and mentally.
"I definitely have a lot of confidence," he said. "That's just something that fuels my game, being able to play with confidence. I'm looking to build on what I did last year and hopefully carry it over to this year."
Kansas City doesn't put a timetable on its players to make the majors, but Lopez knows he's ahead of schedule so far. He doesn't shy away from talk of a promotion this year or about his desire to play in the major league game downtown in June in the city that has become like a second home for him.
"But that's out of my control," Lopez said. "All I've got to do is control what I do on the field. Hopefully, that will be enough and maybe I'll be able to be in that game. That would be a really cool experience."
Sign up for World-Herald daily sports updates
Get the headlines from Creighton, Nebraska, UNO, high schools and other area teams.
Photos: Omaha Storm Chasers defeat the Kansas City Royals
The Omaha Storm Chasers and the Kansas City Royals compete in an exhibition baseball game at Werner Park in Papillion, Nebraska, Monday, March 25, 2019.