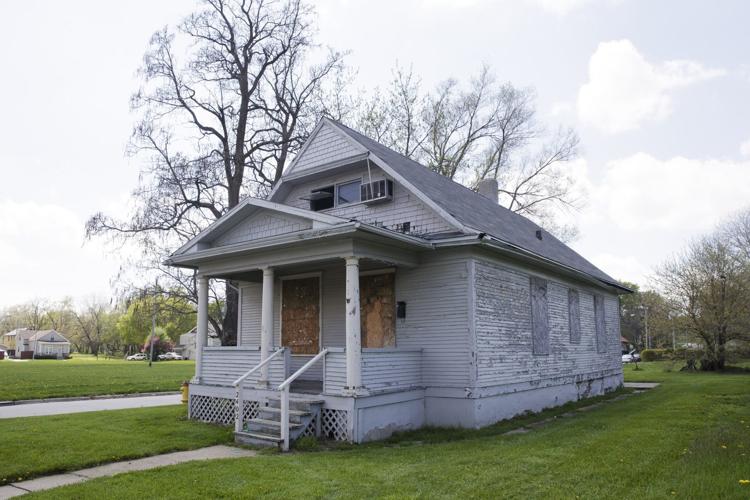 The house stands alone beneath a towering catalpa tree, one block from North Omaha's main artery.
Plywood boards shutter the front door and windows. Gray paint peels from wood siding. Next to an empty Corona bottle, a crack in the foundation zigzags like a lightning bolt.
Three skinny white pillars hold up the porch, where a crossword puzzle book squeezes into a small black mailbox and a year-old Sports Illustrated shrivels on the floor.
Inside, there's 900 square feet on the main floor and another half story above. Bedrooms, a living room and a kitchen. Memories of a mother and father combing through report cards and distributing allowances in coins. But no way to see in.
The white homes that once stood on this street — tight as teeth — have all been pulled. Demolished. For some reason, the bulldozer spared the 114-year-old shell at 2402 N. 25th St.
Picture its prime, when a gangly teenager burst out the front door, down those four porch steps and bounced his basketball toward the pulse of 24th Street.
Bob Boozer, by family rule, had to return to the porch when the streetlights flickered on. That left plenty of time to play at his home away from home: the Near North YMCA.
Boozer covered those four blocks hundreds, if not thousands, of times, starting in the late 1940s when the Y was in the old Webster Telephone Exchange Building, 2213 Lake St.
He and his friends wore out the concrete floors. All day Saturday, after school on weekdays, even during the Lake School lunch hour. They scarfed day-old rolls, chugged from milk cartons and played shirts and skins, returning to class smelly but satisfied.
The hoops weren't quite 10 feet. That's because they were in the basement.
"You had to shoot a line drive shot if you didn't want to hit the ceiling," Boozer said in an interview before he died in 2012.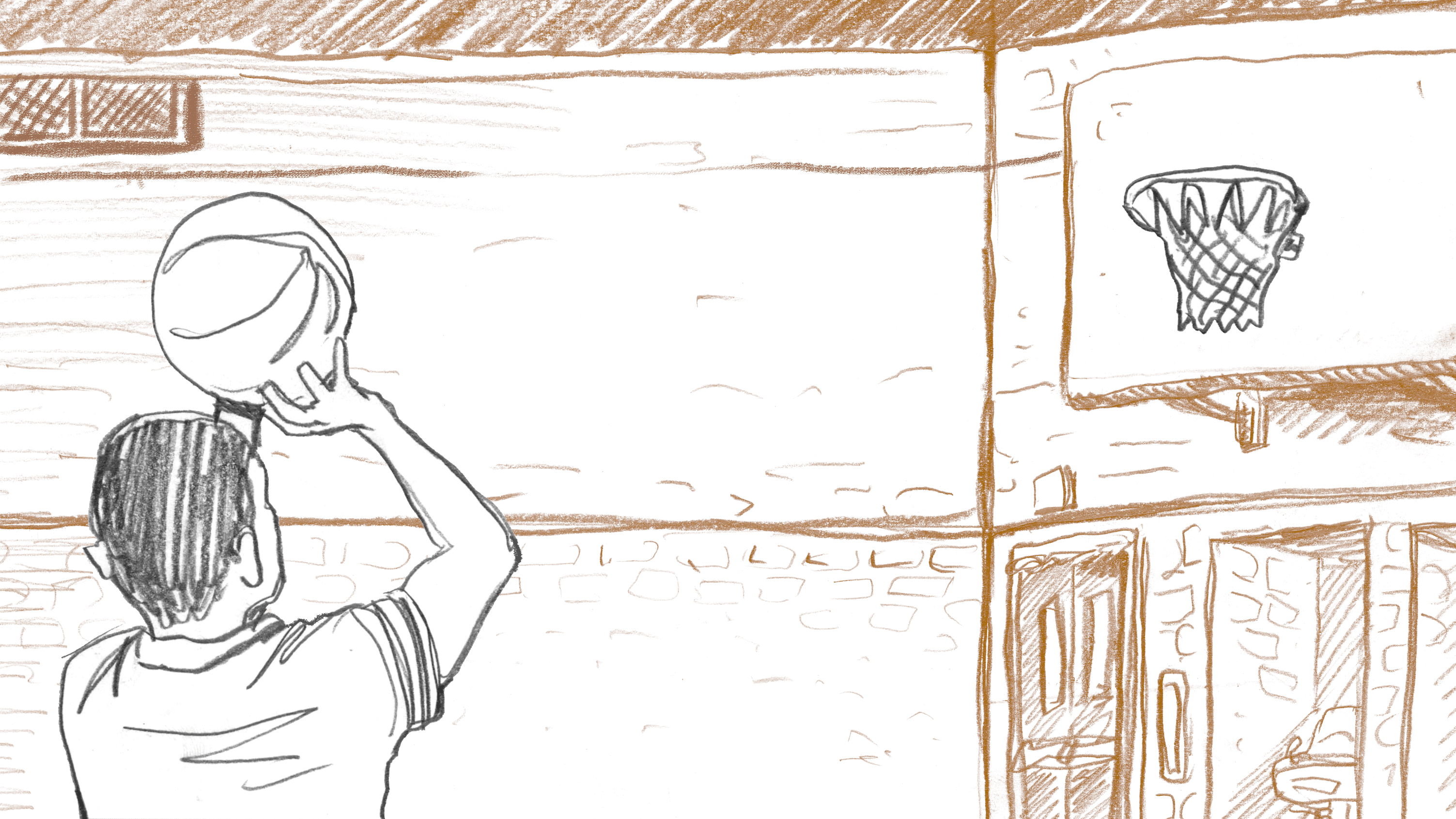 Boozer always had a jumper, but he lacked strength. In high school, he tried out for a distinguished neighborhood team — the Y Travelers — loaded with grown men and high school standouts, including acrobatic point guard Bob Gibson. Bob's big brother Josh ran the show.
Boozer had never met Josh Gibson until tryout day. His first impression was Josh's substantial rear end.
"He was showing me how to box out. And he put his butt into me and rooted me out from underneath the basket. He rooted me to half court. And that's when I first learned how to get a rebound."
Boozer would carry the lesson the rest of his career, to Wilt's cathedral, the Olympic medal stand and the Champagne-soaked NBA champions' locker room. But rooting out the enemies of Boozer's neighborhood wasn't so simple.
As the 1940s ended, North Omaha didn't feel any less segregated than Alabama, where Boozer was born.
When a black man tried to order burgers in South Omaha, he was charged extra before noticing a sign: "No colored trade solicited."
One night, four young women — two black, two white — attended a downtown exhibit honoring America's fight for liberty. But afterward, a downtown restaurant refused to serve them.
"You wouldn't think of being in the Benson area after dark," said Rodney Wead, Boozer's friend and peer. "You'd get your butt beat and run out of there quick by the police or the residents."
Crosstown Roller Rink denied admission to blacks, except on Wednesday nights. Peony Park prohibited blacks entirely. That left Playland Park in Council Bluffs, where Boozer saw a black man atop a dunk tank, next to a sign: "Dump the (N-word)."
Eighty percent of blacks didn't graduate high school, partly because they were barred from jobs outside service or manual labor. Why put in extra work for white-collar jobs that weren't there?
Corporations like Union Pacific and Coca-Cola didn't hire blacks. Neither did streetcar companies, laundromats or ice cream parlors.
Sacred Heart Catholic Church at 22nd and Binney Streets, near the heart of North Omaha, refused to accept black parishioners. An Omaha doctor refused to treat a 4-year-old black girl. The downtown YMCA allowed Boozer and blacks to swim in the pool, but drained the water once they left. You're never going there again, his mother told him.
Each incident, Boozer said, looking back over seven decades, felt like an object hitting you on the shoulder. It always bounces off, but it leaves something buried inside.
"You remember that stuff."
* * *
Like most of his neighbors, Boozer's first memories were of the Jim Crow South.
His dad tended the coal-fired boilers at the University of Alabama. One night, after bosses passed him over for another promotion, John Boozer came home and told his family to pack up.
While American soldiers headed overseas to fight Hitler and Japan, the Boozers joined the second Great Migration. Bob was just starting school when he boarded a train from Tuscaloosa to Memphis, then to St. Louis, then Kansas City, and finally Omaha's Union Station.
He was led to North 24th Street, just off Binney. His family dropped its belongings and moved onto the third floor of a cousin's house.
Dad went to work loading cow hides onto trains at Armour packinghouse. Mom got a maid job at a downtown hotel. Soon they bought the house — 1½ stories with a gabled roof — on North 25th Street.
From 1940 to '50, Omaha's black population nearly doubled — from 12,000 to about 22,000. Newcomers jammed into little white houses, sleeping on relatives' couches or floors, as black leaders like Woodrow Morgan tried to push the neighborhood walls.
Morgan was a Tuskegee Airman flying an armed reconnaissance mission over Rome on May 26, 1944 — 11 days before the Normandy invasion — when his plane went down behind enemy lines. He spent the next year in one of Mussolini's prison camps before coming home to North Omaha a hero.
Morgan bought a house at 31st and Parker Streets, just west of the black box. His new white neighbors hurled insults into his phone and rocks through his windows. The veteran stuck it out, but resistance persisted.
In prestigious Kountze Place, just north of the boundary, white residents received penny postcards reminding them of the dangers of a "Negro invasion."
If you want to stop communism in the U.S.A., see that restrictive covenants are enforced!
The U.S. Supreme Court had ruled that neighborhood contracts preventing sales to blacks were unconstitutional. But enforcement was lax and ideologies entrenched.
A World-Herald reader wrote this in the Public Pulse on March 27, 1948:
"While it is undoubtedly true that a colored person cannot patronize certain hotels and bars and cafes that cater exclusively to white folks, just what is there to prevent the more well-to-do among the colored folks building their own hotels, cafes, etc.? ... The colored person complains because he must (?) live among his own color. Just what does this mean? Are they shamed of their fellow Negroes? Just why do they moan and groan incessantly because they cannot live among white folks?"
Blacks may have avoided the trouble if Near North Side houses weren't so dilapidated. Excluding the housing projects, fewer than 20 new homes had been built in the neighborhood since World War I. Half of black homes needed repairs or condemnation.
The chairman of the Douglas County Board, Roman Hruska, described black housing as "abominable."
"Most Caucasians," said the future U.S. senator, "are not bigots or malicious but only bewildered and misinformed bystanders … overwhelmingly possessed with inertia and are likely to be governed by tradition rather than by conviction."
Soon, Omaha built three more housing projects — 700 units — in addition to Logan Fontenelle. While the neighborhood scrambled for beds, the Boozers entrenched at 25th and Erskine.
That's where Bob collected comic books, which he traded with his friend up the street, Ernie Chambers. You had to give three basic comics to get a classic like "Frankenstein." Damage your cover and you're paying extra.
"It was almost like a little barter system," Chambers said.
Boozer didn't pay a dime to see his real heroes. When the Negro League buses turned onto Erskine Street and stopped in front of Patton's boardinghouse, the driver hit the air horn.
"And I would hit the door," Boozer said.
He flew off his porch, sprinted across the street and blurted to the first man off the bus: "Can I be batboy?"
Major cities anchored the Negro Leagues, but in order to gain fans and revenue, they barnstormed, challenging local semi-pro teams. Boozer rode the buses to Rosenblatt Stadium and Council Bluffs' Legion Park. He shagged bats and helmets for the Kansas City Monarchs, the Birmingham Black Barons and, best of all, the Indianapolis Clowns with Satchel Paige.
During the seventh inning, the Clowns spiced up the game with an act of shadow ball. Their slugger would crush an imaginary ball back, back, back. He rounded the bases as the outfielders gave chase. Then just before he touched home plate, the catcher — out of nowhere — placed the tag on him.
"The people in the stands got a big kick out of that," Boozer said.
* * *
In snowy Detroit, the Bears hammered the Lions, 24-7. In South Bend, No. 1 Notre Dame prepared to smack USC, 32-0.
In North Omaha, residents gathered on a windy, 40-degree afternoon for their own turkey tradition.
The annual Coal Bowl at Burdette Field matched the neighborhood's finest black football players, from teenagers to grown men. It was tackle. It was vicious. It was freedom.
Josh Gibson coached his YMCA Monarchs at Burdette in the summer. But come Thanksgiving, he usually played quarterback.
The '49 Coal Bowl was tough on quarterbacks. Central High's Bobby Fairchild thrice led the "Pirates" inside the "All-Stars' " 5-yard line. "But each time the All-Star defense became as formidable as a fourth helping of turkey and mashed potatoes," according to The World-Herald report.
With three minutes left, one of the five Gibson brothers, Fred, nearly broke the scoreless tie when he intercepted a Pirate pass and returned it 80 yards for a touchdown. But a holding penalty wiped it out.
Very few black athletes in the 1940s and early '50s competed for high schools or colleges. What satisfied their competitive hunger? What kept them sane amid discrimination? The most fanatical rec league culture you can imagine.
There was boxing, badminton, tumbling, wrestling, volleyball, golf, tennis, girls basketball, mostly organized by the Near North YMCA. Eugene Skinner, the first black principal in Omaha Public Schools, hung up his suit and tie on weekends and led the Near North soccer team to back-to-back city championships.
There were table tennis tournaments and fishing expeditions, ceramics and woodworking classes, tap dance recitals and talent shows, even wheelchair basketball. And who was behind most of it?
If OPS wasn't going to hire him to teach and coach, he was going to turn North Omaha into one monster P.E. class.
The most serious team of all was men's basketball. The Y Travelers were older than Josh's youth baseball team — late teens and 20s — and they also toured the Midwest.
They were the first black team to compete in Omaha's best league. And in 1954, Josh led them to the city championship.
Bob Rose, a former Omaha University standout, started at guard. But the real star was Bob Gibson, a "jumping-jack trick shot artist," according to the Omaha Star. He grew up shooting line drives in the Y basement, too.
Gibson had started ninth grade south of 5 foot and 100 pounds. So small that Tech's freshman football coach, Neal Mosser, shooed him away. But by his senior year, Gibson was a 6-foot, 165-pound all-city basketball guard. That spring, he earned all-city in baseball, too, earning a contract offer from the renowned Kansas City Monarchs.
Go to college, Josh ordered.
Bob wanted to play basketball at Indiana, but he settled for the school half a mile away, Creighton. For a while, nobody in the city could match him.
Then his old friend from the YMCA basement hit a growth spurt.
* * *
At dinner time, Viola Boozer made sure no chair sat empty.
Every night, Boozer's mom walked in the door, crashed on the bed for a few minutes, rose and cooked dinner, demanding that her family eat together.
Dad had a seventh-grade education. Mom made it to ninth. But they scrutinized every report card, making clear that Bob and older sister Mary would go to college. One problem: They had money only for Mary.
In high school, the Boozers allotted their kids 50 cents a day for lunch and transportation. A streetcar ride cost a dime. If you rode one way, you got a 40-cent lunch. If you rode both ways, you got a 30-cent lunch.
"So we walked to school every day," Boozer said. "In the winter, you name it. We were walking."
Mary hiked 2 miles downtown, joining Rodney Wead and 35 blacks in Omaha Central's class of 1953. Bob took a shorter route, a mile and a half, following Bob Gibson to the superior basketball school.
A product of the post-World War I boom, Tech opened in 1923 with OPS officials claiming it was the largest school west of Chicago. Original plans called for just 1,200 students, but demand was so high that architects started over. Why?
Tech specialized in trades. The theory was simple: American factories would follow the educated labor. So if Omaha trained the next generation of mechanics, electricians, welders, carpenters and plumbers, the local economy would thrive.
It wasn't all grunt work. Tech students fixed Model Ts. They studied aeronautics. Some hosted radio shows in a state-of-the-art broadcasting studio. In 1940, just after Josh Gibson graduated, enrollment peaked at about 3,700 students.
Central High couldn't hold that many. Neither could South nor North.
But Tech, constructed for $3.5 million (more than $50 million in today's money), rose five stories and stretched three blocks along Cuming Street. It featured the finest amenities: two gymnasiums, a swimming pool, a 2,200-seat auditorium, marble staircases, secret tunnels, a greenhouse and an underground stream.
From the beginning, Tech was a melting pot of rich kids, poor kids, immigrants, natives, Russians, Italians, Jews, you name it. But following the second Great Migration, most of its best athletes were black.
Boozer was no prodigy. He played junior varsity as a 5-foot-11 10th-grader. He loved the game, but he also liked to sneak out and ride around in John Ewing's '39 Chevy. Friends called him Baby Boozer.
Then the summer before 11th grade, 1953, he shot up.
Boozer's strides off the porch got a little longer, his drive a lot stronger. He was growing so fast he couldn't walk and talk at the same time. So he started jumping rope. His buddies led him through agility drills. He went one-on-one with Johnny Nared, who went on to be an all-city guard at Central.
Suddenly Boozer had visions of attending college without Mom and Dad's help. Charles Bryant, a standout football player, had gone from North Omaha to all-conference honors at Nebraska. Gibson was on scholarship at Creighton. Why not him, too?
As a junior, he averaged 19.7 points per game and made all-city. Boozer could catch the ball just off the block, fake one way, turn the other and make jumper after jumper. When he wanted a challenge, Bob practiced with his eyes closed.
He grew another inch before 12th grade. John Butler, the Y director, gave Boozer a key so he could train at night. The Near North YMCA had constructed a new building at 22nd and Grant and the rims were finally 10 feet.
Boozer's dunks proved they were sturdy.
* * *
The heroes always returned.
Joe Louis. Jackie Robinson. Hank Aaron. They all made public appearances on the Near North Side in the mid-'50s. The most eloquent arrived in the final days of Omaha's 100th anniversary year, 1954.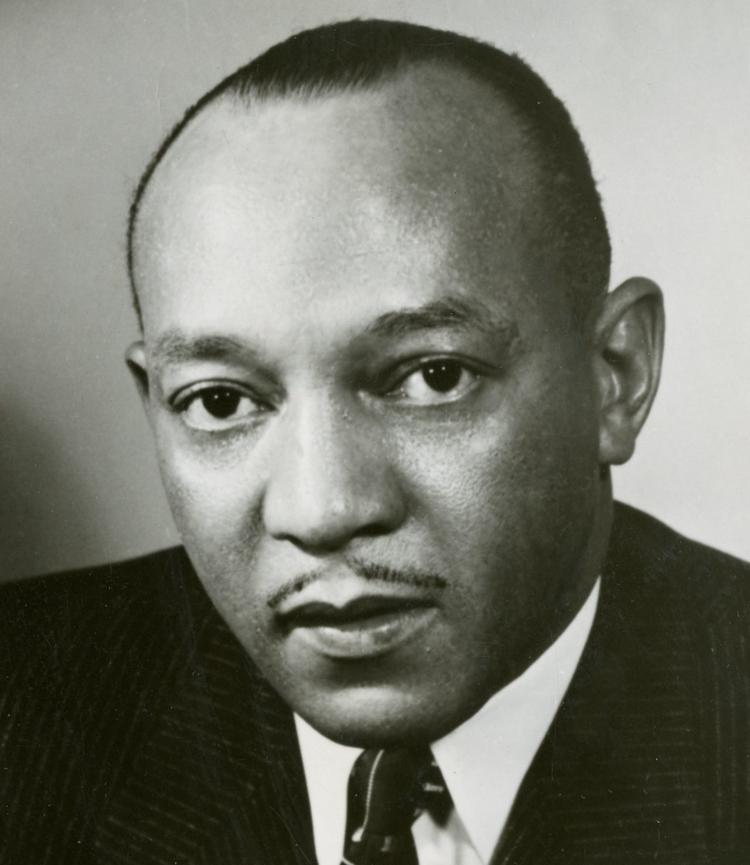 Jesse Owens, who defied Hitler at the 1936 Olympics, headlined Tech High's third annual all-sports show. It was the Near North Y where he delivered a life message tailor-made for a 17-year-old basketball prospect.
"When you go to college," Owens told the crowd, "the athletic department will put a pair of imaginary rose-colored glasses on you. When you depart the campus, the same athletic department will take the glasses off of you.
"For the first time in four years, you will see the world as it really is."
Companies will hire you because of your accomplishments, Owens said. But when you stop making headlines, they'll see no value in you. They'll cut you loose. You'll wander from job to job and become a "bum."
"Go to school to get an education. Then when the medals you have won are tarnished and the banners given you have gathered so much dust that you can't read the year 1954, the wisdom and knowledge that you have acquired will be the championship that will be the dearest and most valuable to you."
Boozer knew he couldn't get the education without a scholarship. And basketball was his ticket.
He broke city scoring records that winter. He averaged 25.7 points per game and led Tech High to a 15-2 record. He played the game, according to a 1955 World-Herald story, "as if he invented it."
But state basketball championships eluded the Trojans. In 1952, foul trouble doomed them against Fremont — Gibson blamed the refs.
Coach Neal Mosser, who started four black players, always told the Trojans to leave no doubt. If you let them stay around so the referees can have an opportunity to take it away from you, they will.
Two years later, Tech met Scottsbluff in the state semifinals at the NU Coliseum. Boozer had 19 points, but he couldn't get free in the second half as Scottsbluff grabbed the lead. When the clock hit zeroes, the tallest man on the floor broke down like a child.
"I literally stood in the middle of the floor and just cried."
Two weeks later, he was back at the Y, exchanging passes with Creighton's Bob Gibson as they led Josh's Travelers over the Minneapolis Wizards, 91-47.
The following Sunday morning, Boozer made The World-Herald's all-state team, joining a skinny redhead from Hastings whom columnist Gregg McBride called a "smooth manipulator and strategist." Tom Osborne opted to stay in Hastings for college. Boozer wanted to get out of Omaha. Preferably to Iowa.
Mosser sent the Hawkeyes coach a letter of interest. When he got a response, he called Boozer from study hall and sat him down.
I want you to see something. Brace yourself, this is the way life is gonna be.
Boozer read the letter, which echoed the letter Bob Gibson received from his dream school, Indiana, two years earlier.
We've met our quota of black players.
That spring day in 1955, Boozer returned to the little house on 25th Street shouldering a familiar twinge. The same sense of anger his father felt a decade earlier, when he came home from shoveling coal into the flames and decided to move his family north.
In June, Bob graduated from Tech and found a fallback plan for college. Kansas State. The future All-American, Olympian and NBA champ packed his bags, stepped off his porch and headed south alone.
He had all the fire he needed.
Next up: Packinghouse Pride
Meatpacking lured black migrants to Omaha and put food on their tables, creating a financial foundation for their children. But Omaha's No. 1 industry did something more. Its gruesome work environment motivated kids like Marlin Briscoe — the future Super Bowl champ who grew up in the shadow of slaughterhouses — to pursue something better than a life on the kill floor. 
Meatpacking lured black migrants to Omaha and put food on their tables, but its gruesome work environment motivated kids like Marlin Briscoe t…
Photos: Scenes of North Omaha
North Omaha is the epicenter of the city's black history and culture. Check out these photos, many of which were taken during the 1960s, to see the neighborhood at the peak of its vibrancy.