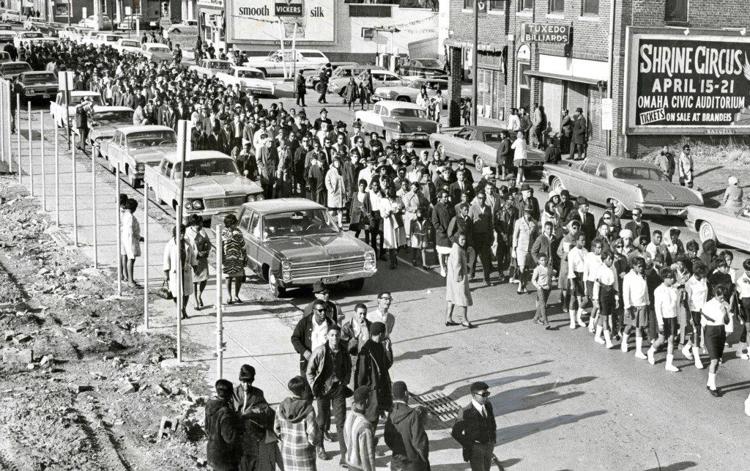 The rifle blast sucked the air from the sky.
Not just in Memphis, where sirens surrounded the Lorraine Motel, but hundreds of miles away in Omaha. Marlin Briscoe finished a math class at UNO, one of the last impediments to his degree. He walked to the parking lot, climbed into his gray Buick Riviera and heard the radio report.
"I started crying," Briscoe recalled. "It was like somebody stabbed me in the heart."
Martin Luther King Jr. died that night, April 4, 1968, the victim of a white man's single rifle bullet. He was 39.
Since emerging as the face of civil rights a decade earlier, King's non-violent principles had lost favor with progressive blacks.
"As more militant Negroes cried 'Burn, Baby, Burn,' " an Omaha Star column explained, "King's strongest admirers questioned whether he could draw as large a crowd at his own alma mater as Stokely Carmichael, and sadly admitted that some students would boo him."
But no black man in America inspired as much respect and admiration. King's death, Ernie Chambers said hours after the blast, "could very well be the first shot of a civil war."
Riots erupted in Washington, D.C., Boston, Philly, Chicago, Detroit, Los Angeles, even Des Moines. But in North Omaha, exactly one month after the George Wallace unrest, blacks simply wept.
On April 7, about 2,000 people marched one mile from 24th and Ohio Streets to Salem Baptist Church for a memorial service. Hundreds more watched from cars, sidewalks and store windows. Kids led the way, holding up American flags and beating drums. Fathers in black armbands carried toddlers on their shoulders.
The church filled quickly and the crowd spilled into the street. State Sen. Ed Danner addressed an audience bigger than his neighborhood:
"America, I'm not sure God isn't going to make you pay. ... If you take a life of a man like Dr. King, what chance does Sen. Danner have?"
Major League Baseball postponed Opening Day for King's funeral in downtown Atlanta. The next night in St. Louis, reigning World Series MVP Bob Gibson recorded his first outs of 1968, arguably the greatest individual pitching season in baseball history.
Since 1919, only Gibson has recorded a single-season ERA lower than 1.52. He shattered the mark in '68 with a 1.12, thanks largely to an eight-week summer span that still defies logic. Ten starts, 10 complete games, 10 wins. And just two runs allowed.
But the numbers alone don't tell the story. During a time of deep racial and cultural conflict, Gibson embodied a character — an archetype — that white America didn't understand.
The year 1968 cranked those hostilities to a boiling point, especially back home. As the kid from the Logan Fontenelle projects became the most invincible force in sports, the ingredients that produced North Omaha's generation of athletes melted away.
One day after Dr. King's funeral, Gibson didn't give up an earned run in seven innings against the Braves.
* * *
Four days before King's assassination, the president, weakened by Vietnam, stunned Americans with an Oval Office address: He wouldn't run for reelection in 1968.
His exit opened the door for two Democratic senators, Eugene McCarthy and Robert Kennedy. It also drew attention to Nebraska, one of only 14 states holding a primary.
Kennedy and McCarthy opened campaign offices nine blocks apart on North 24th Street, within shouting distance of the next controversy.
On April 27, John Beasley was walking home from McCarthy's headquarters when he saw flashing lights at 24th and Franklin.
The 24-year-old followed the commotion behind a liquor store, where four cops had a black man in handcuffs on the ground while a fifth officer sprayed Mace in his face.
"What the hell are you doing?" Beasley recalls saying. "You already got him."
Two of the officers had a reputation for harassing blacks. As a crowd of Logan Fontenelle residents gathered to protest, officers fired two shots in the air, warning the crowd to back away. One pointed a gun at Beasley's brother.
"Ten years ago, police could have used any method of breaking up a dice game," Rodney Wead said in '68. "But not today. The people no longer feel powerless and they fight back the way they can."
The next night, 26 businesses were damaged or looted, plus 37 vehicles. Ten people were injured, including four policemen.
Rioters targeted white-owned stores like Belzer's Market and Ruback's Market. Their Jewish owners had collectively been on North 24th Street for 51 years. But now they were done.
"You don't make a fortune and it's not worth losing your life," Marvin Belzer said.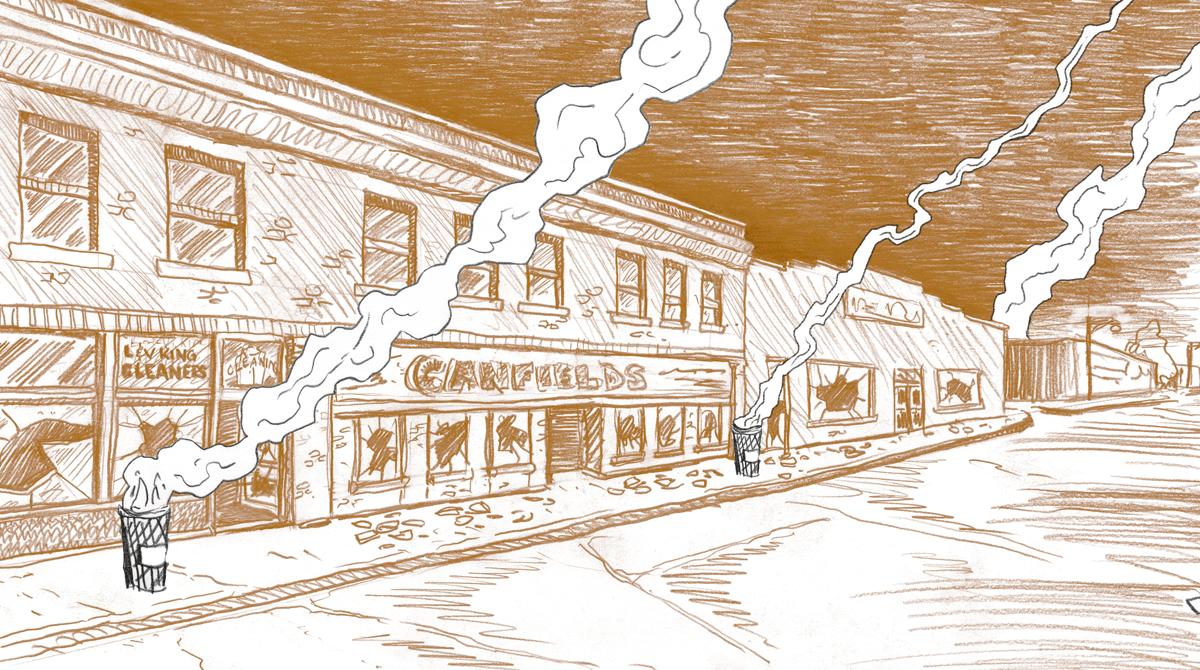 Two days later, about the same time that actor Paul Newman stood atop a station wagon at Eppley Airfield and stumped for McCarthy, Beasley addressed a rally in the Safeway parking lot at 24th and Lake. He scolded the "thugs" who burned down his neighborhood.
He also spoke out against police brutality, which earned him a few quotes in news reports. Beasley started receiving angry calls and hate mail, even death threats.
Martin Luther King got it, you'll get it, too.
Don't worry about them, Chambers told Beasley. They're cowards. But Beasley had a young family. He packed up, left his hometown and spent the next five years in Philadelphia.
Chaos in North Omaha didn't distract Gibson. On May 1, he pitched 12 innings, beating the Astros 3-1.
* * *
The day before the Nebraska primary, a downpour doused Omaha. Robert Kennedy rode up North 24th Street in a convertible, the rain soaking his head.
At Erskine, 1,500 people gathered in the street to hear the emerging voice of civil rights, the man who grieved with Coretta Scott King. The car stopped and Kennedy climbed a platform.
"Work with me so the next generation of black people has a better opportunity than you have had."
No state gave Kennedy a larger share of votes than Nebraska. He beat McCarthy, 52% to 31% — Vice President Hubert H. Humphrey wasn't on the ballot.
RFK showed promise — Gale Sayers, Bill Russell and Hank Aaron endorsed him — but no single politician spoke for all blacks.
Two weeks later, Jackie Robinson, a disillusioned Republican desperate for inspiration, attended an interfaith banquet at the former bastion of segregation, Peony Park.
Diabetes weakened Robinson at 49 years old. But the man who inspired Bob Gibson to pick up a baseball still had pluck. Freedom, he said, is never given voluntarily by the oppressors. The oppressed must demand it.
"You will understand why we find it difficult to wait … when you have seen hate-filled policemen curse, kick, brutalize and even kill your black brothers and sisters with no punity. … When your first name becomes 'n-----' and your middle name becomes 'boy' however old you are and your last name becomes 'John' and when your wife and mother are never given the respected title 'Mrs.' and when you are harmed by day and haunted by night by the fact that you are a Negro … never quite knowing what to expect next, and plagued with inner fears and outer resentment.
"There comes a time when the cup of endurance runs over, and men are no longer willing to be plunged into an abyss of injustice where they experience the bleakness of corroding despair."
Jackie's voice still mattered, but he couldn't stop the bleeding.
The next night in North Omaha, a black police officer shot and killed a Tech High junior who had stolen a car and resisted arrest. His name: Percy Hare, the younger brother of Tech's former basketball standout.
Six nights later, Robert F. Kennedy won the California primary, grabbing control of the Democratic nomination. He delivered his victory speech at the Ambassador Hotel, then walked through the hotel kitchen, where a Palestinian gunman fired three bullets into him.
When the news reached North Omaha the morning of June 5, blacks mourned RFK like one of their own. One business sold $1 Kennedy posters inscribed "Honorary Soul Brother."
"We can only hope that the well thinking Americans will put forth more effort to remove the causes that turn men into monsters," concluded an Omaha Star editorial.
On June 8, NBA star Oscar Robertson attended RFK's funeral in New York. The next day — Sunday afternoon — the Big O was in North O for Bryant Center's summer opening ceremony. Robertson, Bob Boozer (his old Olympic teammate) and Gale Sayers signed autographs for the crowd, but they couldn't lift the mood.
From Emmett Till to Medgar Evers, the Birmingham church girls to Malcolm X, Dr. King to the Kennedy brothers, the body count of black heroes overwhelmed even the optimists, fueling depression and anger.
No one deployed anger like Bob Gibson.
* * *
On the day of Kennedy's death, a sparse crowd of 15,218 showed up at the new Astrodome — the "Eighth Wonder of the World" — to watch the Astros host the defending World Series champions.
Baseball's eighth wonder, the Cardinals ace, shut out the home team in a swift two hours, allowing just three hits. Thus began a streak of 47 scoreless innings.
Gibson's filthy slider deserved much of the credit, he later wrote, but "I can't completely dismiss the fact that nobody gave me any s--- whatsoever for about two months after Bobby Kennedy died."
June 11: 9 innings, 0 runs. Cards 6, Braves 0.

The chip on Gibson's shoulder had long defined him.
At All-Star Games, he avoided the clubhouse because his fellow superstars wanted to mingle. He snapped at younger players who idolized him. And, most famously, he plunked hitters who dared take a home-run cut, including former teammates like Bill White.
"You son of a bitch," Gibson hollered at White after blasting his elbow with a heater, "you went for that outside ball! That part of the plate belongs to me!"
June 15: 9 innings, 0 runs. Cards 2, Reds 0.

Gibson always had arm talent. With incredibly strong legs, he coiled into a big windup, whirled and leapt at the hitter like a prizefighter throwing a knockout punch. And genetics gave him an edge — his forefinger and pinky were equal lengths, as were his ring and middle fingers — so he naturally threw a cutter.
But Gibson didn't master the art of pitching until 1966, when he found precision.
When Cardinals outfielder Mike Shannon moved to third base in '67, he asked Gibson where he should line up. Off the bag? On the line? The pitcher scolded him. "I don't give a damn" ... except when there's a righty batter with a runner on first and less than two outs. That's when Gibson's sinker would induce a ground ball to third.
June 20: 9 innings, 0 runs. Cards 1, Cubs 0.

Gibson's formula was simple. Pound the outside corner. Away. Away. Away. And if the hitter extends his arms too far, well, that's a sign of disrespect, punishable by 95-mph fastball in the back.
Think of a hitter as a dog with an electronic collar, Gibson later wrote. Sometimes he needs a slight jolt to restore discipline. Gibson presented a simpler metaphor if you prefer.
"Hitters were the enemy and the inside pitch was my warhead."
June 26: 9 innings, 0 runs. Cards 3, Cubs 0.

Gibson had a softer side. Two daughters. A basset hound named Snoopy. He built model cars and played the ukulele. But to batters, he remained mysterious.
They saw his sweaty brow — he wore a sweatshirt under his uniform, even in 100-degree heat. They felt his squinty eyes — he needed glasses off the field.
Gibson didn't take social stands like Muhammad Ali, Jim Brown or Bill Russell. Constantly wary of people taking advantage of him, he resisted promoting his own community. In his mind, he represented nobody. He owed nobody.
But as the most dominant athlete at the whitest position in America's whitest sport, he couldn't avoid politics. Like it or not, he embodied the anger that white people saw in the streets. Which is why reporters — in the midst of civil unrest — didn't just want to ask him about baseball.
"The intention of riots," Gibson said, "is to get people to think and not to get complacent and take things for granted. Like a brushback pitch."
July 1: 9 innings, 1 run. Cards 5, Dodgers 1.

Hall of Famer and fellow Nebraskan Richie Ashburn knew that Gibson's stuff, especially his slider, put him in a class by himself. But it was Gibson's sneer — his "lack of concern for the welfare of the hitter" — that scared Ashburn when he stepped into the box.
"I always had the feeling I was standing there as the Grand Dragon of the Ku Klux Klan," Ashburn said.
Gibson recognized his image and his power. Unlike black men in the streets, he had an outlet for his anger.
"I was a member of a race that had been intimidated by the white man for more than 200 years," Gibson wrote. "I had the opportunity, at last, to push off the mound in the other man's shoes."
July 6: 9 innings, 0 runs. Cards 3, Giants 0.

But his dominance came at a cost.
Gibson's workload exerted so much stress on his elbow that he couldn't straighten his arm. Blood vessels ruptured. Muscles inflamed. Gibson needed medication to stay in the rotation.
"He has to have the highest threshold of pain I've ever seen in an athlete," the Cardinals trainer said. "But he never tells you how much he hurts."
Gibson learned to use other arm muscles to compensate for those injured.
July 12: 9 innings, 1 run. Cards 8, Astros 1.

He did it all without help from home. The first time "Robert Gibson" appeared in newsprint was 1947 when an Omaha Star writer called him "Little Josh."
But by 1968, Bob had outgrown his father figure. Big brother couldn't resist telling him how to pitch and, as Bob wrote, "Josh didn't know a hell of a lot about pitching in the big leagues." The two bickered so often they stopped speaking.
"You've never seen anything until you've seen those two argue," nephew Fred Gibson said. "Oh my God. That's just how they love each other."
Josh's fire and stubbornness served him well as a coach, but they turned off those closest to him. Family still loved and respected him. They just couldn't get along with him.
"There were just moments in his life Uncle Josh had a falling-out with everybody," his nephew said.
July 21: 9 innings, 0 runs. Cards 2, Mets 0.

Of course, Josh's influence always extended beyond his family tree. He coached hundreds of kids in two decades. But in the late '60s, pushing 50 years old, Josh tossed his old glove in a closet and quit coaching, accelerating baseball's demise in North Omaha.
Tech High won a state championship in 1966 with kids who grew up learning from Josh. Without him a couple years later, the Trojans lost 33 straight games spanning three seasons.
"As soon as Josh Gibson was done, I was done," Tech coach John Morse said. "Because all the kids I got, they didn't even know how to put on a baseball uniform. They didn't have no midget uniforms. Nothing. ... I couldn't win a game."
July 25: 9 innings, 0 runs. Cards 5, Phillies 0.

As Bob Gibson rolled through summer, his neighborhood took another fastball to the gut.
* * *
Through droughts and floods, assassinations and riots, devastating wars and the Great Depression, the "Big Four" didn't stop.
Armour, Cudahy, Swift and Wilson had slaughtered more than half a billion animals since the 1880s, feeding the world and anchoring Omaha's economy.
By 1968, they couldn't keep up. New competitors built small, automated facilities in small towns and the Big Four struggled to modernize. Cudahy ceased slaughtering in '67. But the biggest blow came in the summer of '68 when the biggest meatpacking plant, Armour, closed.
Since 1897, Armour stood like a brick fortress, stretching four blocks along Q Street. Even at the end, it employed 2,500 — one-third of the packinghouse workforce. Armour's impact on the local economy reached $200 million a year — $1.5 billion in today's dollars.
"Times change," Mayor A.V. Sorensen said. "There is no status quo in industry."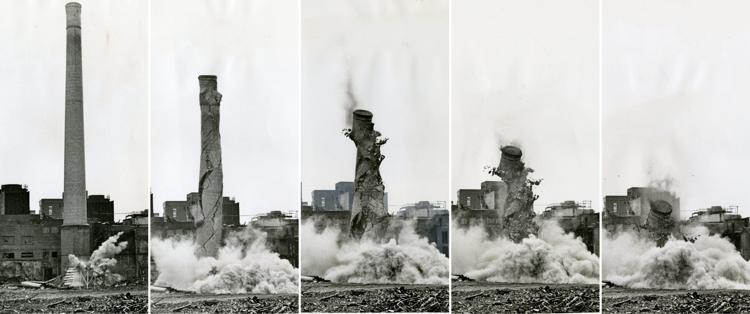 Just two years earlier, Sorensen and stockyards executives had expressed optimism. Now another 750 blacks needed jobs.
"Oh my God, it was like a bomb going off," said Cathy Hughes, whose husband worked the kill floor at Cudahy. "The workers were not prepared."
As the industry collapsed, unemployment rates in North Omaha jumped as high as 25%, according to one report. And those who found jobs didn't make the same money.
The irony? As packing plants emptied, city planners were literally paving the way to the stockyards. In 1954, just before Omaha became No. 1 in the world, Mayor Johnny Rosenblatt wanted to accelerate the cattle commute from north of the city.
He proposed a new expressway connecting the Mormon Bridge to Q Street. The path eventually shifted through neighborhoods on the Near North Side, where land was cheaper.
Beginning in 1966, bulldozers demolished hundreds of dilapidated homes north of Cuming Street, despite protests. Homeowners received market value, but it wasn't much. Without an open housing law, overcrowding in North Omaha intensified.
Apartments aren't good enough, one woman said during a protest meeting. "We are used to a home, a yard and green grass."
The freeway's biggest problem was its location: between 27th and 28th Streets. The concrete path rolled out of downtown and ripped through the black community. Remember Pinkney Street, the old home of Gibson, Ed Danner, Johnny Rodgers, Rodney Wead, Dick Davis, Gale Sayers? The freeway cut it in half.
"It was a huge deal," John Beasley said. "I think it was by design. They killed 30th Street and they killed 24th Street. You didn't have to drive down those streets anymore."
By '68, it was pretty clear the stockyards no longer needed an artery to Interstate 680. But freeway construction crawled through the '70s and '80s until residents of Miller Park, Minne Lusa and Florence — white neighborhoods in the path of the bulldozers — resisted and won. That's why the North Freeway stopped just north of the black neighborhood, at a street coincidentally named for the 1968 mayor, Sorensen Parkway.
The freeway, Roger Sayers said, did nothing but damage neighborhood character, commerce and unity.
* * *
Police brutality. Assassinations. Commercial decay. Exploding unemployment. It all set the stage for aggressive leadership.
In July 1968, the voice of Black Power walked into Omaha's favorite ballpark.
Stokely Carmichael came to see his wife, a South African singer, participate in the "Salute to Jazz" at Rosenblatt Stadium. During an Omaha Star interview, Carmichael argued against integration — "subterfuge for the maintenance of white supremacy."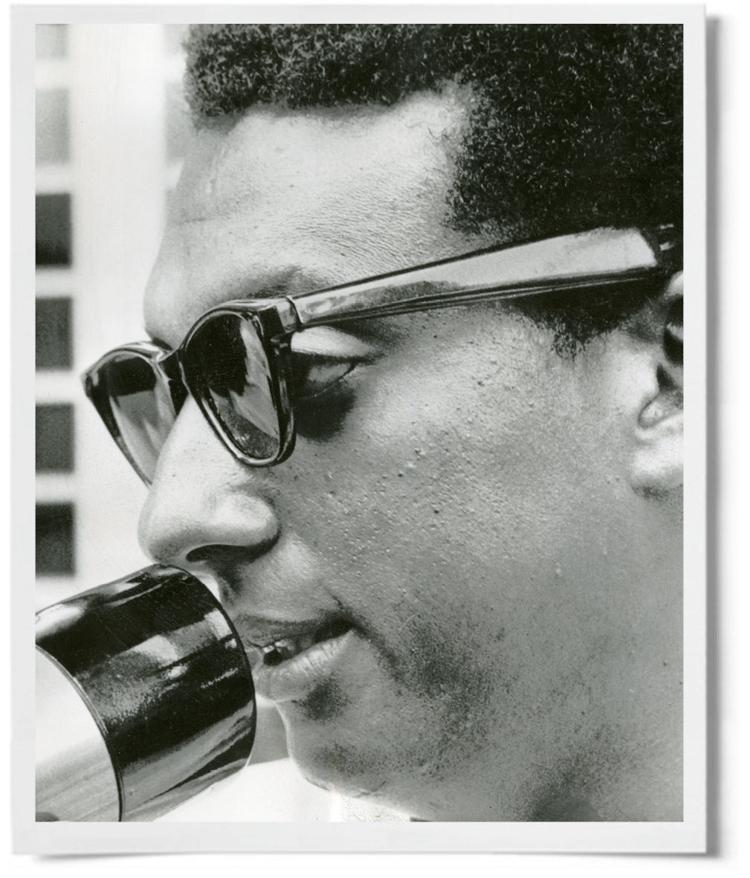 "If blacks accept that a decent house or education depends on moving into a white neighborhood or sending their children to a white school, they reinforce the idea that blacks are inferior." To retain their culture, he said, blacks must shed their colonial status and create a separate society.
Carmichael's views didn't represent most blacks. Whitney Young, national Urban League director, argued that self-imposed segregation only echoed white bigots. But Black Power quickly gained momentum.
In Omaha, Carmichael met with Ernie Chambers, whom he admired. He also met with the Black Panthers, who'd opened a chapter in North Omaha in 1968. The California-based group initiated social and educational programs. They also saw themselves as neighborhood defenders, strapping guns like soldiers in Vietnam.
"Now that the Black Panthers are in Omaha," a July press release stated in the Star, "the white police force will no longer be able to ride roughshod over the Blacks in this community without paying a heavy price."
J. Edgar Hoover took notice. The FBI director, who'd called the Panthers "the greatest threat to the internal security of the country," ordered surveillance on the North Omaha Panthers.
Across the nation, law enforcement had a busy summer. Three white cops and four black men died in a Cleveland shootout. New York policemen attacked black militants at a Brooklyn courthouse as, not coincidentally, blacks were on trial for attacking policemen.
In August, about 700 people gathered at Omaha's Fontenelle Park for the "founding convention of the Nebraska Peace and Freedom Party," a black organization. Chambers received the loudest applause.
"To me, black power is a well-loaded gun in the hands of an angry black man who recognizes who the real enemy is."
Amid the violence, a new motto swept the nation. A political slogan advocating a crackdown on urban militance: "Law and order."
Time Magazine declared it the No. 1 campaign issue of the presidential election, bigger than Vietnam.
To whites, conservatives especially, the phrase was a rallying cry to restore safety to cities.
"We talk of sending a man to the moon," candidate Ronald Reagan said in one of his loudest applause lines, "but we can't even send a man safely across the park."
To blacks, the phrase was a dog whistle.
"Law and order is just the new way to yell n-----," black comedian Dick Gregory said.
Of course, law and order wasn't just a racial issue. It was cultural. Protests turned violent on campuses from Cal-Berkeley to Columbia University.
The touchstone came during the Democratic National Convention in Chicago, where police clashed with demonstrators, filling the streets with mayhem. It was like the Wallace night at Civic Auditorium — times 100. For four nights, bloodshed captivated a national TV audience, overshadowing Humphrey's nomination.
"Americans now know — because they have seen it with their own eyes — that what black people have been saying about police abuses is true," Whitney Young wrote in a column printed in the Omaha Star. "For a change, black skulls weren't being cracked. Those were white middle-class youngsters who felt the sting of the gas and the crack of the bully club."
* * *
One week after the mayhem in Chicago, school started in Omaha.
The Omaha Star pressured school administrators on the contents of Central High history textbooks and North High cheerleading eligibility standards, which effectively banned blacks. A subtler form of conflict festered at the neighborhood borders.
Franklin School on 35th Street was the first teaching job for Sam Crawford, a graduate of Tuskegee College in Alabama. He came north in the summer of 1966 because the Omaha Public Schools needed black teachers for black students.
That fall, Franklin was 41% black. Two years later, it was 65% black. But shifting demographics didn't ruin Franklin's educational culture. Growing distrust did. Everyone feared everyone.
Black kids feared going to school because they might be beaten or shot by police. White teachers feared going to work because blacks might riot or bomb the school. Crawford's principal, who took over Franklin when it was nearly all-white, often called him to her office just to sit.
"I guess she felt like I protected her."
Many black students exploited the fear, Crawford said. They could get away with disobedience because administrators and teachers didn't want to deal with them — or their parents. They stopped listening to adults entirely. At night, students saw the riots on their TVs and felt emboldened.
"Empowered," Crawford said. "That's the word."
So what did white families do in that environment? They fled. Moved to the suburbs — and built new suburbs beyond. What did white teachers do? They quit. They wanted to teach geometry and English, not play social worker and security guard.
"A lot of the best teachers left their schools," Crawford said. "They didn't want to deal with it."
The most damaging loss wasn't a white teacher, but a black one.
Bob Rose, who grew up without a father in the South Omaha projects, spent 15 years guiding athletes at Howard Kennedy Grade School and Horace Mann Junior High. Kids like Jerry Bartee, the future Cardinals minor leaguer.
Bartee grew up without a father, too, but he received more than his share of discipline. Rose wore a whistle with a rawhide strap and when a kid screwed up, he ordered him to touch his knees. Whack.
At the end of eighth grade, Bartee finally got the nerve to ask Mr. Rose, "Why me?"
"He looked me dead in the eyes and he said, 'Bartee, as long as I'm talking to you, I care about you. When I stop talking to you, you need to be concerned.'
"From that moment on, I wanted Mr. Rose to ride me like a horse because I wanted him to always care about me."
Over the next year, Mr. Rose escorted Bartee's class to lunch and every day he ordered a fruit cocktail cup. "Every day!" Bartee said. "He'd take that spoon and he'd take a bite of fruit cocktail and then he'd tap twice on his cup. I started to eat fruit cocktail that way."
The last day of ninth grade, Mr. Rose asked Bartee what he was going to do after high school. Jerry hemmed and hawed. At 14, he didn't have the nerve to give a straight answer.
"How do you tell somebody you want to be like him? But I did. I ended up being a gym teacher."
And then he became Creighton's head baseball coach. And then Omaha South principal. And then OPS assistant superintendent.
Rose didn't have those opportunities. In the summer of '68 — a few months after the Wallace riots and the walkout at Mann — Rose's old college friend called with a proposal. He worked for State Farm in Denver and wanted Rose to join him. Help integrate Denver's insurance market.
"He had a chance to make more money," Rose's son said.
Rose deserved a grand farewell. He barely said goodbye. When school started in September, he was gone. Off to an integrated neighborhood in Colorado with his wife, kids and — for a few weeks — a 22-year-old houseguest, the same cousin he introduced to sports in the mid-'50s.
Marlin Briscoe slept in Rose's basement.
* * *
On Sept. 2, Gibson won his 20th game, blanking the Reds in 10 innings. His ERA dropped to 0.99. St. Louis, en route to 97 wins, had a 13-game lead in the National League and two hands on the pennant.
But baseball didn't best showcase North Omaha's athletic talent in 1968. Neither did basketball, despite the exploits of Bob Boozer and Ron Boone. Which sport was king? Football.
In Lincoln, Bob Devaney's top two rushers, Joe Orduna and Dick Davis, came from the neighborhood.
Gale Sayers was the NFL's best running back. His younger brother, Ron Sayers, led UNO in rushing in '67 and '68 — the Chargers drafted Ronnie 44th overall in '69.
At Tech High, a 5-foot-10, 170-pound senior tailback broke six Metro Conference records, including 20 touchdowns in one season. Before Nebraskans called him "The Jet," Johnny Rodgers' teammates called him "Mr. S" — that's short for Superman.
But only one Omahan made football history in 1968.
To call Briscoe an underdog would be an understatement. Yes, pro scouts knew about him coming out of Omaha University. One New Orleans Saints evaluator said Briscoe had "the greatest arm I have ever seen on any quarterback — college or pro."
"He's the only man I have ever seen who can run to his left and throw the ball right-handed 55 yards through the air with complete accuracy."
But Briscoe was 5-foot-10 and black, two major disqualifications. The Broncos drafted him in the 14th round with no intention of letting him throw passes. In their eyes, he was a cornerback.
"The chances of Marlin Briscoe becoming the first Negro quarterback in NFL-AFL football appear infinitesimally small," World-Herald columnist Wally Provost wrote.
Briscoe admitted being nervous over the prospect of becoming a pioneer. "It's scared me. I'll have to show them that I have mental leadership first. A quarterback's brainpower is respected first. Mechanics second."
At training camp in July, coaches gave him a token quarterback tryout. But after Briscoe pulled his hamstring running sprints, Denver sent him back to defense.
Then began an improbable run of quarterback misfortune. Broncos starter Steve Tensi broke his collarbone in the preseason. Then three backups tried and failed. Denver staggered to an 0-2 start.
On Tuesday, Sept. 24, the desperate Denver coach, Lou Saban, approached Briscoe on the practice field and broke the news. You're moving to quarterback.
Saban wasn't quite ready to pull the trigger, though. Not until the Broncos fell behind the Patriots 17-10 and his starter threw an interception early in the fourth quarter. With 9:53 left, No. 15 in orange trotted onto the field. His first play, Briscoe completed a 22-yard pass. The Broncos stalled and missed a field goal.
The next drive, Marlin the Magician engineered a 5-play, 80-yard drive, scrambling for a 12-yard TD.
"I'm out there playing sandlot ball," Briscoe recalled. "My mindset was: Play just like I did at OU."
The Broncos ran out of time and lost 20-17 and not everyone loved the experiment — "Running like he did against us will make him a poor insurance risk," one Boston player said.
But back in Omaha, Briscoe's fourth quarter sent shockwaves down North 24th Street. The moment still doesn't feel real.
White people didn't understand, said Dorothea Moore, Marlin's cousin. Still don't. The looks that blacks received walking into stores. The obstacles they confronted going to schools or voting booths. The perceptions that blacks weren't smart enough to lead or to handle pressure.
On rare occasions when Moore saw a black person on TV who wasn't portrayed as a clown or a criminal, she called her friends with excitement.
Now, the last week of September 1968, imagine … Bob Gibson was baseball's best pitcher and Marlin Briscoe was the first black quarterback. Two North Omahans appearing on her TV at the two most racially restrictive positions in sports.
Moore still weeps remembering what her cousin Marlin meant to the black teachers and preachers, the nurses and maids, the mechanics and packinghouse workers. All the hardworking men and women who "wanted something out of life." It wasn't just hope, Moore said, it was dignity.
"It's a light that glistens from within that tells you, 'I am not dirt. I am a human being. And I have respect.' "
Briscoe debuted Sept. 29, the same afternoon that Sayers rushed for 108 yards and one touchdown against Minnesota. Two days later, the newspaper of record — the New York Times — featured gobs of World Series hype. Buried beneath horse racing results, readers found a one-paragraph dispatch from the Associated Press:
Coach Lou Saban of the Denver Broncos said today that Marlin Briscoe, the first Negro ever to play quarterback in the American Football League, would start Sunday against the Cincinnati Bengals.
On Oct. 2, Gibson struck out 17 Tigers in Game 1 of the World Series.
Two days later, Johnny Rodgers scored touchdowns of 85, 65 and 24 yards for Tech High against Council Bluffs Thomas Jefferson. The next night, Bob Boozer led the Chicago Bulls to an exhibition win over Milwaukee with 30 points.
It was all building to Oct. 6.
Next up: Dark Side of the Moon
Omaha's brightest stars became the center of the sports world on Oct. 6, 1968. Within the span of a few hours, Bob Gibson pitched in the World Series, Marlin Briscoe became the first black quarterback to start a game, and Gale Sayers continued to prove he's the most dominant running back in the league. And back home, thousands of their biggest fans crowded around televisions to watch it all unfold. 
For one afternoon, Bob Gibson, Gale Sayers and Marlin Briscoe were all making history on the national stage.
Photos: Scenes of North Omaha
North Omaha is the epicenter of the city's black history and culture. Check out these photos, many of which were taken during the 1960s, to see the neighborhood at the peak of its vibrancy.