Nebraska right fielder Aaron Palensky spent most of his life following the team in the other dugout.
Older brothers Caleb and Sam played for UNO. His other brother Ben is the Mavericks right fielder.
Naturally, in his first meeting with UNO, Palensky was at the plate when the game was on the line. His tiebreaking single in the eighth inning Wednesday sparked the Huskers to an 8-5 win at Werner Park.
Nebraska (21-11), which trailed 3-0 early, broke the game open with a four-run eighth. Joe Acker's two-out, two-run double off losing pitcher Tyler Daugherty followed Palensky's RBI hit.
"Having three of my brothers playing there, I've been cheering for the Mavs for quite a long time," Palensky said. "But now, being a Husker, you've got to treat them like any other team. You can't have any sentimental (feelings) or whatever. I was just glad that I could come through for my team."
Luke Roskam went 4 for 4, with a pair of doubles, and drove in three runs as the Huskers won the lone meeting of the season between the conference leaders, dropping the Mavericks to 21-10-1.
The game didn't play out the way Nebraska coach Darin Erstad would've scripted it. Starter Kyle Perry made it through eight batters, walking four and hitting another with a pitch.
UNO recorded one hit in the first inning, a two-run single by Summit League batting leader Parker Smejkal, but left the inning with a 3-0 advantage. Nebraska got a run back on a Mojo Hagge sacrifice fly in the second, then moved in front with a three-run third, highlighted by a two-run double by Roskam.
Nebraska reliever Bo Blessie walked four batters in the third, forcing in the tying run.
The teams went scoreless until the eighth after that, with NU getting three shutout innings from Jaxon Hallmark. Erstad said that was the key to his team's win because he didn't want to stretch his bullpen.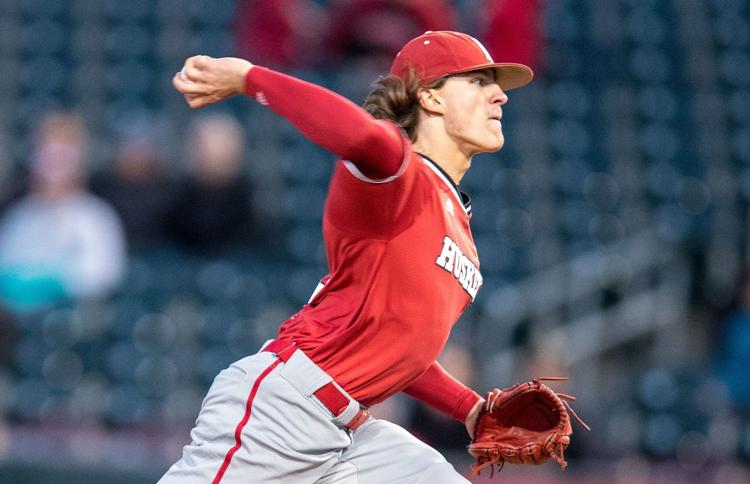 "The plans were kind of out the window after the first inning," he said. "We just needed somebody to step up, whoever that was going to be. Jaxon hasn't pitched a lot, and he just was fantastic."
UNO, meanwhile, got 4⅔ scoreless innings from relievers Grant Suponchick and Andrew Brighton. Daugherty opened the decisive eighth by getting Colby Gomes to fly out. Then the trouble came.
The senior reliever was ahead 0-2 on the next two NU batters. He walked the first then hit the second with a pitch. Palensky followed with his go-ahead single to left field.
One out later, Acker ripped another 0-2 pitch from Daugherty to bring home two insurance runs. A hard-hit single by Roskam scored Nebraska's final run, which offset Thomas DeBonville's homer for the Mavs.
UNO coach Evan Porter thought his team could've gotten out of the eighth with minimal damage. It didn't.
"The eighth inning was really disappointing," he said. "I'm really disappointed in how we competed. We got up in the count, then had some 0-2 pitches that should not be anywhere near where they were. And they made us pay for it. I think a lot of that is putting too much pressure on yourself in those moments."
Robbie Palkert earned the win in relief for NU. Gomes, a Millard West graduate, got his seventh save by fanning three in the ninth.
After the game, the Palenskys gathered near the UNO dugout. Aaron and Ben posed for pictures with family in what will be the only meeting of the season between their two teams. The first was postponed.
"It was pretty cool to see those guys go," Erstad said. "They look like they're clones. They move the same way, and they're both tremendous ball players. I'm sure there's some good banter between those two. That's a special family."
Sign up for World-Herald daily sports updates
Get the headlines from Creighton, Nebraska, UNO, high schools and other area teams.