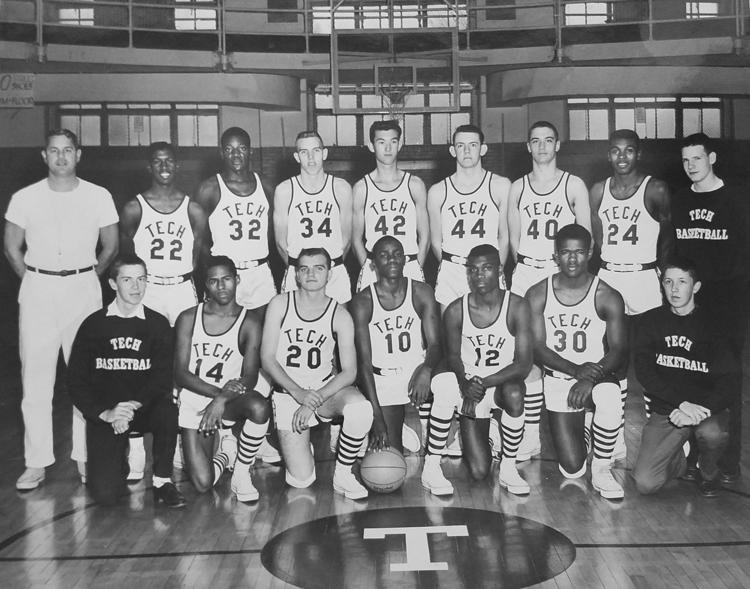 Neal Mosser rushed onto the NU Coliseum court in a fit of rage, confusion and desperation. Before 10,000 frenzied fans and the best team he'd ever coached, with 1:19 left in the state championship game, he did something out of character.
Mosser, an ex-Marine who sweated through World War II in the South Pacific, captained the 1948 Husker basketball team when he was 28. He got his degree and then the head coaching job at Omaha Tech, where he helped integrate the high school hoops scene. He built a powerhouse with black players, most notably Bob Gibson and Bob Boozer. But the Trojans always fell short in Lincoln.
On March 10, 1962, Tech was on the verge of a breakthrough, riding standout juniors Fred Hare and Joe Williams, leading all-white Lincoln Northeast 58-53 with five minutes left.
A referee whistled Tech for an offensive foul, but rather than give Northeast the ball out of bounds — as Mosser interpreted the rule — the Rockets received free throws. Mosser protested and got a technical.
Four minutes later, Tech clung to a three-point lead when Williams pursued a rebound and got tangled with a Rocket. The same white official, Ron Keefer, charged the Trojan forward with throwing a punch. Ejection.
As the ref walked Williams to the bench, Mosser buckled. In his suit and tie, on the same floor he played in college, he pleaded for fairness. The ref T'd him up again.
Northeast got the ball out of bounds and made a layup. Tech never scored again. With two seconds left, Mosser crossed the boundary once more, gave the ref a piece of his mind and received a third T.
Lincoln Northeast 68, Omaha Tech 64.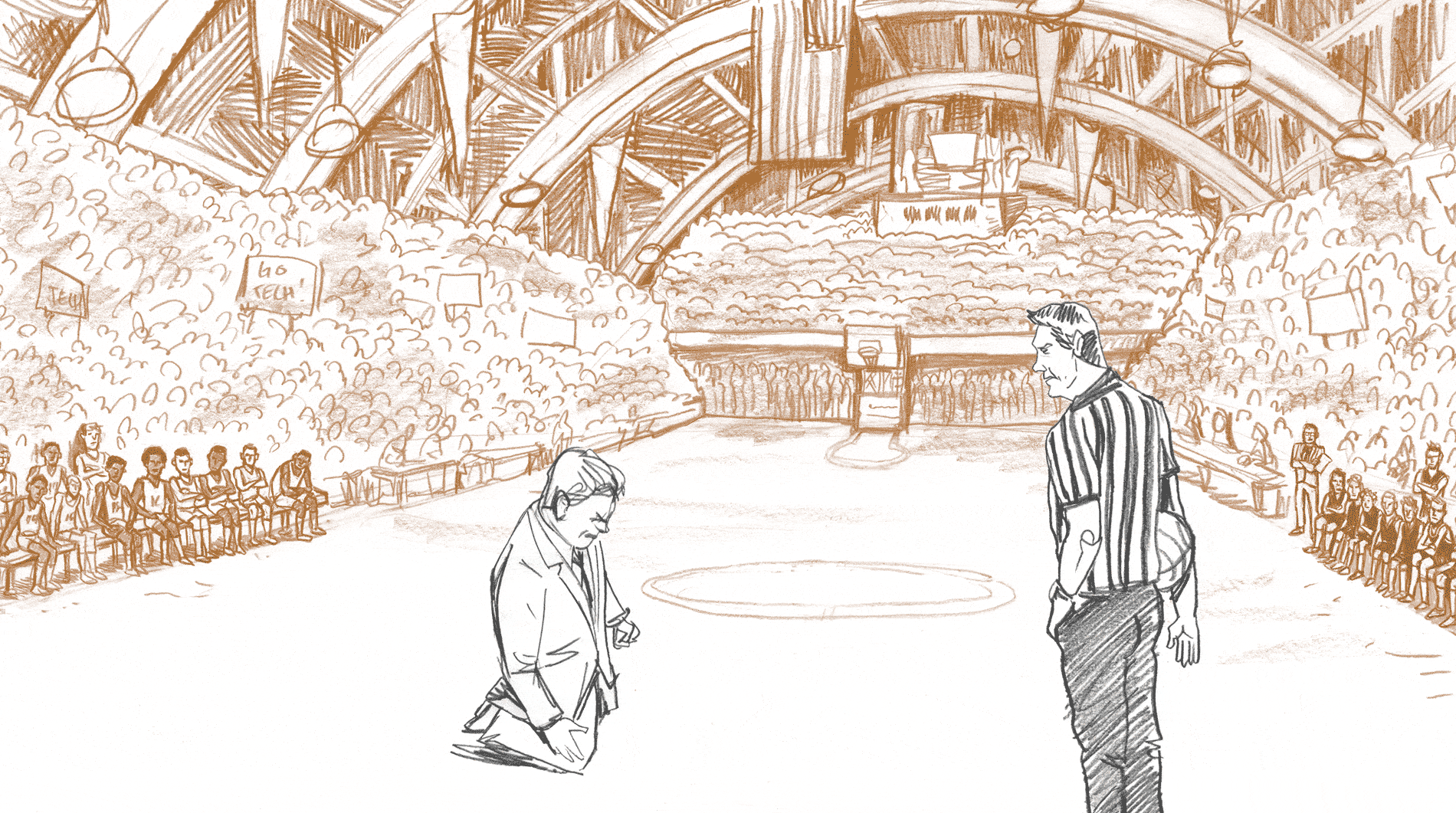 As time expired, fans from Tech and Northeast rushed the floor. The refs dashed to safety. Police broke up at least eight fights, shoving people out the doors.
Outside the locker rooms, Tech teammates restrained Hare from going after Northeast's players — the loss ruined his heroic 31 points, a new single-game tournament record. Mosser and Tech Principal Carl Palmquist convened in the Coliseum athletic office, gathering testimony for an official protest.
The furor was just beginning. Letters poured in to Tech and to the state newspapers from fans who had watched on TV.
From Grand Island: "Never in 25 years of watching high school basketball have I seen officiating more disgusting than that exhibition."
From Hastings: "I was hoping for Lincoln Northeast to win but after seeing how the referees used such poor judgment … I could not help but feel that a terrible injustice had been done."
From west Omaha: "The best team did not win, no doubt due to the color of skin of several Tech players. ... Racial prejudice is not just in the South — it is here."
Local papers quoted a letter from Mosser's brother-in-law: "The rape of Omaha Tech by the Nebraska School Activities Association cannot be erased, forgotten or condoned."
Even the new Husker football coach chimed in. Bob Devaney worried the controversy might hurt his chance at the next Gale Sayers.
"All I've heard from Omaha people since the game is that they'll never send a boy to Nebraska," Devaney said. "We've worked hard to cement good feeling between Lincoln and Omaha, and it all goes down the drain in one night."
The following week, Tech considered withdrawing from future state tournaments or the NSAA entirely. Fans signed a petition to overturn the result and move future tournaments to Omaha. Palmquist met with Omaha principals and ripped open old wounds, venting that Bob Boozer "was called every name under the sun" during the state tournament in 1955. "That's the reason the University of Nebraska lost Boozer."
Seven days after the game, a parade of white men in dark suits returned to Lincoln for a most unusual NSAA hearing — Palmquist alone spoke for an hour and 40 minutes. Four hours after it started, the NSAA Board of Control, whose members came from Milford, Albion, Broken Bow, Holdrege and Alliance, voted 5-0 to confirm the final score.
North Omaha had no choice but to move on.
That night in Detroit, Boozer scored a career-high 26 points in a playoff win. In June, Roger Sayers beat Bob Hayes in the 100-yard dash. In July, Bob Gibson, owner of a nasty new curveball, competed in his first All-Star Game in Washington, D.C. — President Kennedy threw out the first pitch. But off the field, bitterness accumulated.
For years, the power structure — white men in dark suits — had promised progress on civil rights, calling meetings, committees and elections to confront issues like open housing and fair employment. Little changed. Inequality festered.
Then in 1963, a national wave of nonviolent activism spilled out of the South, splashing institutions from Chicago Public Schools to the Lincoln Memorial. Blacks in North Omaha got off their knees, marched into the mainstream and proclaimed the grievances they long had endured in silence.
Tech High would eventually get its state championship. But the angst of '62 — the sense that something had been stolen — never washed away. For North Omaha, the episode became a cautionary tale. A reminder never to trust society's referees. According to Marlin Briscoe, those last five minutes bothered Tech standout Fred Hare the rest of his life.
"That state tournament was etched in stone."
* * *
The man behind the microphones was only five months older than Coach Mosser. Who knows, they could have crossed paths in the South Pacific during World War II. But George Wallace represented an older world in 1963.
He'd witnessed Martin Luther King's bus boycott of 1956. He'd watched federal troops escort James Meredith, a black veteran, into the University of Mississippi in 1962.
To Wallace, the walls were closing in. His views, not King's, were under assault. So on a cold day in Montgomery — 100 years and 13 days after Lincoln's Emancipation Proclamation — the new Alabama governor issued his inaugural address to a cheering crowd.
"Let us rise to the call of freedom-loving blood that is in us and send our answer to the tyranny that clanks its chains upon the South. In the name of the greatest people that have ever trod this earth, I draw the line in the dust and toss the gauntlet before the feet of tyranny and I say segregation today, segregation tomorrow and segregation forever."
Blacks in the South didn't need an explanation of what he meant. They knew the limits on jobs and schools. They knew where not to walk or sit. They knew to avoid eye contact with a white girl.
In Omaha, segregation took a more subtle form. Discrimination was "sneaky," one black woman described it in 1963.
"It's worse here in a way, because they'll tell you there isn't any and then it happens to you."
Little moments of disrespect and embarrassment — at a diner or theater or job interview or open house — instilled mistrust and paranoia, eventually transforming into rage.
"This town is sick," said the Rev. James T. Stewart, a Catholic activist in North Omaha. "I'm not speaking of open sores, either. ... No, our sickness is in the bloodstream — in our inner posture. We are an undemocratic city."
In 1963, inspired by resistance in the South, Omaha Star publisher Mildred Brown and two bold black ministers, Kelsey Jones and Rudy McNair, decided they'd seen enough. They adopted an aggressive, deliberate strategy to tackle discrimination in Omaha. They called themselves the Citizens' Coordinating Committee for Civil Liberties, the 4CL, and they protested institutions from City Hall to The World-Herald to Omaha Public Schools. Their first target would be Omaha's favorite swimming pool.
But before summer arrived, Fred Hare had a score to settle in Lincoln.
* * *
North Omaha's first basketball phenom scored 50 points in a Kellom League game in eighth grade.
Hare didn't practice with his classmates at Tech Junior High — he trained with the high school varsity.
"That's how good he was," said Ron Boone, his teammate on the eighth-grade team. "We only saw Fred Hare on game day."
In Hare's first high school game, he scored three late baskets to edge Creighton Prep.
While late-blooming Bob Boozer didn't even make Tech's varsity as a sophomore, Hare's greatness was never in doubt. A stark contrast from his upbringing.
He lived on one of North Omaha's poorest streets, 2416 Caldwell. His father, an Arkansas sharecropper, died when Fred was a baby. Three brothers died in a house fire in rural Missouri. Like Josh Gibson, Fred carried the responsibility of taking care of little brothers — even haircuts.
But nothing grabbed his attention like basketball.
"It was sheer rapture," Hare said. "The bouncing of the ball. The swish through the net."
Hare combined extraordinary skill and charisma with an intense work ethic.
"He was pretty much a loner," said Briscoe, Hare's South High rival. "Basketball was his life — his baby. He worked hard in spite of the fact that he was better than all of us."
In the summer, you'd find him with a 25-pound vest around his chest and 10-pound weights on each ankle. Or jumping rope to tone his legs. Or squeezing rubber balls to strengthen his hands.
"Fabulous Fred" scored 24.9 points per game as a junior, including 82 points at state. Senior year, he was better yet, averaging 26.7. His 30.0 in city games broke Boozer's record. Together with 6-foot-3 forward Joe Williams (20.7 per game), Tech rolled into the 1963 state tournament ranked No. 1 and crushed Hastings and Columbus, setting up a showdown with Prep.
This time Mosser didn't have to worry about refs. Hare exploded for 31 and the Trojans buried their demons beneath the Coliseum floor, 91-73.
"I'm still dreaming," Mosser said. "I don't think a team can go through the tournament with 75, 83 and 91 points without me getting up off the bench!"
The good dreams kept coming.
March 22: Hare put on his white tuxedo and bow tie for an "enchanted evening." His classmates, most of them white, voted him prom king.
March 26: Parade Magazine named Hare one of the top 15 high school players in the country — third-team All-America. (The first team included 7-foot sophomore Lew Alcindor, later Kareem Abdul-Jabbar, the NBA's all-time leading scorer.)
March 27: All the major politicians showed up at Tech's championship banquet. Gov. Frank Morrison and Joe Cipriano, the new Husker basketball coach, cornered Hare in the hallway and presented a recruiting pitch.
Hare twice visited Kansas, where Gale Sayers was finishing his sophomore year. Boozer escorted Hare to K-State. But he moved like a tortoise in making a decision.
Meanwhile, down in Alabama, Martin Luther King didn't back down from George Wallace. In April 1963, he led a protest march in Birmingham and landed in jail. In May, police turned dogs and fire hoses on black child protesters.
On June 11, one week after Hare received his Tech High diploma, Wallace blocked three black students from registering at the University of Alabama, literally standing in the doorway.
That night, JFK addressed the nation from the Oval Office:
"If an American, because his skin is dark, cannot eat lunch in a restaurant open to the public, if he cannot send his children to the best public school available, if he cannot vote for the public officials who represent him, if, in short, he cannot enjoy the full and free life which all of us want, then who among us would be content to have the color of his skin changed and stand in his place? Who among us would then be content with the counsels of patience and delay. ...
"It is not enough to pin the blame on others, to say this is a problem of one section of the country or another, or deplore the facts that we face. A great change is at hand and our task — our obligation — is to make that revolution — that change — peaceful and constructive for all.
"Those who do nothing are inviting shame as well as violence. Those who act boldly are recognizing right as well as reality. ..."
Hours later, on a quiet Mississippi street, a civil rights leader and D-Day veteran named Medgar Evers stepped out of his car holding T-shirts — "Jim Crow Must Go" — when a white supremacist's bullet tore through his back.
Evers' three children watched him bleed to death in the driveway.
* * *
Eight hundred miles north, a fight was brewing to open a wonderland on the edge of town.
At Peony Park, you could dance under the stars at the "world famous Royal Grove." Feel the rush of roller coasters in the amusement park. Play baseball games and watch concerts and host family picnics. Do it all on the city's western edge, 78th and Cass Streets.
Omahans had been spending summer days at Peony Park since 1919, the same year a mob burned a black man's body downtown. On Memorial Day 1963, the resort named after a field of white flowers opened to another huge crowd. Two thousand swimmers soaked in the spring-fed, sand-bottom lake with "pure artesian water."
Only one catch: whites only.
Unlike Boozer's childhood, blacks could buy the funnel cakes and corn dogs. They could ride the Ferris wheel and do the Twist. They could even be crowned prom king at Peony Park, as Fred Hare was. But no swimming in the pool.
In June 1963, a black airman from Offutt Air Force Base was twice denied entrance, starting a legal battle over whether swimming pools were covered in civil rights statutes.
The furor intensified in July when three cars of blacks were refused entry, leading to small demonstrations outside. Callers protested the protesters, flooding the park office and saying they wouldn't swim if Peony allowed blacks on the beach.
"It's hysteria," the park manager said. "I don't know what to do. It will take someone smarter than me to figure out what to do."
Peony Park closed for two days while it considered solutions. Prejudice does not lie behind Peony's gates, park president Joseph Malec Sr. said, "only simple economics." His business couldn't go broke "for the cause of civil rights."
"Let the people in Washington educate the minds of 160 million white people before they pick on the businessmen," Malec said.
On July 18, Peony Park found a stopgap. It opened again as a private club and staff distributed one-day memberships to whites, but not blacks. Two days later, a letter appeared in the Public Pulse:
"Omaha has been called the All-American city. ... Now this city has an avowedly segregated 'private club' and can take its place beside Mississippi and Alabama as a blight on the national conscience."
The author? A 26-year-old Creighton graduate named Ernest Chambers.
Peony asked that the case be dismissed, but the judge didn't buy it. So on Friday afternoon, July 26, about a dozen black high school students, escorted by a lifeguard, were allowed into the pool. "Nobody bothered them," said a white swimmer. "Things seemed to go on as normal."
The victory emboldened the 4CL, which pressed the City Council on a range of issues, especially an open housing ordinance. Blacks wanted the right to live outside the walls of the Near North Side.
Ministers Jones and McNair used their North Omaha pulpits to teach methods of peaceful protest — "Do not return hate for hate and hurt for hurt. Whatever the reaction of the white community by way of reprisal, suffer it be so." But the 4CL tactics irked Mayor James Dworak, who called Jones and McNair "yahoos." Demonstrators, Dworak said, were not "caliber people."
During one City Council meeting, blacks stood and sang the national anthem and "We Shall Overcome." The public safety director ordered every police car in Omaha to City Hall, where cops arrested 48 protesters.
The following week, the 4CL used the megaphone of the Omaha Star to organize "Showdown Day" at City Hall. McNair proclaimed that "any Negro that can walk, ride or crawl should be there. If for any other reason than sickness or emergency one tries to hold out, they might as well accept the label of TOM because it is true."
The preacher didn't get the whole community, but a massive crowd of protesters — The World-Herald reported 2,000; the Omaha Star said 4,000-plus — converged on City Hall. School kids and senior citizens; Protestants, Catholics and Black Muslims; members of the NAACP and Urban League; the Anti-Defamation League and Inter-racial Council; 150 white people; and even Bob Gibson's wife and girls. Gibby, who had just finished an 18-9 season with the Cardinals, stayed in the car, worried he might lash out if provoked.
They filled the council chamber, the second and third floors and the main lobby, spilling more than a block outside. Armour closed its hog kill department because so many workers left to participate.
This time, the protesters sang nothing. Chanted nothing. Just stood as the council started its 84-item agenda. After an hour, they walked out. The council took no action on open housing.
The 4CL's guiding light was Dr. King.
The last week of August, Omaha barber and activist Dan Goodwin boarded a plane for Washington, D.C., joining more than 200,000 demonstrators on the National Mall. He snapped a photo of Boston Celtics star Bill Russell. He squeezed through the crowd and craned his neck to see King standing in front of Lincoln's statue. Shhhh.
I have a dream that one day this nation will rise up and live out the true meaning of its creed: 'We hold these truths to be self-evident, that all men are created equal.' …
I have a dream that my four little children will one day live in a nation where they will not be judged by the color of their skin but by the content of their character. …
I have a dream that … one day right there in Alabama little black boys and black girls will be able to join hands with little white boys and white girls as sisters and brothers.
Eighteen days later — Sunday morning in Birmingham — a 14-year-old girl named Addie Mae Collins stood in a church basement tying the sash of a friend's dress. Dynamite exploded beneath the stairs, killing Addie and three other girls, injuring 22 and interrupting the preacher's sermon plan from Luke 23:34, Jesus' words from the cross.
Father, forgive them, for they know not what they do.
* * *
Unlike most of North Omaha's best athletes, Fred Hare chose to be a Husker. And he looked like a star from the start.
In his third varsity game, No. 1 Michigan came to the NU Coliseum. All-American Cazzie Russell scored 29 points, but Nebraska rallied from a 10-point deficit with seven minutes left. Trailing 73-72 on the final possession, Hare chased down a loose ball and flipped it blind over his head with one second left.
When it dropped, the crowd of 8,500 exploded, rushing onto the court and cutting down the net.
Bob Devaney stopped by the locker room to congratulate the hero, who finished with 20 points. The thrill, Hare said, was about equal to winning the state championship.
He led NU in scoring (15.2) and rebounding (7.4) as a redshirt freshman, but Hare's relationship with Cipriano eroded.
"His mistake," Tech High peer John Beasley said, "was to go to Nebraska, a school that didn't utilize his talent. They wanted to change him into something that he wasn't."
Cipriano and Hare butted heads constantly. The coach hassled him to play defense. Hare cited a double standard. Fans just wanted compromise.
Hare hurt his knee as a sophomore and missed the following season — he spent the summer working for the Lincoln Police Department. In November 1967, just as he was making a comeback, his mother died. Maybe that was his breaking point.
One month later Cipriano benched him a few minutes into a home game. Hare waited until halftime, then he walked out of the Coliseum locker room and never came back, joining hundreds of young men in North Omaha saddled with regret.
For every All-American or first-round draft pick, there were 10 great athletes who didn't make it because of a scholarship quota, or a school system that didn't prepare them for college, or parents who couldn't feed them, or a coach who didn't like their style, or a city that locked them in a 2-square-mile box.
"There were so many good athletes that were never given the opportunity because of the color of their skin," Boozer said. "Even sitting and thinking about it, you get mad."
Charlie Thomas and Walt Gullie. Johnny Ray and Johnny Alexander. Ernie Britt and Dwaine Dillard. Under different circumstances, those names might have been famous, too. All were talented enough to be professionals and fragile enough to be forgotten.
Gibson, Boozer and Sayers showed North Omaha what was possible. But with no intention, they also widened the gap between those who made it out and those who didn't. The burden of falling short weighed even heavier.
In the ghetto, Briscoe said, athleticism was currency and identity. When it wasn't maximized — when it was taken away — young phenoms saw nothing left.
"The disappointment of life hit them and took them out," Briscoe said. "They never did recover. They carried that burden all their life."
Imagine, former Omaha city councilman Frank Brown said, beating a kid from Prep or Westside in high school, yet he gets the ticket to college and you settle for the packinghouse. You read about him in the paper and 25 years later you run into him at a game. He's a doctor and you're stuck.
"How do you overcome that?" said Brown, who died in 2019.
Hare made it further than most. He earned a few NBA and ABA tryouts. He traveled with the Harlem Clowns. He averaged 35 points per game for the University of Americas team in Mexico.
A head-on collision in 1970 nearly killed him. He returned to Omaha and kept playing pickup games until October '82, when his 18-year-old son was stabbed and killed.
"I had no more desire," he said.
Hare bounced from job to job. When Tech High played its last basketball game in 1984, he didn't attend — he hadn't been back to his old gym in almost a decade. He called high school the best phase of his life, something he wished he could relive.
"They're haunting, beautiful memories."
Hare started on a book, "Best of the Best." He wrote tens of thousands of words in longhand, sending them to a local biographer, who typed up and laid out the first 11 pages on his computer. The rest of Fred Hare's story is gone. Lost during a hard drive crash. The book layout shows 90 blank pages. Nothing but white space.
In 2014, Hare died in Texas, unbeknownst to his old teammates, fans and a son who spent five years looking for him. Fred Hare Jr. learned of his father's death two years after he was buried.
"At the very least, I was hoping to hug my dad," he said. "But I've been looking for a ghost."
* * *
Bob Gibson was in his basement at 3743 Maple St., working on his bar. That's where he learned of President Kennedy's assassination.
The next night, Nov. 23, 1963, his big brother's youth baseball team held its postseason banquet at the Near North YMCA. Honorees included the 1950 midget state champions, notably Bob, who addressed the next generation of talent.
The dinner theme: "You got to have heart."
As the nation mourned JFK and a watershed civil rights year came to a close, perseverance and patience still looked good on paper, but darker forces raged fierce as ever. North Omaha was searching for its heart. Its voice.
Then a native son spoke up — Malcolm X.
After white supremacists chased his family out of Omaha in 1926, Malcolm's childhood spun out of control and his rebellion veered toward hatred. His identity and politics seemed constantly in motion. He stood firm, though, for black pride and dignity.
Before the '60s, "Negroes" walked around in a cloud of shame, especially those with the darkest skin. Rodney Wead, the civil rights activist, can still rattle off slogans of inferiority that marked his childhood. A black cow gives no milk. Bad news is black news. The worst day in American history is Black Friday.
As Big Bill Broonzy sang of discrimination: "If you're white, you're alright. If you're brown, stick around. If you're black, stand back."
Malcolm X confronted the stigmas and attacked the self-loathing. " 'Black is beautiful' took off like wildfire," Wead said.
Dr. King was refined; Malcolm X was raw. And during an era of turmoil and disillusionment, he demanded that blacks assert their manhood. He preached not reconciliation but independence. You don't need them. You're strong enough on your own.
Of course, the message was frequently lost in translation.
Malcolm X criticized Dr. King's tactics — "There's no such thing as a nonviolent revolution." He seemed to revel in JFK's assassination — chickens were coming home to roost, he said.
On June 30, 1964, Malcolm X returned to his hometown at the request of the 4CL. This was two months after completing his pilgrimage to Mecca and two days before President Johnson signed the Civil Rights Act. Down in Mississippi, the feds searched for three Freedom Riders, presumed dead.
Malcolm X had mellowed in '64, breaking from Elijah Muhammad and the Black Muslims, denouncing blanket racism, even building a relationship with his rival, King. But that day in Omaha, Malcolm X was hot.
He woke up and sent King a telegram offering "self-defense units" against the KKK in St. Augustine, Florida. "The day of turning the other cheek to those brute beasts is over," he wrote.
That night, Malcolm delivered a speech to 550 people — many of them white — in a small room at the Civic Auditorium. He reminded them of Omaha's 1919 lynching. During his visit to Africa, Malcolm said, he had seen a blown-up picture of Will Brown burning in front of the Douglas County Courthouse.
"When they want to show how a Negro is treated in America," Malcolm said, "they show this scene."
He lamented the history of unpunished violence against Afro-Americans. He challenged society's most intimidating referee — law enforcement.
For years in North Omaha, the sight of police cars elicited a sense of citizen horror. According to blacks, too many cops harassed, terrorized and brutalized not just suspected criminals, but innocent bystanders. Now Malcolm X demanded that blacks, too, pick up rifles and clubs.
"In Omaha, as in other places, the Ku Klux Klan has just changed its bedsheets for policemen's uniforms.
"We have a racist government in Washington that has the audacity to tell us that the South lost the Civil War. The sins of the fathers are about to be visited upon the heads of their children of this generation.
"We do not want integration. We want complete recognition and respect as human beings."
Eight months later, a bullet silenced North Omaha's most famous voice. Black Muslims assassinated Malcolm X in New York City, but they couldn't stop his cause.
The letter to the editor does not state the man's age or race. Simply his name: "Ernest Chambers."
At Spencer Street Barber Shop, just a mile from Malcolm X's birthplace, the neighborhood's emerging black radical buzzed hair while executing his real purpose — activating his neighborhood.
Ernie Chambers joined Goodwin at Spencer Street in 1965. He covered the shop walls with news articles, photographs and sketches, mostly depicting white racists and brutal cops. But above his barber chair, he posted a personal drawing of a man he revered.
Chambers had read all about Malcolm X. Listened to LP records of Malcolm's speeches. He admired not only the minister's intellect, discipline and courage, but the absence of hypocrisy — nothing irritates Chambers more than a phony.
They met during Malcolm's Omaha visit and practically finished each other's sentences, Goodwin said. Like one person with two voices. When one stopped talking, the other picked up where he left off. Back and forth for about six hours, deep into the night.
Chambers spent the rest of the 1960s spreading a message that Malcolm X couldn't.
Next up: Where there's smoke
After leading St. Louis to the 1964 World Series, Bob Gibson returned to his hometown for a celebratory parade. And for a couple hours that fall afternoon, everything great about North Omaha was on display. But under the surface, cracks were starting to form as blacks grew impatient with inequality but differed on how to address it. Old, cautious and non-violent on one side. Young, progressive and militant on the other.
Omaha united to celebrate Bob Gibson in 1964, but within two years, the tension on the Near North Side grew too hot to contain.
Photos: Scenes of North Omaha
North Omaha is the epicenter of the city's black history and culture. Check out these photos, many of which were taken during the 1960s, to see the neighborhood at the peak of its vibrancy.