Nobody told the man on the mound.
Not his teammates in the St. Louis Cardinals dugout. Not 54,692 fans at Busch Stadium. Certainly not the hopeless Detroit Tigers.
As the ninth inning began, everyone saw Bob Gibson inching closer to baseball immortality … except Gibson.
The 32-year-old from Omaha stood alone atop 15 inches of dirt, the most dominant force in America's most popular sport, a source of universal amazement against a backdrop of national turbulence.
Across America that Wednesday afternoon — Oct. 2, 1968 — barbers and shopkeepers cranked up their radios. Doctors and lawyers postponed appointments. Kids rushed home from school and switched their black-and-white TVs to NBC, where Harry Caray delivered play-by-play.
"All over the world," Caray said, "people I'm sure are tense as they are here at the ballpark for this pitch."
Yet Gibson, who'd already thrown 130 pitches, wasn't in on the secret.
He breathed heavily in 82-degree sunshine, his mouth slightly open. He squinted beneath his hat, the bill lopsided and wavy like a rotten wood floor. His red wool sweatshirt bled through his white sweat-soaked jersey, No. 45.
He nodded to his catcher, folded his hands to his chest and unleashed a delivery defined by power, grace and fury. His left leg landed and his right leg swung so hard across his body that he nearly fell over — like a tetherball whipping around its pole. Gibson finished 5 feet left of the mound as Al Kaline whiffed at a two-seam fastball on the outside corner.
"Got him! Listen to the crowd!"
Gibson still didn't understand the commotion. He took off his cap, wiped his forehead with his sore right forearm and stepped back to the mound. When he looked up, his catcher stood in front of home plate, pointing to an outfield scoreboard.
Let's go, Gibson motioned — he hated to wait. Finally, he turned and saw the message.
Gibson has tied World Series record for strikeouts in a single game with his 15th.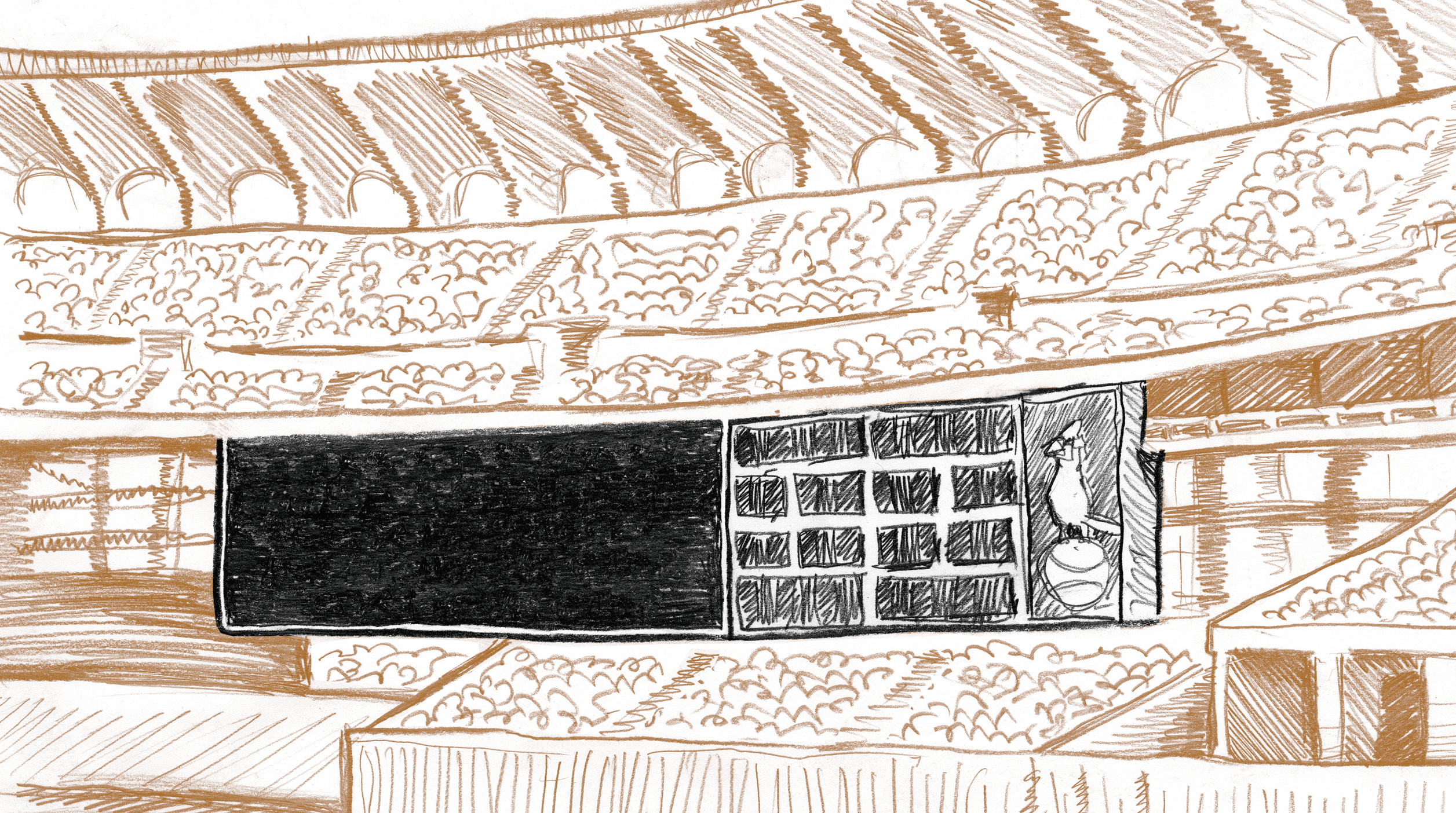 All year, the two-time World Series MVP had focused amid chaos. A day after Martin Luther King was buried, Gibson opened the '68 season allowing one run in seven innings. The day Bobby Kennedy died, he hurled his first shutout. Four days after the Democratic National Convention riots in Chicago, he pitched 10 scoreless innings, won his 20th game and dropped his ERA to 0.99.
Gibson wasn't the only North Omahan on the sports page.
That first week of October, one native son led the NFL in rushing. Another averaged 22 points per game in the NBA. One was about to begin a 17,000-point pro basketball career. Another was about to break football's most stubborn racial barrier. One — a future Heisman Trophy winner — broke Friday night records.
They all came from the same parks and gyms. The same schools and coaches.
Their fathers shared the stench of the kill floors. Their mothers shared the pews at Zion Baptist Church. On North 24th Street, they rode the same streetcars, visited the same comic book stores and tasted the same Skeet's barbecue pork — who else applied hot sauce with a paintbrush?
They knew each other like cousins. They cheered Gibson, too.
Back in St. Louis, Tigers cleanup hitter Norm Cash fouled back a fastball and the crowd urged it out of play. The Cardinals' 4-0 lead was safe. Fans wanted strikeouts, not pop-ups.
"It is such a dramatic scene," Caray said, "that I find myself not wanting to say a word because your picture is telling you the whole story."
But the picture wasn't complete. Not even close.
Down in the Cardinals clubhouse, hate mail littered Gibson's locker. "Why don't you and the other blackbirds on the Cardinals move to Africa where you belong." Above the letters, a button proclaimed Gibson's worldview: "I'm not prejudiced; I hate everyone."
Half a mile east of Busch Stadium, civil rights protesters marched beneath the new Gateway Arch. A single-engine plane tugged a banner promoting segregationist George Wallace for president.
And back in North Omaha, Gibson's old neighborhood ripped apart, brick by brick. He could baffle the world's best hitters. He couldn't save the culture that raised him.
On his 139th pitch, Gibson's 2-2 slider curled in on Cash's swinging hands.
The crowd roared for the record. Gibson didn't crack a smile. He didn't even step off the mound. It was Game 1 of the 1968 Fall Classic and the Cardinals needed one more out.
The last Tiger at bat was Willie Horton. With two strikes, Gibson took a deep breath, filling his cheeks. He raised his hands, kicked his leg. His left arm flailed, his right hand spun a slider that started so far inside that Horton thought it was going to hit him. The ball turned back over the corner.
"Struck him out! Look at the scene on the field!"
Look at the scene 50 years later. Gibson's 17 strikeouts still stand in the record book — probably forever. But here in his hometown, a bigger story drifts away …
The mystery of Nebraska's greatest generation of athletes.
They rose out of segregation — higher and higher — as racial tensions in North O boiled hotter and hotter. During the civil rights era, seven ascended to national prominence:
Bob Boozer, the sweet-shooting gentle giant who chased Negro League buses down Erskine Street before he chased basketballs at the Near North YMCA, earned an Olympic gold medal and NBA championship ring.
Gale and Roger Sayers, the nomadic brothers, ran circles around defenses while living out of boxes. Gale became the youngest Hall of Famer in pro football history. Roger settled for a summer as the world's fastest man.
Marlin Briscoe, the undersized quarterback who whipped spirals at a birch tree in the housing projects, jumped from small-college magician to Denver Broncos rookie starting quarterback to Pro Bowl wide receiver to Super Bowl champ.
Ron Boone, who grew up on a dead-end street with 60 kids and bloomed late at an outdoor basketball paradise named Bryant Center, finished third all-time in American Basketball Association scoring.
Johnny Rodgers, the son of a 14-year-old mother who, before he eluded Oklahoma Sooners in the Game of the Century, learned to escape a vicious rooster en route to his backyard outhouse.
Of course, Gibson was the best of all. Blessed and burdened with fury, he might have wasted his gifts if his oldest brother hadn't come home from war and rescued him from rebellion.
Their paths are distinct, but their origin is the same: a neighborhood so vibrant, so unified that individual accomplishments and devastations touched every house from Tech High to Kountze Park.
A neighborhood where kids had freedom to roam and discover their passions, but if they stepped out of line — look out! — strangers lined up to swat their butts. "We had like 900 mothers," one said.
A neighborhood where proximity to social, religious and economic hot spots resembled a village. Most landmarks didn't just lie within walking distance but shouting distance.
A neighborhood where, depending on the night, kids might see Martin Luther King Jr., Malcolm X, Ray Charles, James Brown, Chuck Berry, Joe Louis, Satchel Paige, Jesse Owens, Jackie Robinson, Oscar Robertson or O.J. Simpson — just walking down 24th Street.
A neighborhood where even the street hustlers respected a "code of ethics" to develop and protect the most talented athletes, for they were the best chance to inspire pride.
A neighborhood created by racism but fortified economically by packinghouse workers who came home coated in blood. No wonder they filled the bars on Friday nights.
A neighborhood that, despite its humble size and remote location in middle America, became a progressive beacon in the national protest movement, recognized by would-be presidents and would-be revolutionaries.
Omaha's black athletes of the 1950s and '60s were driven by ruthless, tireless mentors; nurtured by a fanatical rec sports culture; sharpened by hundreds of talented peers, most of whom didn't become famous.
They endured the sting of scholarship quotas, unjust referee whistles and a maddening paradox: Strangers wanted their autographs but refused to be their neighbors.
Together in triumph, they put North Omaha on the sports map. Together in heartbreak, they watched it burn. The neighborhood of their youth — this breeding ground for brilliance — didn't survive the 1960s.
The story has been shared only in pieces. It spans more than a century, from Omaha's dirtiest days through the baby boom, culminating with one glorious Sunday in October 1968 — four days after Gibson's 17 strikeouts. In a span of two hours that afternoon:
» Bob Gibson recorded an MLB record seventh consecutive World Series win, all complete games.
» Marlin Briscoe became the first black quarterback to start a professional football game.
» Gale Sayers dazed the mighty Baltimore Colts with a breathtaking 59-yard touchdown run; he called it the best of his career.
How did the stars line up? Genetic luck? Cosmic coincidence? Or a set of variables more complicated than speed, strength and desire?
"It was something in the dirt," said Preston Love Jr., the former Nebraska football player and son of North Omaha's legendary jazz musician.
Time threatens to erase the tracks. One by one Omaha loses its heroes of October 1968. Their voices fade. Their memories dim. But the truth endures.
Before color TV and air conditioning, before wrecking balls leveled factories and bulldozers demolished houses, before police officers killed unarmed teenagers and a bomb killed a cop, before black leaders moved away and black children moved inside, before the 24th and Lake crowds went silent, North Omaha had a system. An ethos. A rhythm.
Put your ear to the street. You can still hear the echo.
Next up: Coach Gibson
From the Great Migration, the Great War and a ghastly murder, the segregated Near North Side is born. Enter Josh Gibson. He can't get a teaching job because of his skin color, so he turns his neighborhood into a youth sports paradise. He corralled wayward teenagers, led road trips to little farm towns and built the state's best midget baseball team. The biggest beneficiary of his work? His little brother and future Cy Young Award winner, Bob Gibson.
Josh Gibson couldn't get a teaching job because of his skin color, so he turned North Omaha into a youth sports paradise.
Photos: Scenes of North Omaha
North Omaha is the epicenter of the city's black history and culture. Check out these photos, many of which were taken during the 1960s, to see the neighborhood at the peak of its vibrancy.