When William Loeffel joined the University of Nebraska Animal Husbandry faculty in 1919, he accepted on the condition that there would soon be a modern meat laboratory where he could conduct his research.
While waiting for the facility to be built, Loeffel forged ahead in an old blacksmith shop on campus, researching all aspects of the harvest and sale of every kind of meat that Nebraska ranchers could raise.
Loeffel's patience was rewarded in 1954 with the dedication of the university's Meat Laboratory. The building contained a slaughter floor, butchering equipment, a smokehouse, labs and classrooms. It was considered one of the best meat labs in the country when it opened. Loeffel worked in the new building until his retirement in 1959, and the building was renamed in his honor in 1967.
Nebraska meat scientists have built on Loeffel's legacy by developing a number of products that increase the value of hogs and cattle by using more parts of the animals.
In the 1970s, UNL meat scientist Roger Mandigo developed a process that combines less-valuable meat trimmings with salt and water, extracting proteins that bind them together with larger pieces of meat, allowing for them to be shaped into forms. Most notably, this meat restructuring is used by McDonald's for its Chicken McNuggets and McRib sandwich. Mandigo's invention earned him induction into the Meat Industry Hall of Fame.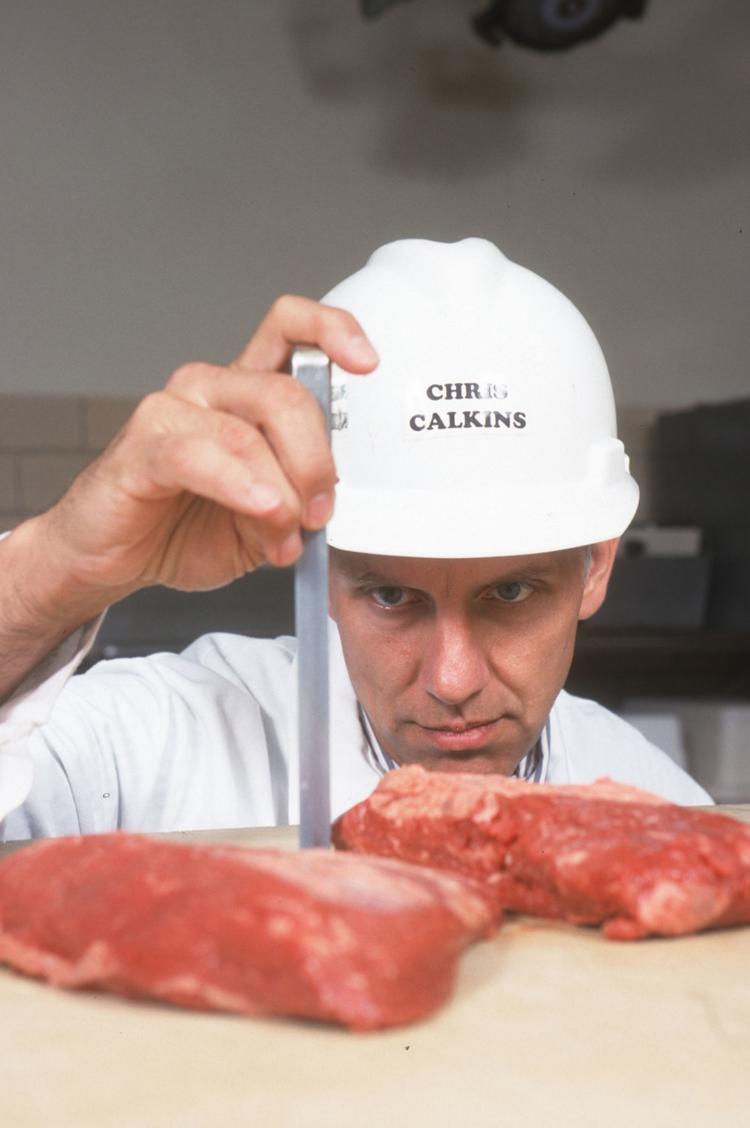 In 2002, Nebraska's Chris Calkins and colleagues from the University of Florida developed several new cuts of meat from beef shoulder, the most popular new cut being the flat iron steak. The flat iron's tenderness and flavor, combined with its catchy name, made it a huge hit. On average, 90 million pounds of flat iron steaks are sold in restaurants every year, and that cut of meat annually adds $1.5 billion to the beef industry. In recognition of his work, Calkins was selected for the Meat Industry Hall of Fame in 2019.
Today, University of Nebraska–Lincoln research in beef production and products helps drive the industry. Faculty engage in improving herd quality through genetics and breeding, reproductive efficiency, feedlot nutrition and grasslands management; herd health and disease management; improved marketing; beef product development and reduction of livestock impacts on the environment.