Ryan Eikmeier beheld a wheat field in Auvers-sur-Oise, a French commune in the northwestern suburbs of Paris.
To others, the field might have appeared ordinary. But as Eikmeier observed it, he held in his mind the image of a painting, one depicting this nondescript spot in vivid strokes of blue, red and yellow-orange. The painting, "Wheatfield with Crows," was one of the last painted by famed 19th century artist Vincent Van Gogh.
"To be in that exact spot, to see what he saw, to compare it to the actual painting, that is something I will never forget," said Eikmeier, who is currently completing an EdD in interdisciplinary leadership at Creighton University.
"I was able to see how (Van Gogh) interpreted colors, how he interpreted forms, how he interpreted shapes, because I was able to compare it to reality. I was able to see the world through someone else's lens."
That experience — viewing the world from the perspective of another, comparing it to his own — was the reason Eikmeier stood in that field in France in the first place.
Last summer, he and more than a dozen other students from Creighton's graduate and professional schools traveled through Europe for two weeks as part of a faculty-led study abroad program through the University's Global Engagement Office.
These programs — part of Creighton's ongoing efforts to offer significant, life-changing global opportunities for students — span the globe, from Australia, Hungary, China and Germany, to Ireland, Spain, Peru and more.
During their trip, Eikmeier and his classmates followed the path of Van Gogh's life and career, working to gain insight into the different ways human beings observe and interpret reality.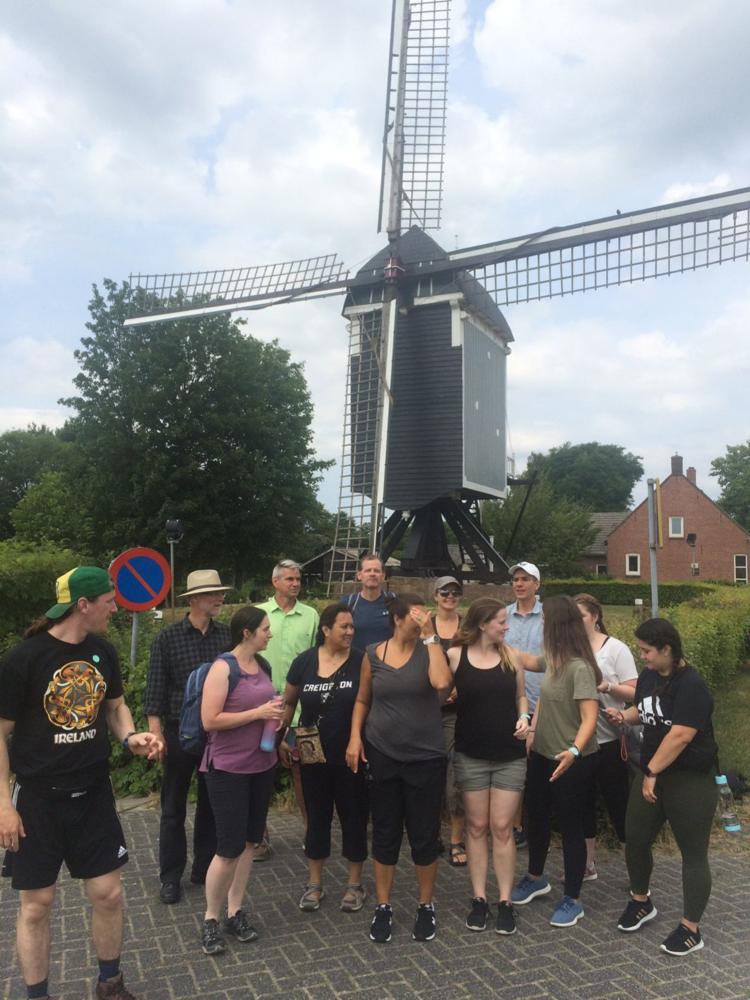 The course, In the Footsteps of Van Gogh, is a five-week interdisciplinary program offered to Creighton graduate and professional students, as well as senior undergraduates with faculty permission. In addition to three weeks of online classwork, the course includes two weeks of study abroad in the Netherlands, Belgium and France.
Although the course is structured with Van Gogh in mind, it is not meant to be merely a lesson in art history, said Jos Welie, PhD, professor of interdisciplinary studies in Creighton's Graduate School, who leads the program with wife, Linda Scheirton, PhD, professor of occupational therapy in the School of Pharmacy and Health Professions.
Rather, the course challenges students to compare Van Gogh's paintings and artistic renderings of people with images of humans created by biomedical scientists, such as X-Rays, MRIs and anatomical models. The idea, Welie said, is for the students, who come from an array of academic backgrounds, to think critically about how scientifically trained scholars see and don't see the world.
"The idea was, 'How can I make clear in a rather dramatic and thought-provoking way that we all wear particular blinders?'" Welie said. "I thought about asking students to compare how a scientist looks at the world with how a lay person, particularly an artist, looks at the world."
Van Gogh specifically, Welie said, offers a particularly rich example of the artist's experience. His well-documented struggles with mental illness before his suicide in 1890 add another layer of pathos to the works he left behind.
"Let me put it this way: When he put green and blue as colors in somebody's portrait, how is it possible that he saw that and why is it that we don't see green and blue in people's faces?" Welie said. "When we look at the portrait, they strike us as extremely meaningful. What is it about him that makes it so powerful?"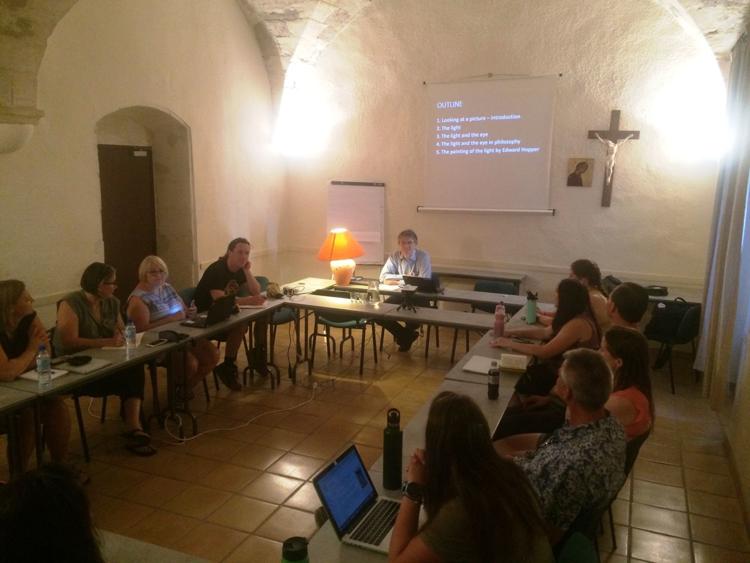 From July 20 to Aug. 1, the 15 students, led by Welie and Scheirton, traveled to key Van Gogh destinations around Europe, including his bedroom at an asylum in St. Rémy-de-Provence, a café where he painted in Arles and the Van Gogh Museum in Amsterdam.
But they also visited sites where they encountered more clinical images of humanity: the Body Worlds exhibit in Amsterdam, the Belgian Museum of Radiology in Brussels and the Anatomical Theatre in Montpellier, France.
Eikmeier, who first graduated from Creighton with a Bachelor of Arts in Music in 1999, said the experiences sparked discussions where he learned how his perspective differed from those of his classmates, especially those from medical or scientific backgrounds. Where he saw a complete work of art, they often noticed structural components or material details that he missed.
"It was a very visceral experience to be able to be right next to somebody who had a very different view of the same thing," Eikmeier said. "It opened up this whole new world of combining two seemingly different topics and putting them together and seeing what comes of it."