There isn't anything much cuter than a baby calf. Black, white, brown fuzzy little creatures!
Dairy farmers take the responsibility of raising healthy calves seriously. It only makes sense because the calves are the future of the farm. Healthy heifer calves equal great milking cows.
Dairy farmers do many things to keep calves safe and healthy, including removing them from their mothers at birth. Here's why that's important.
Colostrum: The baby calf super food
Colostrum, also know as first milk, is a form of milk produced by the mammary glands in late pregnancy.
It contains proteins, carbohydrates, fats, vitamins, minerals and proteins called antibodies that fight disease-causing agents such as bacteria and viruses.
The level of antibodies in a cow's colostrum can be 100 times higher than in regular milk. Therefore, it is vital to the future of the calf that it not only gets the proper amount of colostrum, but also gets it in a timely manner.
Calves are able to absorb the antibodies in the colostrum only within a 48-hour window. So, the faster a new calf can consume four quarts of the colostrum, the better. When the calf is left with the cow, we have no way to know the quality or quantity of the colostrum the calf has received, if any.
By removing the calf from the cow and feeding it colostrum, we can ensure a healthy future for that calf.
Not all cows are maternal
Generally, dairy cows are not very maternal.
Dairy farmers tend to let the cow lick off the calf after birth, which helps remove all of the "baby goo" and dry the calf off. The licking is also very stimulating for the calf.
Sometimes the cow will not lick the calf off and it needs to be hand dried. Sometimes the cow will be very aggressive toward her calf and stomp, step on or even lay on the calf. Frequently the cow can become aggressive to other cows as well as people, putting them in harm's way.
Removing the dairy calf from its mother is the safest and the healthiest for the calf.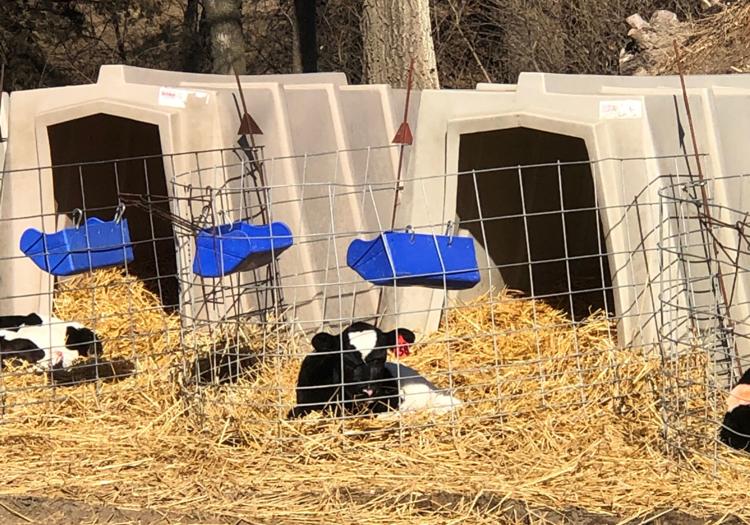 Avoiding germs
Calves on a dairy farm are exposed to a variety of germs right from the start.
While dairy farmers do keep calving areas clean and sanitary, cows are cows.
Removing the calf from the calving area helps reduce the exposure to bacteria. It's not only human mamas that like to check out other mamas' babies. Cows also like to sniff, lick and sometimes even steal another cow's baby.
You all know how a cold or flu bug charges its way through your house. Yep, that's what we want to avoid. (Side note: I need to mention that this is probably not the best idea for our human babies, even though it might keep them healthier during the cold and flu season.)
Calves are usually moved to individual housing for about eight weeks. This gives them an environment for growing healthy and strong and allows dairy farmers to keep better tabs on each individual calf.
The proper amount of colostrum in a timely manner would be the leading reason that dairy farmers remove calves from their mothers at birth – followed closely by the safety of the calf, the cow, farm personnel and the ability to shield the calf from unnecessary germs.
Former dairy farmer Connie Bellingtier manages Automated Dairy Specialists in Clearwater, Nebraska. Her husband, Greg, also works at ADS delivering supplies to dairy farms in Nebraska, South Dakota and Iowa. Greg and Connie have two grown children, daughter Katie and husband Lance Vakoc, and son Grady Bellingtier. When not busy with work, Connie enjoys camping, traveling, scrapbooking and Husker football.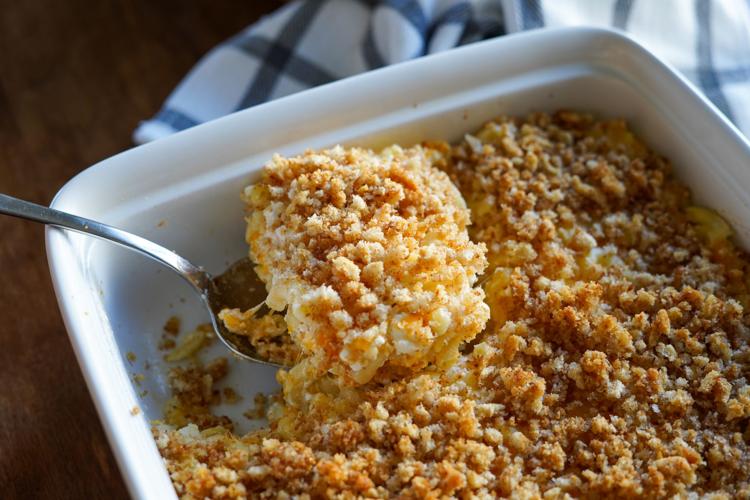 Mac & Cheese Delight
Ingredients
(8oz) package elbow macaroni
1 (8oz) container sour cream
1 (12oz) container 4% small curd cottage cheese
1 (8oz) package shredded sharp Cheddar cheese
¼ c. grated Parmesan cheese
1 ½ c. dry bread crumbs
Salt & pepper to taste
1/3 c. melted butter (Not margarine)
Directions
Preheat oven to 350 degrees F. Cook macaroni according to package directions, drain. In large bowl mix together macaroni, shredded Cheddar cheese, cottage cheese, sour cream, Parmasean cheese, salt & pepper. Pour into 9 x 13 baking dish. In small bowl, mix together breadcrumbs and melted butter. Sprinkle topping over macaroni mixture. Bake 30 to 35 minutes or until top is golden and cheese is bubbling. Enjoy!