Creighton University was recognized this week as No. 1 among Midwest Regional Universities in U.S. News & World Report magazine's 2018 "America's Best Colleges" edition.
It marks the 15th straight year the university has earned the No. 1 ranking.
"Fifteen consecutive years as the top-ranked university in the Midwest is an immense accomplishment for Creighton University, and it speaks volumes about the caliber of students, alumni, faculty, staff, and programs," said Creighton University President the Rev. Daniel S. Hendrickson, SJ.
"We continue to be grateful and inspired that Creighton is recognized for the academic, global and spiritual engagement of our community," he said. "The ranking confirms and encourages our commitment to the Jesuit, Catholic mission of the University."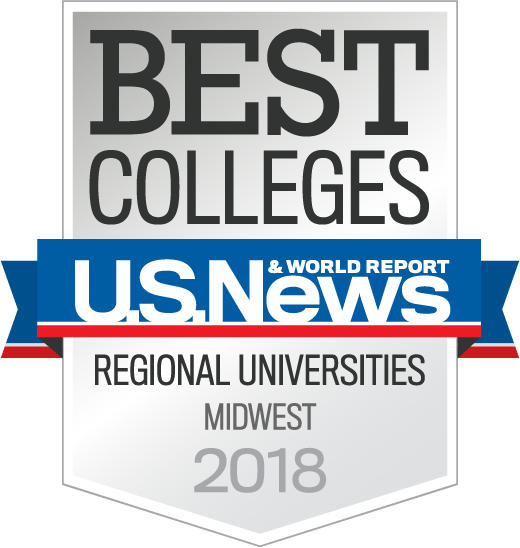 The U.S. News & World Report rankings criteria include academic reputation and peer assessment, graduation and retention rates, faculty resources, student selectivity, financial resources and alumni giving.
Nationally, for the fourth year in a row, Creighton was also one of 42 universities around the country to be acknowledged for an emphasis on undergraduate research/creative projects. Creighton is the lone Catholic university on the list.
The recognition stems from U.S. News & World Report's invitation to academic administrators at 1,500 colleges and universities to nominate up to 10 institutions embarking upon the most innovative research projects with undergraduates.
Two programs in the Heider College of Business again earned recognition among the Top 100 Best Undergraduate Business Programs, with a No. 18 ranking in Finance and a No. 33 ranking in Accounting.
Ben Maley, a Creighton senior studying marketing, said the consistently high rankings reflect his positive experience at the school, particularly with regard to preparing students for the future.
"Creighton seems to go above and beyond any other school in helping you graduate with the necessary knowledge and experience to enter your respective field," he said. "While at other schools I've heard you have to actively seek out this kind of learning, it's honestly difficult to graduate without it here."
Creighton also was one of 20 schools in the country recognized for internship programs encouraging students to apply classroom learning with real-world experience. The university is also the only Catholic university in the category.
Additionally, Creighton maintained its place as No. 1 for Best College for Veterans in the Midwest region.
As a Best Value School, Creighton earned a No. 6 ranking in the Midwest.
Creighton University offers a top-ranked education in the Jesuit, Catholic tradition.  Read more about the university, and connect with Creighton on  Facebook,  Twitter  and  Instagram.