As a student at Red Cloud Indian School on the Pine Ridge Reservation in southwestern South Dakota, Willi White very clearly remembers the photographer arriving at his school to capture images of his classmates in their traditional regalia.
He remembers the lights, the conversations, the excitement around this annual event, when his Lakota community became the focal point of vivid, celebratory photographs comprising the Red Cloud Calendar, for 20 years expertly shot by Creighton University's the Rev. Don Doll, SJ, an emeritus journalism professor and internationally renowned photographer.
Now, White — who eventually came to Creighton and took classes from Fr. Doll — is poised to take over the enterprise of the calendar, a position he said he accepts with great anticipation and even greater humility.
"Shooting for the calendar has always been a very proud event here," said White, who also serves as communications coordinator for Red Cloud Indian School. "When Fr. Doll arrived, we knew who he was, we knew how much this meant to him. When I came to Creighton and he became my professor, he started pushing me into thinking about photography and maybe taking this from him."
Fr. Doll was first approached with the idea of the Red Cloud calendar as a fundraiser for the school in the 1990s. This spring, he asked White and Angel White Eyes, another artist and a 2008 Red Cloud classmate of White's, to help him with the 2017 calendar shoot.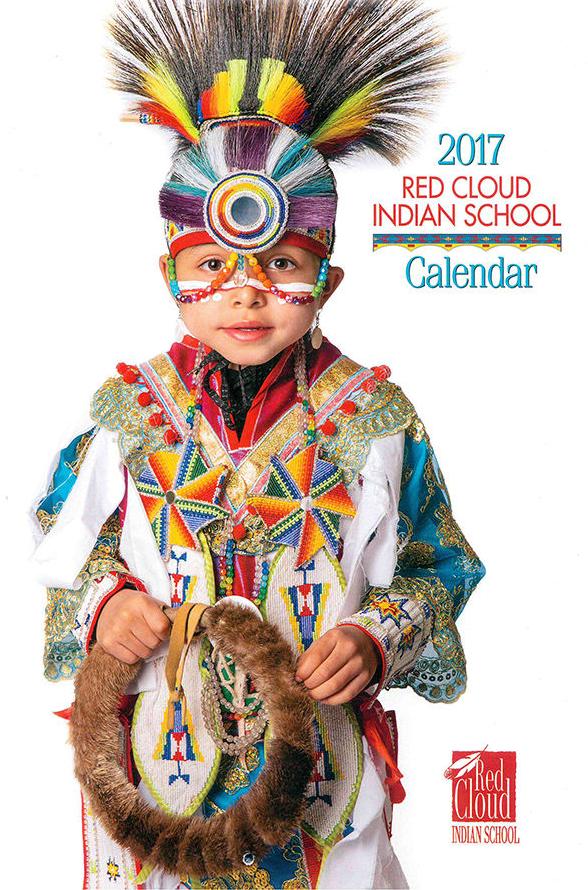 Setting up the lighting for the calendar and now providing White and White Eyes with lighting equipment for future calendar shoots, Fr. Doll also shepherded the two younger photographers through the process.
The three took roughly 2,000 photographs in a span of a few days and gradually winnowed them down to images with calendar potential. The final tally saw all but one of the chosen photographs coming from White or White Eyes.
"Initially, I said, 'Well, how did this happen?'" Fr. Doll said. "I've been doing this for 20 years and these two come along and they've got it figured out on the first shoot. But that's why we came. That's what is great about this transition. Angel and Willi have lived this. They should be the ones doing this and it's very appropriate and worth celebrating that we should hand it to them."
Learn more about the Red Cloud Indian School and its annual calendar.
Creighton University offers a top-ranked education in the Jesuit, Catholic tradition.  Read more about the university, and connect with Creighton on  Facebook,  Twitter  and  Instagram.