Creighton University's newest flock of Bluejays arrived on campus for move-in Aug. 16 and 17, amid the thunder of drums and the trumpeting of horns.
And maybe a '90s tune or two when the Pep Band took a break.
While the speakers blared, Creighton's new freshman students pulled up to residence halls, one carload after another. Each vehicle was promptly swarmed by packs of volunteers in blue T-shirts, who whisked away luggage as the bemused families stood by.
"This is so fun," one bleary-eyed student said, watching as her things were rolled up the ramp toward Deglman Hall.
Each year, the move-in experience announces the approaching academic year in a whirlwind of Creighton spirit. Arriving families barely have to lift a finger with dozens of student volunteers trained and ready to welcome them to campus. As the cars began to trickle in, each new refrigerator was accompanied by chants and hollers from the movers, who relished the challenge.
"I am excited to move a fridge," said Joe Thibodeau, a sophomore volunteer. "My calves are going to be mooing for sure."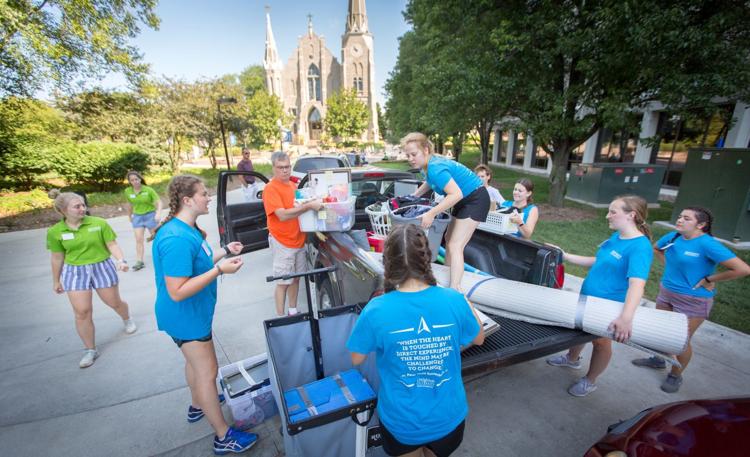 This year's freshman class is the third largest in Creighton history. With about 1,075 new undergraduate students, the class trails behind recent records set in 2018 and 2017.
"With the addition of these larger classes, strong student retention rates and robust graduate and professional enrollment, Creighton will also rival overall enrollment records achieved as well. Great things are happening at the Hilltop," said Mary Chase, Ed.D., vice provost for Enrollment Management and University Planning.
Of the new undergraduate freshmen, 213 hail from Nebraska. Other states with strong representation include Minnesota (137), Colorado (103) and Iowa (84). About 40% of new freshmen, including 23 international students from 16 countries, are coming to Creighton from more than 400 miles away.
The academic profile of the incoming class places it among the top Catholic universities in the country with 4,000 or more undergraduate students. Thirty-five percent of the students rank in the top 10% of their high school class.
A quarter of the students have a family member who attended Creighton; 57% are Catholic; more than half of the class attended a public high school; and 10% graduated from a Jesuit high school.
More than half have expressed interest in studying a preprofessional program after completing their undergraduate studies.
Creighton's professional programs in dentistry, law, medicine, nursing, occupational therapy, pharmacy and physical therapy, as well as graduate programs, also welcomed first-year students for the fall semester.
Students began programs at Creighton's Omaha campus, as well as at the University's new health sciences campus in Phoenix and at points elsewhere through collaborative agreements. Included in that mix was Creighton's first class in the School of Medicine's new Physician Assistant (PA) program. Graduates of the program will receive a Master of Physician Studies degree in just over two years and will join a pool of prospective employees in an in-demand career field – which is expected to grow by nearly 40% through 2026.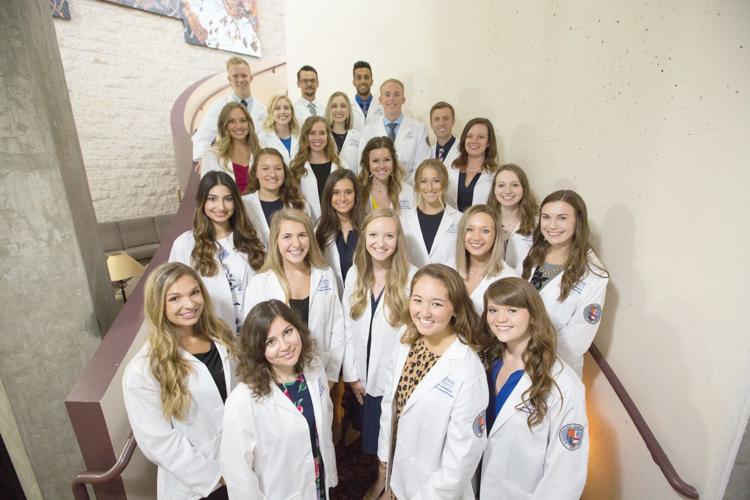 "I am excited to welcome our newest Bluejays into the Creighton family," said Creighton President the Rev. Daniel S. Hendrickson, S.J., Ph.D., who greeted families during freshman move-in. "With our academically impressive undergraduate freshman class, we continue a tradition of attracting high-quality students from across the nation and around the globe. I am eager to witness their journey – as they are enriched by and contribute to the Creighton experience, and as they share their gifts and talents, both as students and then as graduates, with the larger community in Omaha and points beyond."