Michael J. Fox has long been the face of Parkinson's disease, which affects at least 1 million people in the United States and 5 million worldwide, making it the leading movement-disorder disease. Other well-known people who are battling or have battled Parkinson's include Muhammad Ali, Janet Reno, Billy Graham, Linda Ronstadt, Charles Schultz and Pope John Paul II.
Now 56, Fox was diagnosed with Parkinson's in his 20s, which is considered early onset, and has fought for a cure for many years.
As Fox has continued acting since being diagnosed, viewers would notice physical symptoms; however, one of the most debilitating symptoms is not noticeable in movements.
It's fatigue.
Creighton researchers are collaborating with colleagues from other institutions to explore this unexplored aspect of the disease, through the wide lens of physical therapy, exercise science, pharmacy, neurology and biomechanics.
What they've found has shed light on mobility issues experienced by people with Parkinson's disease, and has opened doors to future research and possible novel treatment options.
Parkinson's is a lot more than a tremor. It's a movement disorder that's degenerative and chronic. Parkinson's afflicts more people than multiple sclerosis, muscular dystrophy and Lou Gehrig's disease combined.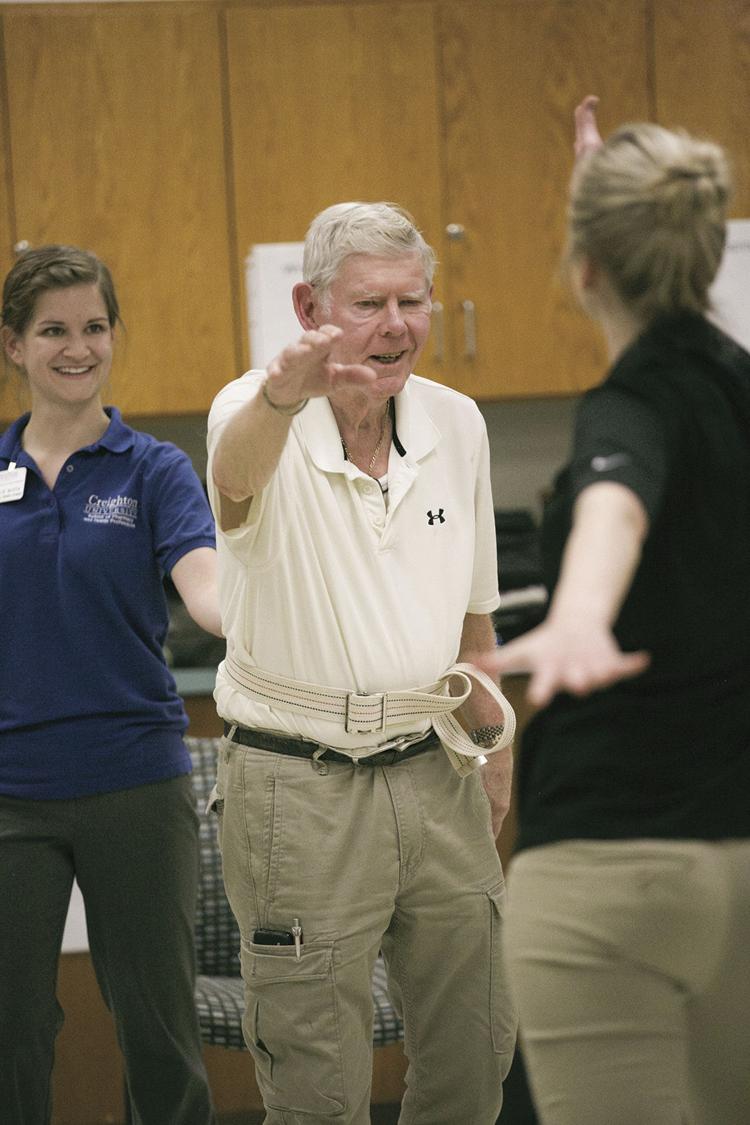 The hallmarks of the disease in terms of motor symptoms are slowness, rigidity and tremor; however, other symptoms are often present as well, such as fatigue, dementia, depression and psychosis.
Although people think of Parkinson's as a disease of the central nervous system, it is also a disease of the autonomic nervous system, which controls bodily functions that are not consciously directed, such as the heart beating, digestive process and breathing.
Because Parkinson's affects the autonomic system, people with Parkinson's may experience dizziness, constipation and a drop in blood pressure. Later in the disease, the symptoms contribute to difficulties in daily living.
The neurotransmitter dopamine, a substance produced in the brain, helps control movement. Dopamine decreases in people with Parkinson's. As dopamine decreases, it affects movement, the body and emotions as well.
"A cornerstone of Parkinson's, regardless of the cause, is a deficiency in this neurotransmitter," says Michele Faulkner, PharmD, professor of pharmacy practice and professor of medicine in the Department of Neurology.
"The role of dopamine in the body — when you perform any deliberate movement — is to release the inhibition of movement to allow you to execute it accurately and smoothly," Faulkner continues. "When you don't have enough dopamine, you have to fight to perform normal movements, so movements are slowed, and muscles feel stiff.
"Additionally, there's an imbalance between a couple of different neurotransmitters, dopamine and acetylcholine specifically. This allows acetylcholine to exert its effects unchecked which causes the tremor."
View the rest of the article, and learn more about why – for Creighton scientists and for those suffering from the diseases – the future of Parkinson's research is nothing short of energizing.
Creighton University offers a top-ranked education in the Jesuit, Catholic tradition.  Read more about the university, and connect with Creighton on  Facebook,  Twitter  and  Instagram.