A new program in the Heider College of Business merges finance principles with technical skills to prepare finance students for the real-world financial services industry. The new finance and technology (FinTech) undergraduate degree program is one of the first of its kind in the U.S. It combines Creighton's finance degree program with the business intelligence and analytics program, which are ranked 15th and 23rd, respectively, by U.S. News & World Report.
"Compared to, say, five years ago, the field of finance had become far more data driven in all subdisciplines of finance," says Lee Dunham, PhD, associate professor of finance, chair of the economics and finance department at the Heider College of Business and initiator of the FinTech major at Creighton. "Consequently, having finance majors just acquire the relevant finance 'textbook knowledge' is becoming increasingly insufficient to be competitive in the workforce."
To Dunham's knowledge, one fellow Jesuit university has a single FinTech class; another offers a three-class FinTech concentration. Columbia University and New York University offer FinTech programs, but only at the master's level. Creighton's undergraduate program will begin on-campus in the fall 2019 semester.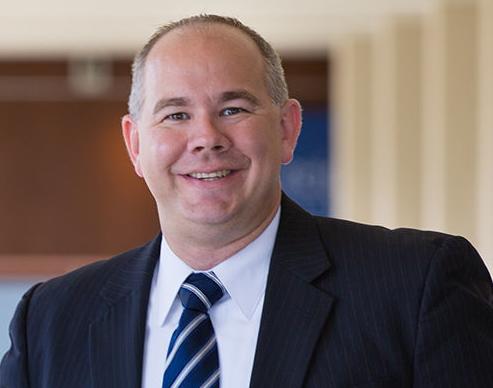 Dunham did not have road map to follow when he set out to create the FinTech major. So, the professor did his homework. He attended multiple FinTech conferences and met with several firms, both in Omaha and in New York City, to ascertain what specific skills Creighton graduates would need to remain competitive in the changing finance industry.
He also consulted fellow finance professors and practitioners, in addition to business intelligence and analytics (BIA) faculty, to determine the best selection of courses. After numerous iterations, the faculty determined the new major would include five finance courses and five technology (BIA) courses, all of which are closely linked to the technologies used by firms in the financial services industry.
Currently, Dunham is working with employers to funnel students into internship opportunities specifically geared toward FinTech. The Startup Collaborative, with has a partnership with the Heider College of Business, has a new FinTech Fellows Program in conjunction with First National Bank of Omaha.
The FinTech major will not only make students more competitive in the job market, but it will also "provide them with a thorough understanding of how these technologies are disrupting traditional financial institutions, and how these institutions are starting to respond," says Dunham.
All the while, "our amazing finance faculty will continue to deliver incredible instruction of the finance coursework, while our amazing BIA faculty will now deliver the necessary technical classes on the technology side of the FinTech major," he adds.
Learn more about the FinTech major in the Heider College of Business here.
Creighton University offers a top-ranked education in the Jesuit, Catholic tradition — and a welcoming, supportive environment to a diverse community of educators, professionals and support staff. Read more about the university, and connect with Creighton on Facebook,  Twitter  and Instagram.