When Hastings College announced it would provide an opportunity for every sophomore to study abroad beginning this fall, officials said it would be a "transformational experience" that would help students become more curious about learning and change their life's path.
This month the college tested that theory when it sent 60 sophomores, two professors, its president and its director of international programs to Paris for 10 days as a pilot program for the initiative.
The experience has been every bit as transformational as the college hoped.
"Being in Paris has given me the opportunity to see with a different lens what I can do with my life and career," said Jordan Ismaiel, a studio art major and member of the Hastings College Honors Program.
While at the Louvre Museum, Ismaiel viewed the Mona Lisa and other works he's seen only in books.
"When we're looking at this work and the technical skill behind it, we're looking at artists who moved art forward," he said. "We're looking at art that's foundational to what we do today."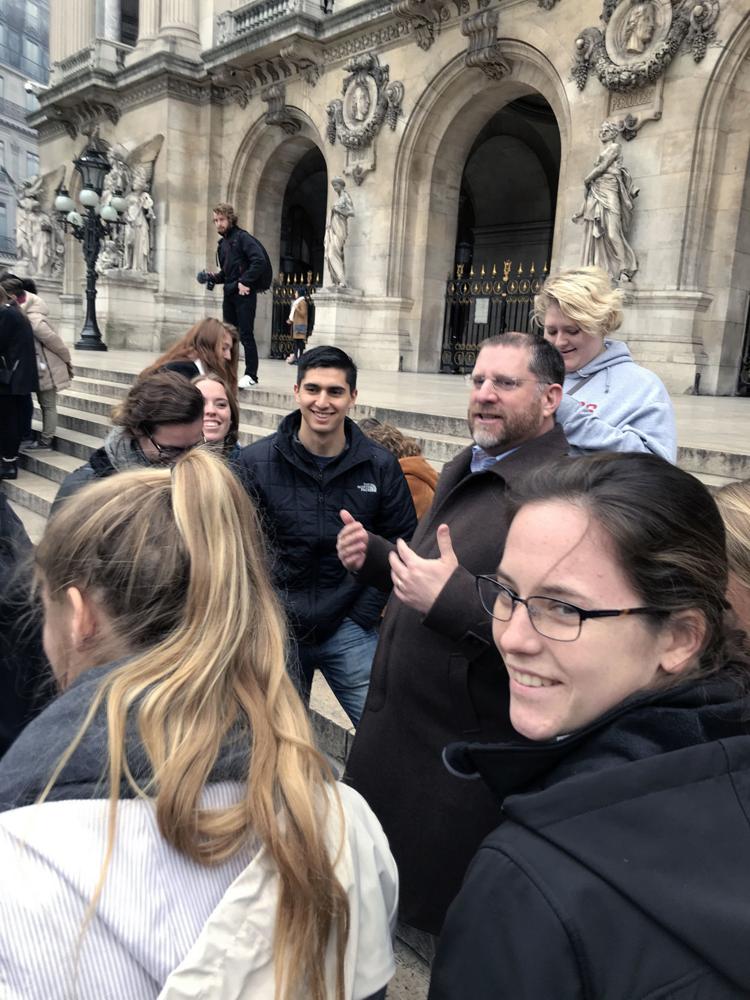 Grant Hunter, the college's director of international programs, said the trip was filled with many firsts.
"We've had students flying for the first time, leaving the country for the first time, taking a major capital's metro system for the first time and learning abroad for the first time," he said. "There is nothing more valuable for a student's education than to be immersed in what is different or foreign, and I can think of no better classroom than the streets, businesses and people of Paris."
The students left Hastings as a group, stayed together in Paris and participated in many activities together — like a weekend excursion to Lyon or an evening at the Louvre. Other times, students divided into one of three classes and headed out with their professor.
The Sports & Culture class spent part of a day at Clairefontaine, the French Football Federation's offices and training facilities outside Paris — and home to the 2018 World Cup champions. That class is taught by Dr. Travis Feezell, the college's president, who said in an Instagram video that students had great meetings with the French organization and heard about the coming women's World Cup.
"This is what it means to be a Hastings College student and to become a global citizen understanding sports all around the world," he said.
While that group was at the soccer complex, an International Business class led by Dr. Amy Black went to Station F, the world's largest business startup campus. With more than 1,000 startups under one roof, it was the perfect spot to talk about entrepreneurship.
Before leaving for Paris, Black's class met with the Nebraska State Fair, Stuhr Museum and the Hastings Economic Development Corporation.
"In Paris, we had similar conversations at Le Golf National, home of the 2018 Ryder Cup and a 2024 Paris Olympics site, the Louvre and Station F," she said. "While the differences are obvious, the similarities are more numerous than you might ever imagine."
The travel experience this month was paid for by the college and donors, as will the study away program that begins this fall. It's part of what the college is billing as "Hastings 2.0," which also includes investing in iPad Pros for students, a new block schedule and the college providing all required textbooks at no additional cost.
Hunter said learning through travel helps prepare students for the world today.
"International education and a global outlook is something more and more employers are wanting from college graduates," Hunter said. "With this one experience, Hastings College has 60 bright students waiting to go out into the world and share their experiences, and we can't wait for more students to have the opportunity."