The UNO campus logo, which combines a black U and red N to make an O, is visible all over town.
Omahans see it every day on billboards, benches, buses and banners. They know the UNO brand.
That wasn't the case 10 years ago. When Trev Alberts became the school's athletic director in 2009, he noticed early on that UNO had an identity crisis, and his new department was a big part of the problem.
"We had nine active logos and brands in 2009," Alberts said. "Basically, we had 14 different athletic departments in this one place. The chief competitor of the men's basketball program wasn't the teams we were playing in the MIAA. It was across the hall. There was no team. There was no vision. It was all these independent operators within athletics. And they all had their own logos. We had a community and a university that didn't understand who we were because we didn't understand who we were."
Alberts looked at it from a business perspective. Athletics are the brand investment of the university, and he could sense that the school didn't think the value was there. Those were just wasted dollars.
He didn't like that sentiment. And, additionally, he believed that UNO's primary color didn't distinguish itself from the larger school — his alma mater, less than an hour away in Lincoln — within the university system.
"Here we were, almost 16,000 students, and there wasn't a banner around campus," he said. "It was a group of brick buildings. And we had a red flag too. Gosh, we've got to do something about our brand."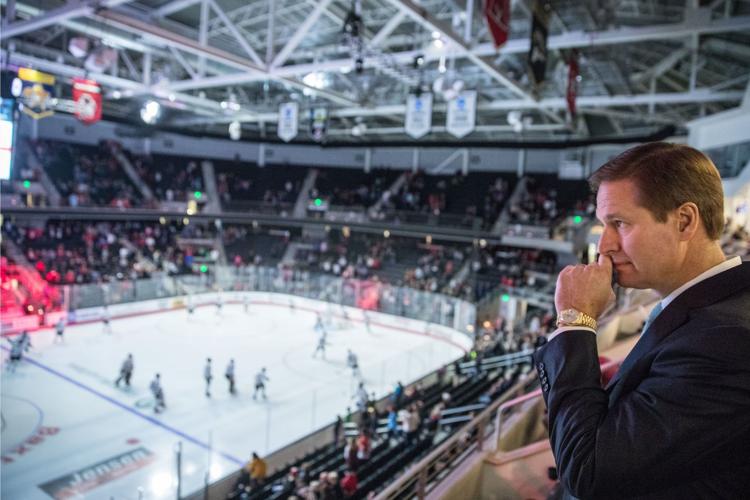 The ensuing changes were part of a transformation that now has UNO athletics operating on a whole new level, literally and figuratively. The rebranding coincided with the school's move up to Division I sports, and the campus logo remains a daily reminder of how far UNO has come.
In the past five years, the Mavericks have gone to a Frozen Four in hockey and an NCAA tournament in men's soccer and have competed in the Summit League final in both volleyball and men's basketball.
UNO also has opened its own arena, which has and will continue to bring new opportunities.
"Not only are we running our own arena, we're in the concert business," Alberts said.
Both the athletic department and Baxter Arena have operated with a surplus over the past two years, Alberts said. And UNO has completely flipped a budget that in 2009 was funded 60 percent by subsidies.
"Our last fiscal year, that's inverted," Alberts said. "Donors have helped us change our business model from a subsidized to self-generated approach. Now UNO athletics has a chance to take that next step."
Alberts said that's all about how incredible Omaha is. Through private gifts and sponsorships, UNO has received $73 million since announcing it was going to make the move up to Division I in 2011.
The athletic department was running at a deficit with no money to spend on the changes Alberts felt were necessary in the beginning. Then-chancellor John Christensen allotted him $40,000 to rebrand.
Alberts felt UNO had both perception and exposure problems so he turned to a company outside of the area (Dallas-based Torch Creative) so no preconceived notions about the school would enter the picture.
The things he knew were that Omaha was proud of Omaha and that UNO was proud to be a University of Nebraska institution. He wanted to bridge the gap, be a part of the university system but be Omaha.
The resulting rebrand included the current campus logo, an updated Maverick logo, a shift to black as the school's primary athletic color and the use of the city's name when referencing all of UNO's teams.
"On the ticker, when they show the scores and it says 'Omaha,' it makes a difference," Alberts said.
The rebranding also, inadvertently, bettered the relationship between his department and the school.
"All of a sudden, the academic and athletic folks were using the same marks," he said. "It sort of brought us together, and we started having that unity you need in order to create a team and be successful."
Alberts said UNO's campus has embraced the athletic department's endeavors. He acknowledged that without the support of deans and vice chancellors, the move to Division I wouldn't ever be successful.
Dr. Jeffery Gold, UNO and UNMC chancellor, has been proactive in pursuing what excellence looks like in the future, Alberts said. For his department, that's crucial because college athletics are always evolving.
"You're either making progress, or you're falling behind," Alberts said. "I remember, from the beginning, we wanted to be relevant within our community, and we wanted to do it in a fiscally responsible way.
"We kind of went through the 'here's where we are' in 2009 and 'here's where we think we can go.' We executed that. We've had some stumbles along the way. But by and large, through the mentorship and leadership of the business community, we've gotten there. Now it's about, 'How do we chase excellence?' "
A closer look at our Transformers
Hasbro's Transformers toyline and spinoff comics and cartoons provide the inspiration for Matt Haney's illustrations for Outlook 2019. Haney, a World-Herald graphic artist since 2006, admits to being "semi-obsessed" with everything Transformers since receiving his first action figure as a Christmas gift in 1984. He was 8 years old. "They were so popular that mothers were fighting for them on the shelves at Target," Haney says. He started mowing lawns for money to buy the latest figures and comic books. "Not much has changed," he quips about his ever-growing collection. In Matt's renderings, as in the series, the Autobots are the heroes, and the quotes are famous lines from Optimus Prime, their main leader. Together, they tell the story of "Omaha: Transformed."