Bus service
Metro
Routes throughout Omaha area. Adult fare, $1.25. Transfers, 25 cents. Express bus fare, $1.50. Senior citizens, disabled and Medicare passengers, 60 cents with Metro ID. Student fare with Metro ID on school days until 6 p.m., $1. Ages 5 to 9, 50 cents; children younger than 5, free with an adult. Ten-ride cards and 30-day unlimited ride cards available. Downtown circulator system, 25 cents per ride. Operation times vary with routes. Some routes begin at 5 a.m. and others run until 1 a.m. 2222 Cuming St.; 402-341-0800 or 402-341-0807 (TDD). Check routes and schedules at ometro.com.
MOBY van service
Operated by Metro. Curb-to-curb shared van ride, advance reservation service for passengers certified under the Americans With Disabilities Act and those within Omaha's city limits who are unable to use conventional ADA fixed-route Metro bus service. MOBY mirrors the fixed-route system, but the service area extends to a ¾-mile corridor along the route. MOBY applications: 2222 Cuming St. or 402-341-0800, ext. 2105; TDD: 402-341-0807. By appointment only, 402-341-8779.
Park & Ride
Operated by Metro on express routes only. Park for free and board the bus. Operates Monday through Friday.
Route 92: First National Bank, 14010 FNB Parkway, and Marcus Village Pointe Cinema, 304 N. 174th St.
Route 93: Tara Plaza, 84th Street and Hogan Drive, Papillion, and CVS, 6901 S. 84th St., La Vista.
Route 94: Oak View Mall, 3030 Oak View Drive, west of Dillard's, and Lakeside Hospital, 16901 Lakeside Hills Court, loading at Lakeside Hills Plaza. Route 95: Four Bellevue stops: south end of the Family Fare parking lot at 1510 Harlan Drive; Bellevue University, 1000 Galvin Road, park in the lot south of the Durham Center near the intersection of Galvin Road and Lloyd Street; Lied Activity Center, 2700 Arboretum Drive, park in the southeast corner of the lot on the west side of Arboretum Drive (buses load northbound on Arboretum Drive at the Metro sign); Marathon Ventures, 901 Fort Crook Road, park in the lot to the north, near Childs Road.
Route 96: St. Gerald Catholic Church, 9602 Q St., Ralston
Route 97: Boulder Creek Amusement Park, 14208 S St., and parking lot at 15370 Weir St.
Route 98: Family Fare parking lot at 2650 N. 90th St.
Motor coach travel
1601 Jackson St.; 402-341-1906. Serves Jefferson Bus Lines (jeffersonlines.com), Arrow/Black Hills Stage Lines (expressarrow.com) and Burlington Trailways (burlingtontrailways.com).
Megabus
Travels daily from Lincoln to Omaha then on to Des Moines and Iowa City in Iowa, and Moline and Chicago in Illinois, then back again. Omaha departures (12:05 p.m.) and arrivals (7:55 p.m.) near the parking garage at 72nd and Cass Streets. megabus.com
Rail service
Amtrak
1003 S. 9th St.; westbound California Zephyr arrives in Omaha at 10:55 p.m.; departs at 11:05 p.m. Eastbound California Zephyr arrives in Omaha at 4:59 a.m.; departs at 5:14 a.m. Track delays are possible; call ahead to confirm arrivals, departures. Service adjustments following Midwest flooding. Ticket desk, 402-342-1501; 800-872-7245; amtrak.com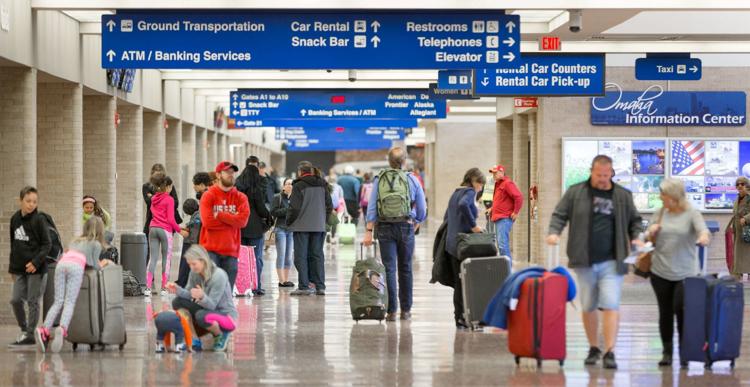 Air carriers
Nonstop flights to Toronto, St. Petersburg, Philadelphia, Fort Myers, Seattle, Portland, Salt Lake City, San Francisco, Los Angeles, San Diego, Las Vegas, Phoenix (PHX), Phoenix (AZA), Denver, Houston (IAH), Houston (HOU), Dallas (DFW), Dallas (DAL), Orlando (SFB), Orlando (MCO), Miami, Atlanta, Charlotte, Washington, D.C., New York City (LGA), New York City (EWR), St. Louis, Minneapolis, Chicago (MDW), Chicago (ORD) and Detroit, Destin, Nashville and Punta Gorda.
Serving Eppley Airfield:
Air Canada, 888-247-2262; aircanada.com
Alaska Airlines, 800-252-7522; alaskaair.com
Allegiant Air, 702-505-8888; allegiantair.com
American Airlines, 800-433-7300; aa.com
Delta Air Lines, 800-221-1212; delta.com
Frontier Airlines, 800-401-9000; flyfrontier.com
Southwest Airlines, 800-435-9792; southwest.com
United Airlines, 800-864-8331; united.com
Ticket counter hours, airline baggage service numbers: flyoma.com
Carpool
Metro! Rideshare matches up commuters in Washington, Douglas, Sarpy, Pottawattamie and Mills Counties. Create a free account at metrorideshare.org; 402-444-6866.
Cab service
Bluffs Taxi, call or text, 712-322-5505
Casino Cab, 712-322-4575; casinocab.net
City Taxi, 402-933-8700; citytaxiinc.com
Uber, sign up to drive or ride, uber.com
Lyft, sign up to drive or ride, lyft.com
zTrip, formerly Happy Cab (which also operates Yellow Cab, Checker Cab, Cornhusker Cab and Safeway Cabs Inc.), 402-292-2222; happycab.com
Shuttles
I-80 Navigator Airport Express
Serves Omaha, Lincoln, York, Grand Island and Kearney in Nebraska. 800-888-9793; navigatorairportexpress.com
Omalink
Provides van shuttle to Lincoln and Omaha airports. 402-475-5465; omalink.com
OmaSux
Provides express shuttle to and from Omaha, Sioux City, Sioux Falls and surrounding areas. 888-233-1131
Windstar Lines
Serves the region. 888-494-6378; gowindstar.com
Leisure Limousine & Sedan
402-476-8132
Van shuttles, black car and SUVs offering transport between Omaha and Lincoln
Metro Sedan & Limousine
402-891-1168; omahametrolimo.com
Transportation and chauffeur services for Omaha and Lincoln airports and hotels.
Car rentals
These agencies have service counters at Eppley Airfield:
Alamo, 402-422-6555 or 800-462-5266
Avis, 402-422-6480 or 800-831-2847
Budget, 402-348-0455 or 800-527-0700
Dollar, 402-346-6283 or 800-800-4000
Enterprise, 402-344-3280 or 800-325-8007
Hertz, 402-422-6870 or 800-654-3131
National, 402-422-6555 or 800-227-7368
Payless, 800-729-5377
Thrifty, 800-367-2277
Downtown parking
The City of Omaha operates metered parking spots downtown and in the midtown and Blackstone neighborhoods. Meter hours of operation are Monday through Saturday, 9 a.m. to 9 p.m.; Sundays and holidays, free. Motorists can download the Park Omaha app on a smartphone, create an account and pay for parking at any meter. Simply enter the zone and space numbers posted on the meter, choose your length of stay and select your payment method. You also can use your desktop computer to pay for metered parking and manage your account at omaha.ppprk.com/park. The city operates off-street parking in garages at 15th and Douglas Streets and 10th and Jackson Streets. Both are open 24 hours a day, seven days a week. The cost is $1/hour up to $10 daily. parkomaha.com
Pedal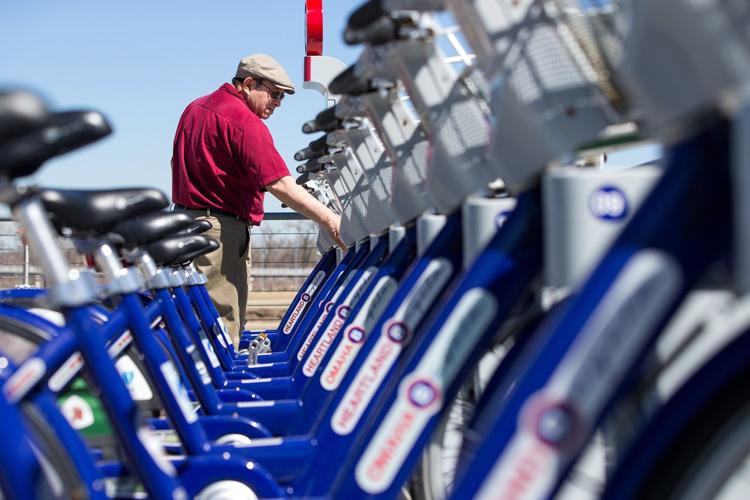 Heartland B-cycle
Wide-scale municipal bike-sharing program with more than 200 bikes to borrow, including electric pedal-assist models. 24-hour rental passes can be purchased at any of the 70-plus bike racks in the Omaha-Council Bluffs area. Monthly and annual passes available through the BCycle app. 402-957-2453; heartland.bcycle.com
On-street bicycle trafficways
Omaha has more than 26 miles of marked on-street bicycle trafficways, including nine miles of lanes and 17 miles of sharrows. Bellevue has nine miles of bike lanes along Fort Crook Road. A free map is available at bike shops, libraries and other locations throughout Omaha. Visit omahabikes.org to join a community of bicyclists.
Electric scooters
The City of Omaha launched a six-month pilot program in May for dockless, shared electric scooters the on streets of Omaha. Download the app for Lime or Spin and use your feet, eyes and/or the app to locate a scooter in designated areas of downtown, midtown and Benson. Use the app to see if the scooter is working, then enter your credit card info and read and sign the agreement and consent form. Step on and zip off between 5 a.m. and 10:30 p.m. daily. It costs $1 to unlock a scooter, and 29 cents a minute to ride it. Certain zones are GEO-fenced, including immediately around TD Ameritrade Park, in MECA parking lots and parts of the riverfront and Old Market. Users can ride only in streets, using bike lanes when available. Max speed: 15 mph.