Michell Blodgett wasn't interested in college.
After high school, she married and had children. She briefly attended graphic design classes at a community college, but academics still weren't a good fit.
Fast forward nearly 20 years and now Blodgett, a 40-year-old single mom, is preparing to graduate from the University of Nebraska at Omaha this May with two bachelor's degrees.
Many college students choose to double major, pursuing two concentrations as part of a degree program or earning concurrent degrees. Blodgett said college is about exploration and what's important is having a variety of experiences.
"There are so many different areas of interest you can pursue," Blodgett said. "I wouldn't be afraid to branch out of your comfort zone."
Students choose to seek double majors for a variety of reasons. In Blodgett's case, an academic adviser pushed her to add a program with more employment opportunities. Other students go into college planning for careers where a background in related fields can provide a competitive edge.
Blodgett plans to graduate with a bachelor's degree in sociology with a concentration in anthropology and a minor in theater as well as a second bachelor's in business management. She's currently working as an actress, debuting in the short film "Silence" at last month's Omaha Film Festival.
Looking back, Blodgett said she could have landed a job with the sociology degree.But she's glad she added business management because it rounded out her education and has given her the confidence to become an entrepreneur or seek a job where she could infuse creativity and insight into an organization.
"I really would love to start my own production company or business or do a social venture," she said. "I don't want to leave Omaha. I want to build up the arts here because I believe it's really important."
Joe Ecklund, director of Creighton University's educational opportunity programs, said double majoring is easier than it once was because more students are bringing Advanced Placement or dual enrollment credits when they walk in the door. It's also appealing to students with diverse academic interests.
"The thing we really emphasize with our students, particularly if they don't know what they want to do, is you study what you love and you study what you're good at," Ecklund said. "Sometimes those are two really different things and, if you have the capacity in your schedule to fit those classes, why not pursue both?"
The prevalence of double majoring depends on the institution. At Creighton, about 10 percent of undergraduates are double majors, as are about 2 percent of UNO students. At Creighton, business specializations — marketing, business intelligence and analytics, finance, economics and management — are the most common second majors. At UNO, they include math, foreign language, English and political science.
"You don't want to overthink how you match up double majors," Eckland said.
Ecklund recommends students considering a double major determine when they should take required courses. Class schedules and future course offerings are available, and academic advisers can help navigate requirements and determine what counts toward meeting degree requirements.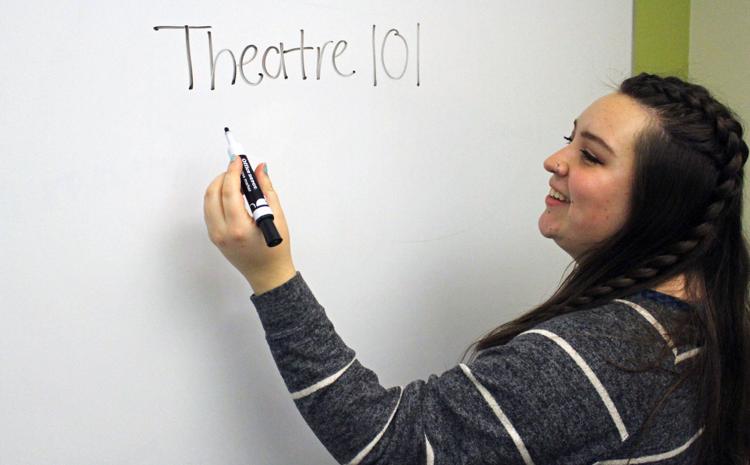 Paige Wolfe, an 18-year-old UNO student who wants to teach high school drama, discovered that a strategy for when to take certain courses would be critical to her plan to double major in theater and secondary education.
Education majors have to complete a series of practicums before their student-teaching experience, so Wolfe said she anticipates taking more theater courses early in her collegiate career before pivoting to upper-level education classes. That way, she'll have time to devote to theatrical productions and then shift to make sure she has enough time for student teaching as she finishes her program.
"My goal in college is to do more directing or stage managing, so I'm able to do some more behind the scenes," Wolfe said. "When I start actually teaching in classrooms, I can focus more on the education portion of it."
Wolfe expects to graduate after about five years, which is how long Blodgett spent on her degrees.
Ecklund said a double major doesn't necessarily require a fifth year, but it can mean summer classes or heavier course loads or skipping study abroad experiences. More important, students wanting to finish in four years generally won't have the option to drop classes or be choosy about electives.
"Provided that they stay on task, provided that they aren't dropping a bunch of classes, they're doing well in their classes, that double major is very attainable," Eckland said.