AIA Nebraska, a Society of the American Institute of Architects, announced this year's excellence in design winners in conjunction with its annual convention held Sept. 10 and 11 in Omaha.
At the Excellence in Design Gala, AIA Nebraska presented four Honor Awards and 10 Merit Awards selected from Nebraska architects' submissions by the following Knoxville, Tennessee, jury members: John Sanders of Sanders Pace Architecture (jury chairman), Chad Boetger of BarberMcMurry architects, Tricia Stuth of curb and Brandon Pace of Sanders Pace Architecture.
The Excellence in Design program is an annual event for Nebraska architects who submit built and unbuilt projects for consideration. Categories for consideration include Architecture, Interior Architecture, Unbuilt and Details. Two categories — Unbuilt Design and Architectural Detail — are for emerging architects and architecture students.
All projects in the competition are judged based on features including unique design, originality, extended-use attributes, sustainability, budget and use of environmental surroundings.
Further information on this year's design winners and past winners can be found on the American Institute of Architects, Nebraska Chapter website, www.aiane.org.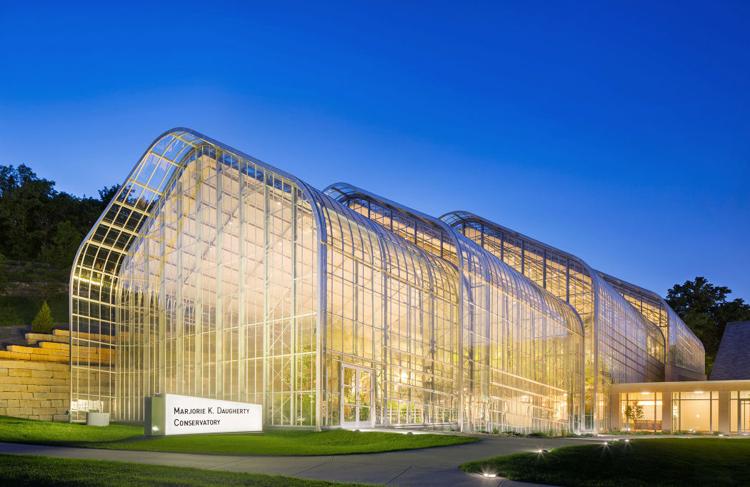 Architecture | Honor
Entry: Marjorie K. Daugherty Conservatory
Location: Omaha
Owner: Lauritzen Gardens
Firm: HDR Architecture Inc.
Photography: Dan Schwalm
Visitors begin the experience of being in the building by entering the new greenhouse structure from the visitor center building, where they enter into the Temperate House. From there, they begin a gradual rise in elevation as they progress through the Temperate House and the Tropical House, eventually arriving at an overlook viewing platform and the Gallery bay, both of which are 20 feet higher in elevation than the starting point. Visitors then experience views down to the conservatory and to the river valley. The technology of the new conservatory preserves as much energy as possible through use of breathable glazing for natural circulation, operable vents and louvers for natural ventilation, and retractable mechanical shades to preserve heat overnight. The site is designed with a 20,000-gallon water storage tank that collects water to be used within the conservatory for irrigation and other needs.
Jury comments: "Beautifully continues and evolves the tradition of conservatory design, elegant evolution of the glazed shed through approach to form and detail; the design constraints and process are explained well in the submission, and the jury applauds the integration of technology and systems in the process and in the building's aesthetics, expression and performance."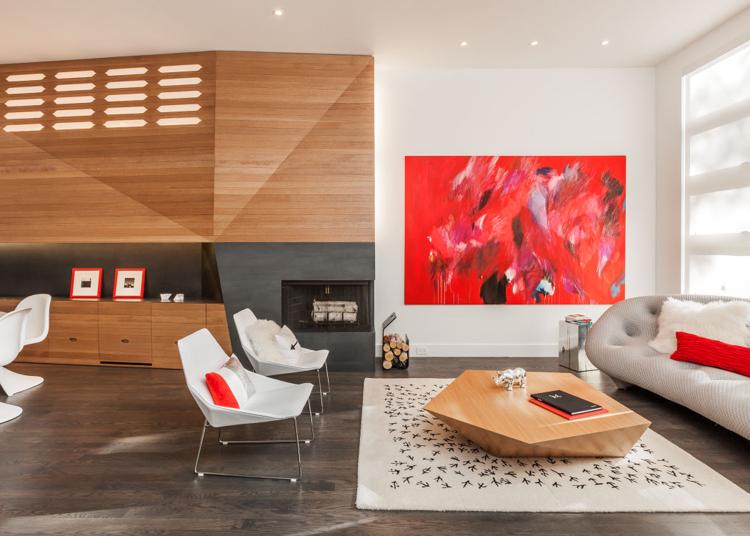 Architecture Interiors | Honor
Entry: Bucktown Residence
Owners: Tyler Lenczuk and Danielle Galanti
Location: Chicago
Firm: Min|Day
Photography: Paul Crosby, Paul Crosby Architectural Photography
Situated in the rapidly transitioning Chicago neighborhood of Bucktown, this extensive reworking of a recently completed spec home combines quiet urbanity with intimate spaces, unexpected moments and highly refined detail. Without moving a single structural wall or modifying any windows or doors, Min/Day radically changed the relationship and character of spaces through an emphasis on custom millwork, furniture — custom-designed by the architects and commercial selections — nuanced lighting and an extensive art program.
Jury comments: "This project is a visual delight. The amount of thought put into the details is staggering. Completely transforms a (presumably) mundane spec house into a unique and intimate family home. Comprehensive, unified and elegant resolution of material, light and space."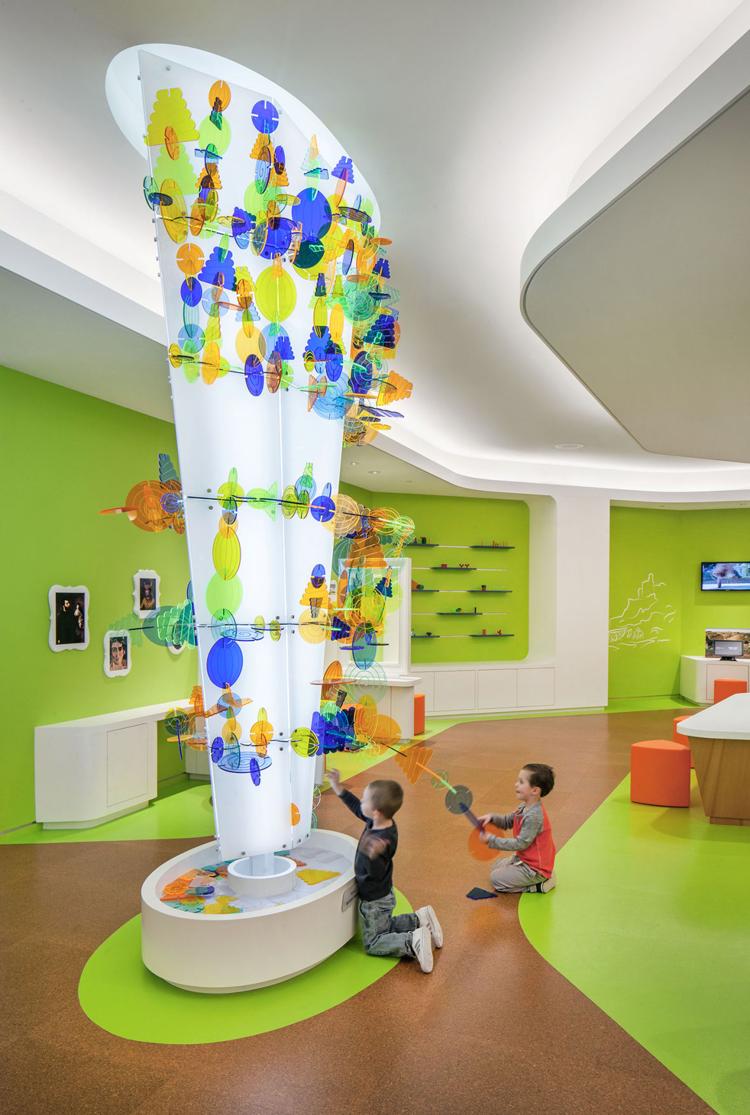 Architecture Interiors | Honor
Entry: Art Works
Owner: Joslyn Art Museum
Location: Omaha
Firm: HDR Architecture Inc.
Photography: Tom Kessler
The creativity center project began as the renovation of an old archive/library storage room in Joslyn Art Museum. The 1,500-square-foot single room space is in a lower-level wing, and its opening is intended to help activate one of the lesser-used areas of the museum. The project revolves around creation of 10 activity stations within the space. They include reading areas, portraiture drawing stations, touchscreen painting and more, with all activities being relatable to works of art in the museum's permanent collections.
Jury comments: "A windowless, subterranean storage/archive room is successfully transformed into a bright and cheerful place to interactively explore the museum's collection. The free plan ties nicely into existing circulation, and allows large school groups flexibility and plenty of room while creating intimate niches that children love. ... Excellent control of color, material, light and space that transcends 'design for kids' and makes a fun place for adults and kids."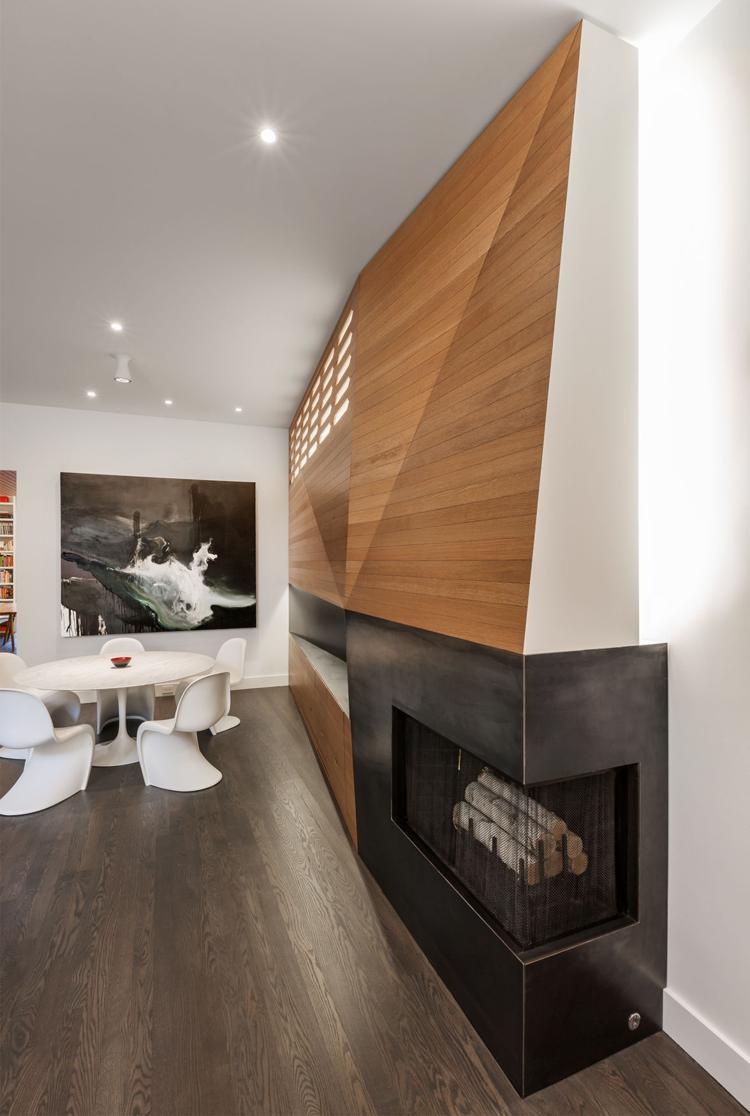 Architectural Detail | Honor
Entry: Dr. No Cabinet
Owners: Tyler Lenczuk and Danielle Galanti
Location: Chicago
Firm: Min|Day
Photography: Paul Crosby, Paul Crosby Architectural Photography
Reminiscent of the secret mechanisms in the lair of a James Bond villain, the Dr. No Cabinet animates the dining room of a remodeled spec home in the Bucktown neighborhood of Chicago. The architects reworked the entire home in a project that altered interior surfaces, added custom and carefully selected furniture, and added depth to a contemporary art program. The architects unified the home with new wood-paneled surfaces that organize all of the public and major private spaces. Cleverly hidden storage and infrastructure sit behind the wood walls, while hot-rolled steel animates fireplaces, niches and shelving. The Dr. No Cabinet is the most sculptural of these insertions.
Jury comments: "Refined and reductive, this project is a very specific solution to very specific but competing programmatic constraints. A formally complex project which required a great deal of skill and care. Execution of project suggests understanding and leveraging of a range of tools essential to detailing, and fabrication and construction."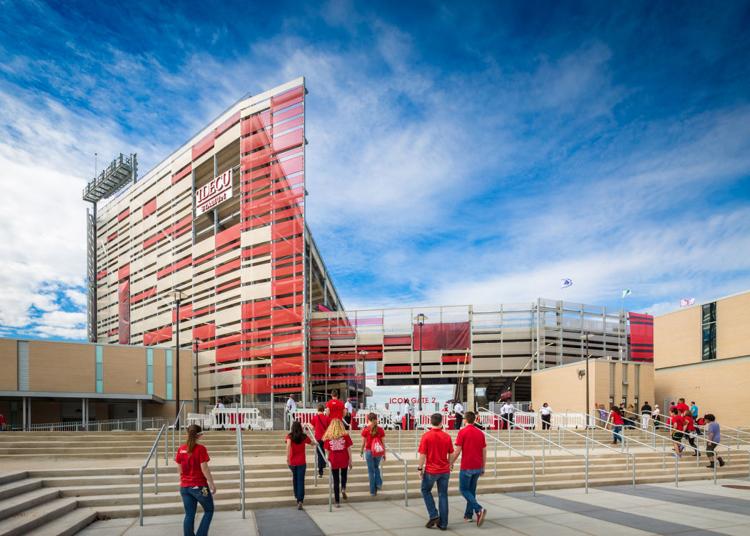 Architecture | Merit
Entry: TDECU Stadium
Location: Houston
Owner: University of Houston System
Firm: DLR Group
Photography: Shau Lin Hon of Slyworks Photography
The new 40,000-seat stadium at the University of Houston has transformed the school's athletics profile and enhanced the image of the university as a progressive, 21st-century institution. A change in orientation from its predecessor aligns the new facility with adjacent buildings, a new light rail stop and surrounding campus circulation.
Jury comments: "Wonderful example of doing more with less. The jury appreciated the overall straightforwardness of the design, and the design teams' decision to emphasize the screen."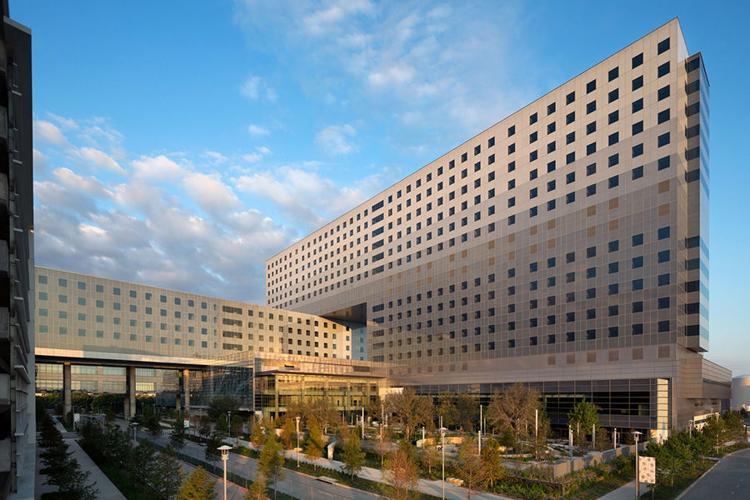 Architecture | Merit
Entry: New Parkland Hospital
Location: Dallas
Owner: Parkland Health & Hospital System
Firms: HDR and Corgan
Photography: Assassi Productions
The master plan was developed to address the diverse needs of the groups of people or "communities" who experience Parkland Hospital daily. The team focused on the family/public community, the physician/staff community and the patient community. Because the design is about the medical center's relevance as a civic anchor and its connection to the city's urban fabric, the planning process created "connections" to the surrounding urban context, the community served by Parkland, a new light rail transit system, neighboring institutions, and patients and families.
Jury comments: "Very well done project considering the complexity of the project and the scale of the program."
Architecture | Merit
Entry: Outdoor Adventures Center
Location: Lincoln
Owner: University of Nebraska-Lincoln
Firm: RDG Planning & Design
Photography: Tom Kessler
The Outdoor Adventures Center will enable Campus Recreation at the University of Nebraska-Lincoln to accomplish its mission and promote recruitment and retention of students by providing competitive recreation facilities on campus. The center has three components: Live, Work and Play. Each part represents a different portion of the program. Live refers to the area dedicated to education and healthy living. It is comprised of office space, classroom space, shower and restroom facilities. Work is defined by the bike maintenance shop, and equipment storage and workroom spaces. Play, the most dominant element, is manifested in the climbing spaces indoors and out.
Jury comments: "Amazed at what was accomplished with such a low budget. The building form is classic modernism and will look as relevant 50 years from now as it does today."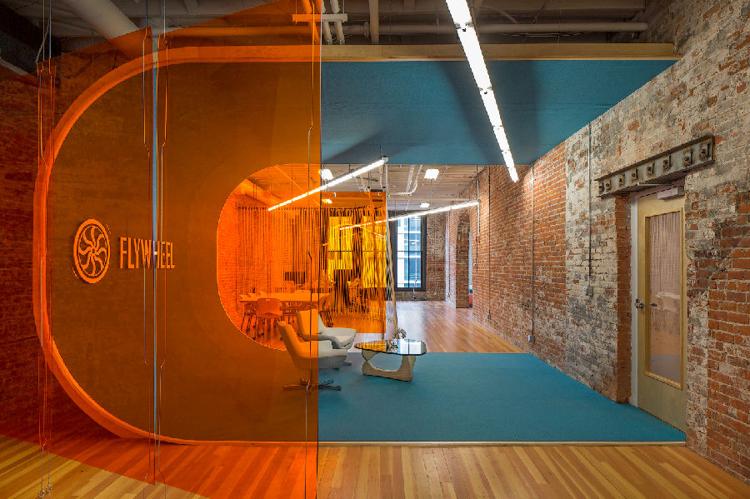 Architecture Interiors | Merit
Entry: Flywheel
Owner: Withheld by owner
Location: Omaha
Firm: TACKarchitects
Photography: Tom Kessler
As a startup, Flywheel required a low-cost space designed with the intention for growth. Using nonordinary materials and custom fabrication methods allowed the space to develop an overall look that speaks to the nature of the young company.
Jury comments: "Great solution within modest means. Successful at the level of the detail, but the whole is greater than the sum of its parts in this case. Limited moments of color very successful and provide a clear distinction between new and existing."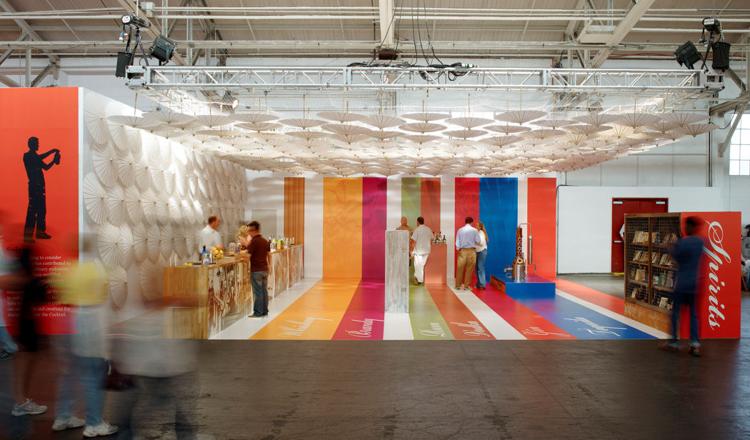 Architecture Interiors | Merit
Entry: Spirits Pavilion, Slow Food Nation
Owner: Slow Food Nation 2008 of Slow Food USA
Location: San Francisco
Firm: Min|Day
Photography: Cesar Rubio, San Francisco
The cocktail is a distinctly American tradition. Once the centerpiece of a thriving "cocktail culture," it has faded since the 1950s but is now embraced by a new generation of makers and mixologists. The Spirits Pavilion presents this rejuvenation as part of an event dedicated to fostering a deeper connection to food, inspiring Americans to build a food system that is sustainable, healthy and delicious.
Jury comments: "Smart project — a simple idea executed flawlessly."
Unbuilt | Merit
Entry: BART/Muni Market Street Entrances
Owner: San Francisco Bay Area Rapid Transit District and San Francisco Department of Public Works
Location: San Francisco
Firm: Min|Day in joint venture with TEF Design
San Francisco leads the way in changing how we might think of urban space. The Pavement to Parks movement (parklets), Sunday Streets, the Market Street Prototyping Festival, BikeShare and the Better Market Street Plan are bottom-up projects in which community members continually experiment with their city. This design for new subway entrances along Market Street follows this movement.
Jury comments: "Applaud the design for incorporating and celebrating customizable public functions into an otherwise utilitarian project."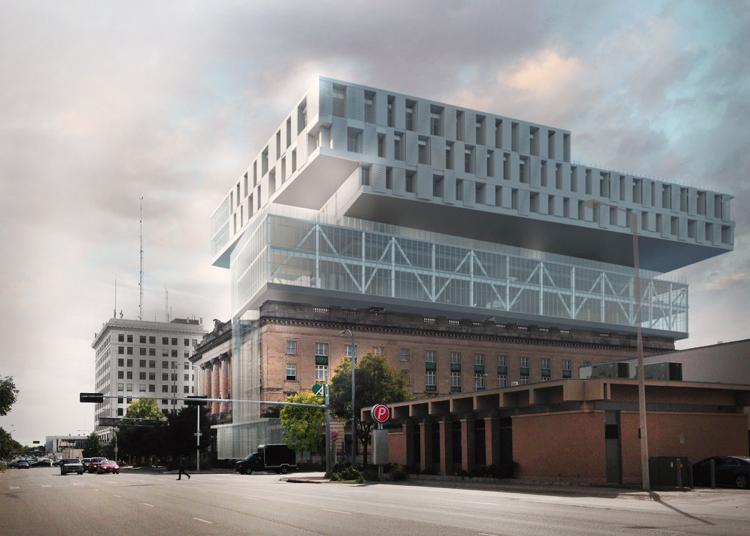 Emerging Architects Unbuilt | Merit
Entry: Air Rights Architecture
Location: Lincoln
AIAS Members: Kevin Bukowski and Liz Szatko, UNL College of Architecture students
Using the air space above existing buildings provides the opportunity to densify land-poor modernizing cities while preserving the original landmark. The above considerations were exhibited on a prototypical 1920 historic building. The Grand Manse is a stately concrete-and-glass building listed on the National Register of Historic Places. The Air Rights project makes contextually conscious use of valuable air rights space by providing a unique architectural solution through use of steel construction.
Jury comments: "The jury appreciated the framing of a critical and timely issue — historic preservation (past) and urban density (future)."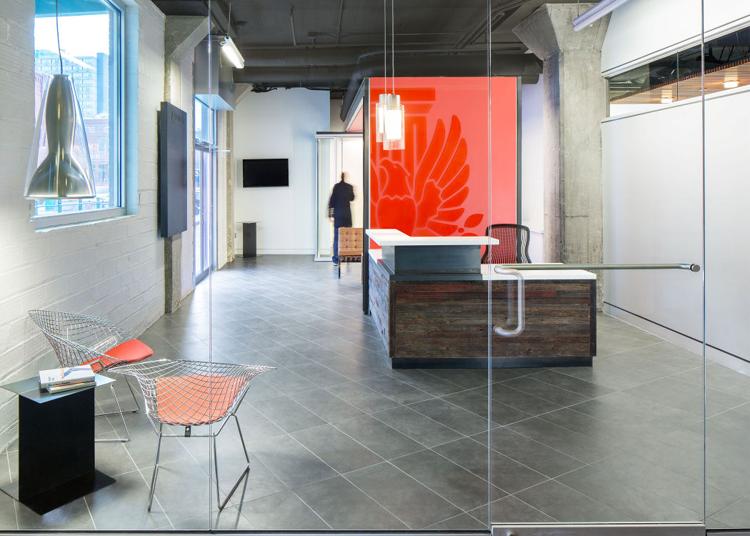 Emerging Architects Architectural Detail | Merit
Entry: AIA Nebraska Chapter Office/Lincoln Haymarket Development Corporation Office
Location: Lincoln
Owners: Lincoln Haymarket Development Corporation
AIA Associate Member: Ross Miller
Photography: Dan Schwalm
The AIA Nebraska Chapter wanted to move to a space that offered more access and visibility to members and the public. Partnering with the Lincoln Haymarket Development Corporation, the two entities agreed to combine and renovate the development company's space with an adjacent vacant space in a historic 1920s warehouse. The design challenge was to maximize the footprint shared by the two entities and transform the historic space into a contemporary environment.
Jury comments: "The red element includes a number of nice details that address the urban scale and experience from the sidewalk and organize the interior. "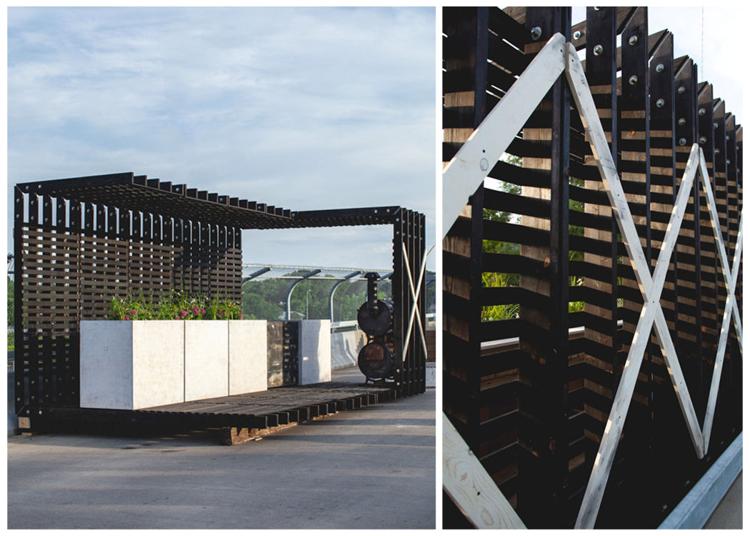 Emerging Architects Architectural Detail | Merit
Entry: Station
Location: Omaha
Owner: Jay Rybin
AIA Associate Members: Andrew Conzett and Ryan Fisher
Photography: Colin Conces
Station was originally commissioned by the design collective Emerging Terrain for a one-day dining event. The event called on designers, chefs, artists and architects to work together to cultivate a conversation about food and material culture. Station was designed and constructed as a platform and shelter to showcase and facilitate the social, communal and creative aspects of cooking, serving and consuming food.
Jury comments: "The detailing of connections between vertical and horizontal elements is particularly well done."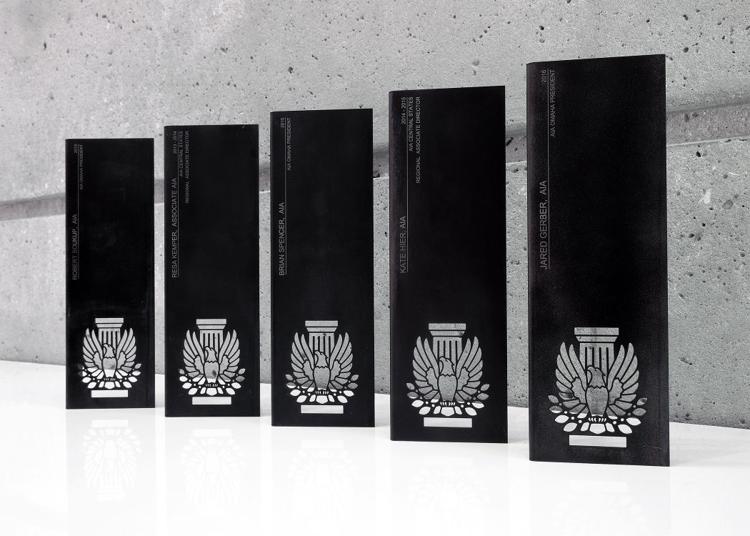 Emerging Architects Architectural Detail | Merit
Entry: AIA Recognition — Trophy Series
Owners: AIA Omaha and AIA Central States Region
AIA Associate Member: Ross Miller
Photography: Matthew DeBoer
The American Institute of Architects has long been an organization committed to promoting design excellence. Recognizing the need for honoring achievements through a high form of expression, a solution was designed that aligns with the organization and the design professionals it represents.
Jury comments: "Clean, simple, smart. Incredibly simple move with a material that speaks to our role of architects in the built environment."