When tragedy struck, Ralston Superintendent Mark Adler and his wife Joni made it their life's mission to spread kindness beyond the Ralston district and educate others on the dangers of bullying.
On Aug. 21, Papillion Middle School students gathered in the gym to hear the couple talk about their son, Reid, a victim of bullying who died by suicide more than three years ago.
During the presentation, Mark and Joni reminisced about Reid, spoke on their family's journey with grief, having open communications with loved ones and the importance of being kind.
"A little kindness in this journey would have went a long way and we would still have our son Reid," Mark said.
Reid died on Jan. 7, 2016, and though nothing can bring their son back, the Adlers speak to schools in hopes of preventing others from enduring the same pain.
"Jan. 7, 2016, that's the Adler family's 9/11. Our family will never ever be the same," Mark said.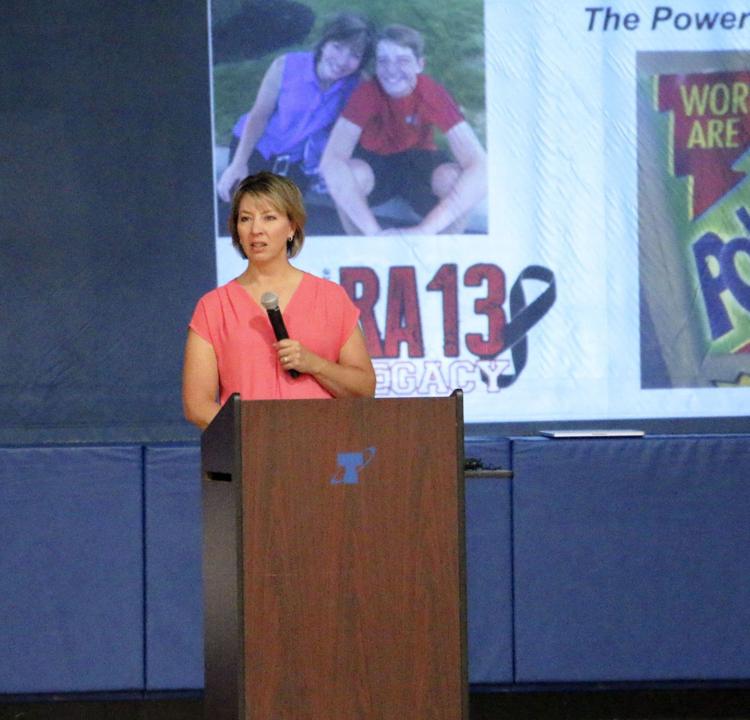 By sharing his story, the Alders' goal is to remind those who listen that they are here for a reason, regardless of the mistakes they make because, after all, no one is perfect.
"Reid was an awesome kid, but here's what Reid wasn't: Reid wasn't perfect," he said.
And though life is difficult and mistakes are unavoidable, Mark said there will always be someone there to help, whether that be a parent, teacher, friend or a trusted adult.
"There is no mistake that you cannot overcome," Joni said. "There is no mistake worth the cost of your life."
Deborah Boye, seventh grade counselor at Papillion Middle School, said like others in the district, she is there to aid students.
From family problems to dealing with bullies at school, Boye said she is there to help find a solution.
"I can't make it go away with a magic wand, but it will get better," Boye said.
When students express feelings of depression or thoughts of suicide, Boye said the issue is not taken lightly.
After conversing with the student, Boye said she immediately contacts their parents or guardian to discuss further action.
"We always take it seriously," she said. "We always let them know there are people here to help."
Boye said she hopes Reid's story will inspire students to be their best, compassionate selves.
"We just want students to be kind and caring human beings so that maybe self harm, suicide and bullying will subside and people will be able to come to school and accept each other for who they are," she said.
As photos of the Adler family were projected on a screen, Joni urged bullies to rethink their actions and change for the good of their school.
"Some of you are making life difficult for someone else and I just encourage you to evaluate yourself," she said.
Joni also stressed the importance of forgiveness.
"Forgiveness is for the health of your soul and your well being, not for the person who offended you," she said.
Even as students inevitably grow into adults, they will still encounter bullies in the workplace, churches and government, she said.
Though life doesn't get easier, suicide is never the answer, Joni said.
"Suicide is not the end of pain, it is simply transferred to others," she said.
Last year, the Adlers introduced the #BeKind campaign, which was adopted by school districts across the metro in an effort to address bullying and depression among teens.
"Kindness costs nothing but the dividends will pay forever," Mark said.
While it pains him to think Reid would have been starting his freshman year of college and tailgating with him as football season approaches, Mark said he still fights in honor of his son.
"We choose to fight and we are going to continue to fight," he said. "I want you guys to do the same thing."