Brandi McRoberts and Sarah Janssen consider themselves to be friends, which is not surprising considering their classrooms are mere steps away from each other and don't have any doors between them.
The two third-grade teachers at Hickory Hill Elementary share a pod of four classrooms. They share students for guided reading exercises, their students are comfortable walking between the classrooms and they take classroom design ideas from each other — McRoberts might steal Janssen's idea to Velcro charts and pictures to the wall for her room, for example.
But the relationship goes beyond a shared profession, because McRoberts, in her sixth year at Hickory Hill, was assigned to be Janssen's mentor at the beginning of the year.
Papillion La Vista Community Schools, like many school districts in Nebraska, assigns mentors to new teachers and other certified staff whether they are fresh out of college or new to the district.
In what is often a whirlwind year of being responsible for a whole classroom for the first time, mentors help new teachers navigate the curriculum, district policies, deal with behavioral issues and provide a general sounding board.
"Collaboration has to happen in order for you to feel supported and to do your best that you can," Janssen said.
Janssen was hired only a few days before the school year started so she didn't have time to do a summer's worth of planning. McRoberts and another third-grade teacher took care of the lesson plans and gave Janssen a list of things to do to get her classroom ready to go and organizing classroom expectations.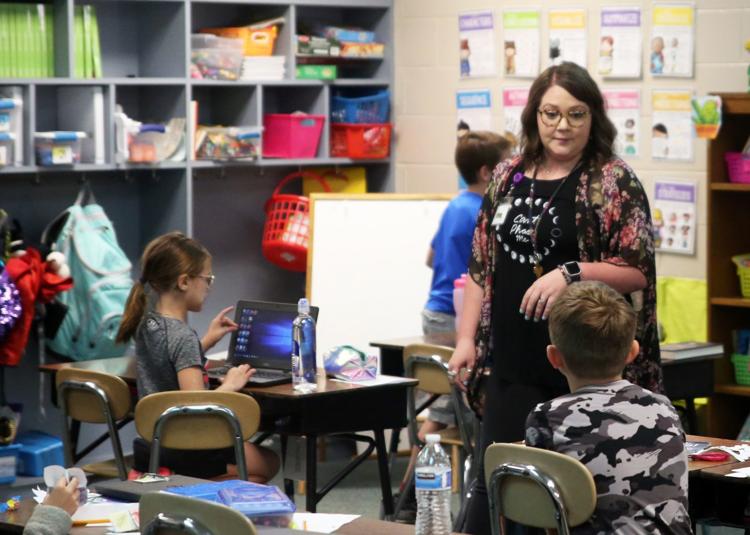 That assistance allowed Janssen to focus on physical aspects and develop relationships with her students, she said.
"It really sets the foundation of how the classroom is going to run," Janssen said. "So giving permission to take that time to set up your classroom and those expectations, in the grand scheme it makes a big difference."
McRoberts said she was asked to be a mentor and decided to do it because she felt the timing was right and the role would take her out of her comfort zone.
"I feel like after having five years under my belt, I'm comfortable in my own skin here and that I would like to do my part to help out wherever needed," she said.
Janssen said having a sounding board, even if she felt like she was asking a silly question, was one of the most helpful aspects of the mentorship. She was overwhelmed and nervous, and McRoberts helped her build confidence and made things less overwhelming.
The most important thing, she said, was that McRoberts helped her understand that she wasn't going to be a perfect teacher and that it was OK to ask for help.
"There's no way you could do this first year, in my opinion, on your own," Janssen said. "I can totally understand why some people question, 'Wait a minute, am I supposed to be teaching?' Because your first year is hard.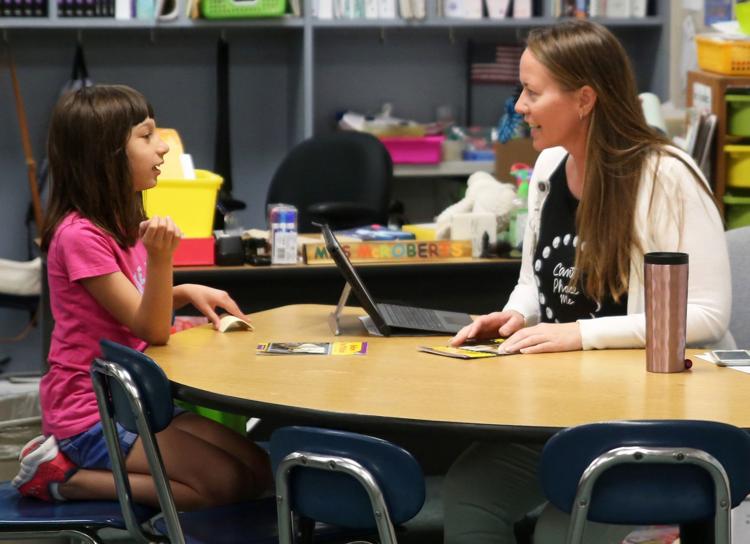 "If I was doing this by myself or felt isolated, I would maybe try one more year and then see how that goes. But it makes a huge difference, your team and your support you receive and having that mentor."
McRoberts believes people who aren't teachers don't understand all that goes into education and the mental exhaustion many teachers feel.
She encouraged Janssen to seek balance between life and work, and the two were able to empathize with each other about the frustrations and emotional drain that come from working in a caring profession.
"I think it would be extremely difficult and it wouldn't surprise me if someone who didn't have support decided to do something else," McRoberts said.
Research shows when teachers have strong professional relationships and support from their peers and administration, there is a correlation with lower attrition rates and better student performance. Mentorships and other induction programs are seen as a way to attract and retain teachers and foster strong professional relationships.
There is a national teacher shortage which has been estimated to be more than 100,000 people. Renee Hyde, assistant superintendent of human resources for PLCS, said candidates for teaching jobs often ask about the type of mentoring the district provides because new teachers expect to have a mentor.
The district has 67 new certified staff this year, Hyde said, and typically hires around 80.
"We all know it is a best practice strategy for having an effective teacher in every room every day so that students are not hurt by normal and natural turnover," she said.
As an incentive to serve as a mentor, the district provides funds the mentors can use for continuing their education and pays them for a half-day of work for training and to meet their mentee.
Nebraska used to provide state funds for mentoring programs, but that was eliminated in 2006. Now the onus is on individual districts to fund and implement mentorship programs, although the Nebraska Board of Education provides guidelines for districts to consider.
Hyde was superintendent of schools at Plattsmouth Community Schools in 2006, and said that district worked with the Legislature and Education Committee to preserve the funds for mentoring, but mentorship funds ultimately lost out to other priorities.
Districts now take more responsibility for communicating what resources are available and what expectations are, Hyde said, to ease the pressure of mentor teachers.
"Mentoring is an essential component of new teacher effectiveness," she said. "Mentoring is not a luxury that only benefits the employee, it is about supporting student learning."
If the opportunity arose, McRoberts said she would mentor again. She and Janssen are going to be third-grade teachers next year, and neither thinks the relationship will change much.