Wooden desks, worksheets, pencils and lectures once defined school.
But as technology has rapidly advanced in recent decades, that description is quickly becoming nothing but a blurb in history books for many schools in the U.S.
Over the years, chalkboards turned to whiteboards turned to interactive boards turned to tablets. Desks are being swapped for non-traditional seating or standing.
The Leader explored what schools look like in the digital age and modern learning environments.
Technology
Educators at local schools are taking notice that technology is becoming a part of everyday life, thus substituting iPads for notepads. Increasingly, schools are making the switch to 1:1, meaning one portable device for every student.
More screens means the hassle of scheduling computer lab time or printing worksheets dissipates. The hum of pencil sharpeners and the rustling of papers as small hands search for the right pages hushes. It is replaced by fingers taping and typing, unheard by ears covered with headphones. All this, teachers said, while learning transforms into a creative process behind screens.
Implementation: A learning curve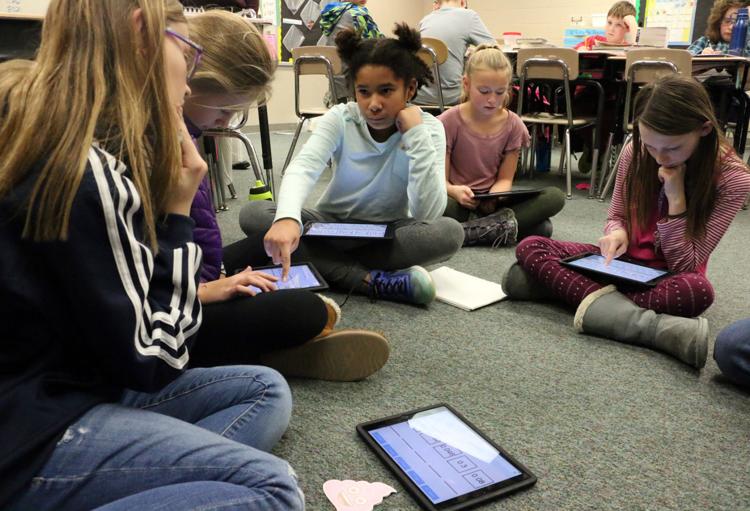 This technological shift is already in effect at many local public and private schools.
At the forefront of change is Bellevue Public Schools. In about three years, a device will be in the hands of every BPS student as the district shifts to 1:1, estimated to cost more than $13.5 million including server upgrades to handle the increased technology use.
The devices won't surface overnight. Effective implementation takes strategic planning, said Greg Boettger, BPS director of facilities and technology. BPS is taking a particularly long road to becoming a 1:1 district, as teacher training will be in phases throughout the next three years.
Of course, it'd be easier to have a mass teacher training as most school districts going 1:1 do, Boettger said. However, if teachers become trained in phases, he said BPS can ensure they're given what they need to succeed in an iPad classroom.
All teachers have or will go through six days of iPad training, after which they'll earn their Apple teacher certification. During this training, teachers learn the basics of iPad operation and the educational tools the devices offer.
BPS then pairs them with a coach who further instructs them throughout the school year. It's less overwhelming for teachers, Boettger said, and more effective for their understanding and implementation of iPads.
Since not all teachers at a particular school will be trained at the same time, some students may go from being in an iPad classroom in one grade to without them in the next during the transition.
The order of training staff is based on interest and curriculum, said Nicole Fox, BPS director of curriculum, instruction and professional learning. If the majority of teachers in the same curriculum area, or in the same grade level at the same school, express interest, they'll receive it sooner in order to lesson plan together.
No teacher will be required to complete the Apple training until the last year it's offered, Boettger said. This allows teachers a bit more set in their ways time to adjust.
Coming from a background with little technology in her more than 30 years of teaching, Bellevue Elementary School fourth-grade teacher Monica Evon said she was apprehensive to receive the devices. But, she said, she's thankful she did.
"To be honest, it's the best thing that's happened in my teaching career," Evon said.
The training helped tremendously, Evon said. And, she said she isn't alone is learning how to use the devices. Her students progress throughout the year and can eventually assist with technical issues.
Elementary school librarian Meagan Cinfel also said students are quick to pick up the technology.
"By the end of the year, kids are using apps within apps, doing something on one app and uploading it into another app to make something else," Cinfel said. "By the end of the year, they're pretty fluent."
Omaha Public Schools is also making a push toward technology. As designed in its Planned Obsolescence model, devices are dispersed to secondary teachers, then secondary students, then elementary teachers, then elementary students across the district.
Devices at OPS secondary schools, including Bryan High School, have already been distributed to teachers who received Microsoft professional development training. Students in Bryan's competitive Transportation Distribution and Logistics and agriculture programs are 1:1. More devices are available for other classes to share.
Types and amount of devices available varies based on the needs of the school, said Rob Dickson, OPS executive director for technology.
OPS is considering implementing devices at the elementary level in Spring 2019.
Papillion La Vista Community Schools is 2.5:1, PLCS spokesman Chase Moffitt said. He said increased technology is a topic constantly discussed for the district.
Many local private schools are also embracing change. Quest Forward Academy, formerly known as Next Generation Learning Academy, which opened its doors to the school's first freshman class of 12 this fall, is 1:1. All Gross Catholic High School students are required to bring a laptop, tablet or smartphone with them to class.
St. Bernadette Catholic School in the process of going 1:1 with Chromebooks in middle school. Primary grades share iPads. St. Mary's Catholic School fifth and sixth-grades are nearly 1:1 with Chromebooks, while other grades, from second grade up, share Chromebooks or laptops. Though not 1:1, Cornerstone Christian fifth-grade classes received donated tablets in January, while middle school students already have Chromebooks and high schoolers have laptops.
Classroom models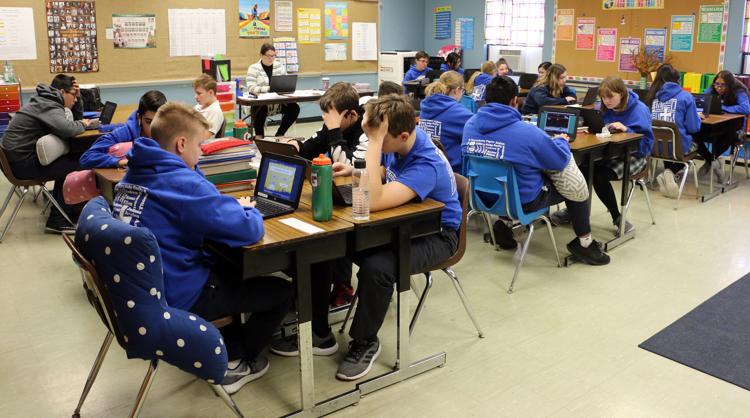 It's important to strike a balance between traditional and technology-based learning, St. Bernadette kindergarten teacher Mary Lentino said. She said this is especially true since children already spend so much time using technology. According to the Centers for Disease Control and Prevention, 8–10-year-olds spend an average of six hours a day in front of screens, 11–14-year-olds spend an average of 7.5 hours a day and 15–18-year-olds spend an average of nine hours a day.
Many teachers with tablets, including Lentino, use blended learning, meaning some instruction is traditional and some iPad-oriented. Often in this method, teachers will instruct students traditionally and assign projects and homework on devices.
Others use a flipped approach, where students learn lessons, usually recorded by teachers, on the devices during their own time and complete assignments during class.
Elizabeth Lambert, BPS Lewis and Clark Middle School instructional coach, used a mostly flipped learning approach in her classroom when interviewed last school year. She creates videos of instruction less than 15 minutes long, short enough so students can follow along in their free time at school since not all students have iPads at home. They can pause and rewind lessons.
She'll start class by walking students through a warm-up problem without iPads. Students work independently on iPad assignments during the rest of the class, allowing plenty of time for Lambert to answer questions and help students, she said.
No matter the learning model, the devices are used to enhance learning, not replace teachers. Lambert said teachers are still needed to create the lessons, answer questions and engage students. Simply handing students iPads isn't enough.
Where technology fits into education
Screens are supplements but also extensions to better student learning, creation and experience.
When first marketed, tablets were thought of as consumption tools, said Bellevue West High School communicative arts teacher Julie Rowse, who was among the first BPS teachers to receive iPads. She said the devices have since evolved into creation tools.
Parents who use tablets for entertainment purposes often have trouble understanding its function in the classroom, Cinfel said. This makes it difficult to break misconceptions that students in iPad classrooms play all day.
The devices are capable of so much more, she said.
For example, after a lesson, Cinfel would often have her Central Elementary School first-grade students take a photo of something relevant, draw or write on it and record themselves saying facts they've learned, when interviewed last school year. Students remember the information better saying it aloud and reviewing what they recorded.
"It brings that learning right to life," Cinfel said. "You can count squares on a piece of paper, but for them to go out in the hallway and count the perimeter of the squares (tiles) is so much more meaningful for them … If they can teach what they just learned, then you know that they have it."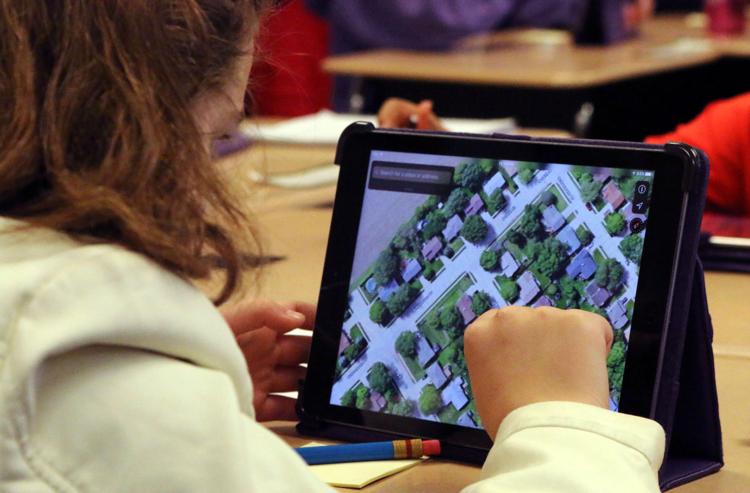 Evon often allows her students to show what they've learned anyway they want.
"When that happens, they're taking ownership of their learning, and that learning becomes intrinsic," Evon said.
"When I went to school you were given a test. You had to memorize the information, you took the test, two weeks later it's like 'whoa, what did I just learn?'"
A popular pick is creating videos.
Students in Rowse's Popular Culture Studies class study rap and hip hop music for a unit, then create their own loops using Garage Band, a music making app.
In her journalistic writing class, Rowse's students use the iPads to edit their stories.
Some classes are using technology to connect with people around the world. Evon's class, when interviewed last school year, connected with students in Austria on a regular basis. They're partnered with a school on a children's blogging site. She said having students engaged and excited from connections outside the school is like "magic."
She also plays "Mystery Hangout" with students, a game in which her class video chats with another class from somewhere in the world.
Each class attempts to guess where the other is located by asking questions and researching on tablets. In fourth grade, students learn about regions and landforms, which this game makes interactive.
Students can also take virtual tours around the world without leaving Bellevue.
"Some kids will never be able to go to Mount Rushmore, so why not bring it to life?" Cinfel asked.
Disguised as games, students learn spelling, math, coding and more by playing on apps. Educational games are used to drive home concepts or keep students learning after completing assignments.
Many schools participate in Hour of Code, an annual national event where schools spend time teaching students to code.
Engagement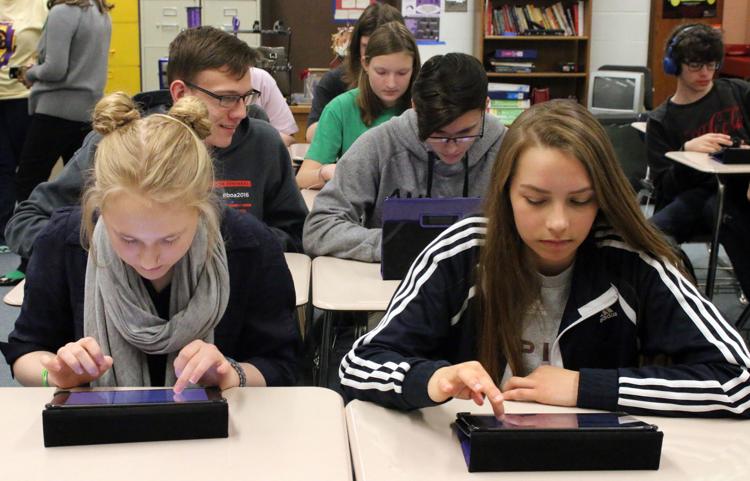 Traditional methods of teaching are sometimes not engaging enough for modern-day children, teachers said. Since getting iPads, teachers said they've noticed a significant increase in student engagement and motivation.
"When I first started, I didn't have any iPads or anything and I had a really hard time reaching the kids," Lambert said. "The worksheet thing that was passed down to me was not working. Kids were not engaged … it just seemed like there had to be another way."
But kids will be kids. Sometimes students will open YouTube or other apps when no one's looking, Cinfel said. Using the Apple Classroom App, teachers can view all students' iPad screens and can lock them out of the devices if they're misusing them.
Teachers can also assume control of the students' iPad through their own to navigate where the students go. They can lock students in an app in order to prevent students from cheating on tests by searching for the answers online.
With tablets, teachers can review students' assignments in real time. This allows them to give their students immediate feedback and address problems areas promptly.
St. Bernadette teachers use apps that gather data about where students are academically. Lentino takes note of that feedback and assigns each student more tasks in areas they need to focus on. This individualized assessment of students is one of the biggest benefits of the iPads she's seen. The apps then allow her to print students' progress to show parents.
With student engagement comes parent engagement.
Through apps such as Seesaw and Schoology, parents can view their child's work throughout the day and leave audio or written comments. Cinfel describes these as social media sites between parents and children.
"It lights up their whole face when they get something from their mom and dad on Seesaw," Cinfel said.
Instead of asking kids what they did in school — to which children are notorious for responding "I don't know" — parents are able to ask them about projects they already saw online, Cinfel said. It starts a conversation and provides students accountability, she said.
PLCS' Anderson Grove fifth-grade teacher Matt Meyer has his students check in on Seesaw twice a day during his class's reserved iPad times. In group rotations, students complete and post assignments for Meyer to grade and parents to review.
It's transformed parent communication, Meyer said. The app (and others like it) immediately notifies signed up parents when their child or child's teacher posts.
"What I love about the Seesaw app is that parents are immediately connected to what we're doing in class," Meyer said. "I've had a lot of parents comment they feel like they're in the class with us."
The app's replaced his class newsletter. Now, he uploads videos of him explaining information that parents need to know.
He also leaves a video message for each student's tests and voice comments on assignments. These are often more meaningful to families than written words on a page, Meyer said.
Technological impact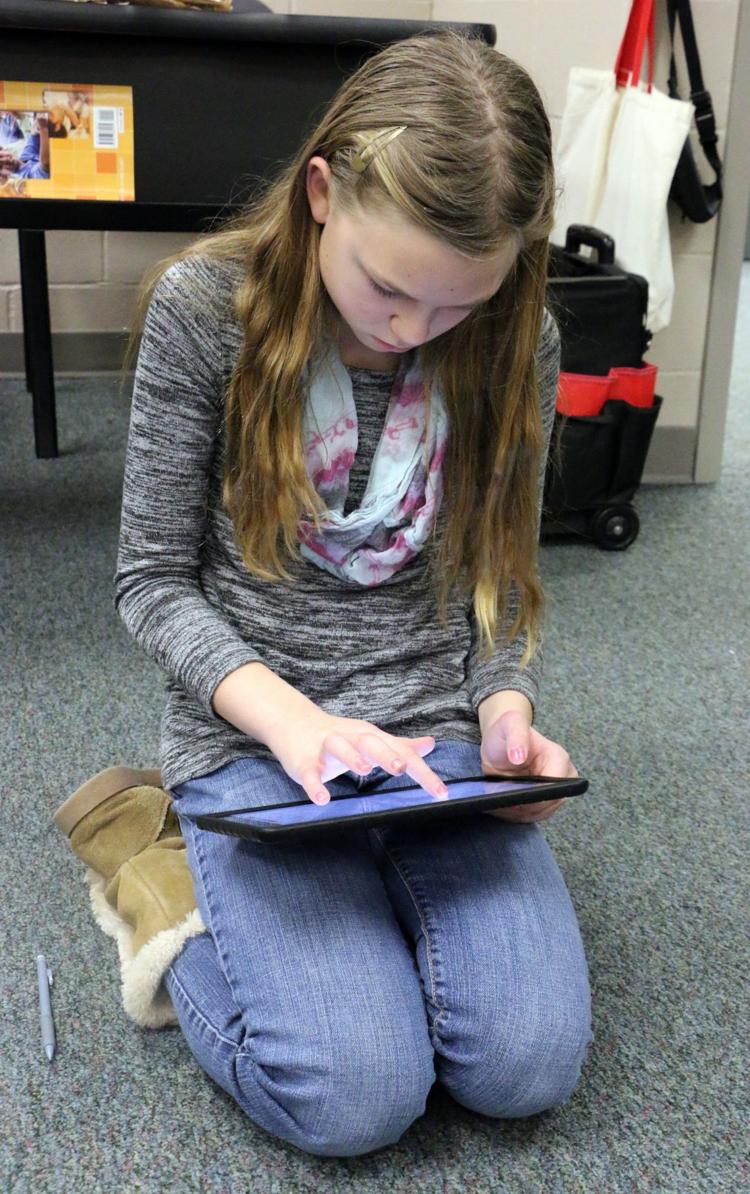 The long-term consequences, positive and negative, of children constantly using technology are largely unknown.
From what is known, students frequently looking down at the devices could strain their necks and shoulders, said Dr. Patrick Anderl, family medicine primary care physician at Nebraska Medicine — Bellevue. This is sometimes referred to as "Text Neck."
Too much screen time could result in eye strain, as eyes have to work harder when looking at nearby objects and relax when looking far away, Anderl said. This could also exacerbate headaches, he said. Students who have concussions may be further delayed in returning to a classroom with devices.
However, technologically fluent students will have a leg-up upon entering the workforce, said Doug Rausch, Bellevue University assistant professor and cyber security program director.
Computer-related careers are huge right now, Rausch said, and he expects that trend to continue as present-day children grow into adulthood. Fields like computer science, information technology and cyber security can't keep up with the growth in technology.
Even students interested in careers not directly related to science, technology, engineering and math, or STEM, are better off with devices in hand, he said. All fields are impacted by STEM as technology is becoming more of a part of everyday life.
"Students that have some knowledge of STEM technology are going to be so much more successful," Rausch said. "Part of that makes them more productive at their job, the other part is that it puts them above their peers."
There's also the financial impact to consider, as these devices are generally on a replacement cycle of four years. However, with paper, pencils and other classroom materials less needed, schools have the potential to offset some of those costs. Schools may also abandon pricey hard-back textbooks along the way, replaced by ebooks.
Learning environment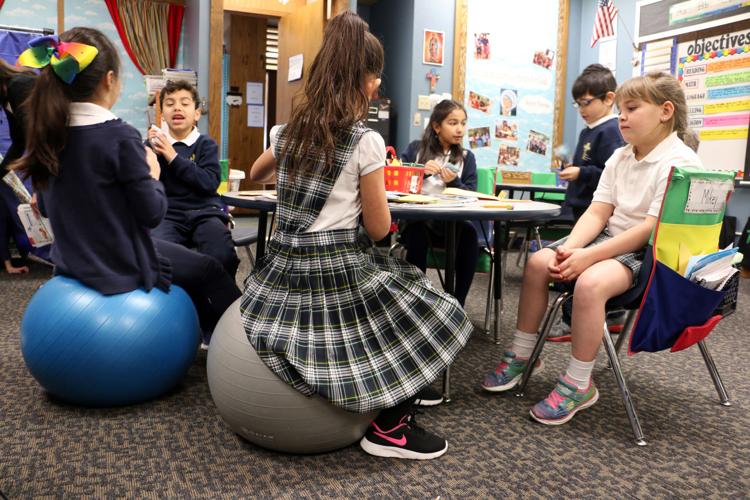 For generations, classroom setup stayed the same: wooden desks symmetrically aligned, facing each school's backbone — the boards.
But as learning moves toward independent paths, that arrangement is no longer necessary. Classrooms are looking less like children's offices and more like living rooms. Many teachers have found flexible seating pairs best with technological advances.
Bellevue Elementary School fourth-grade teacher Monica Evons switched to flexible seating after a student with Attention Deficit Hyperactivity Disorder asked to bring an exercise ball to sit on during class. His family then bought a ball for him and every one of his classmates.
The more options you can give a student, the more they take charge of their own learning, she said.
In classrooms with flexible seating, students have their choices of a variety of seats, often including exercise balls, wobble stools, bean bags chairs, scoop seats, laptop desks, cushioned milk crates, pillows, rocking chairs, standing desks and regular desks. Some students move from seat to seat throughout the day, while others pick a favorite spot.
In the corner of a mostly traditional Cornerstone Christian classroom, fifth-grade students huddle inside a fort practicing math flashcards. Others sprawl out on large fluffy pillows or lean on makeshift standing desks. On regular chairs, some students sit on sensory and memory foam cushions for additional stimuli.
Cornerstone fifth-grade teacher Sara Bookless allows students to decide where they learn best, which she said gives them a sense of responsibility. This leads to students developing better decision-making skills in other areas of their life, she said.
Cornerstone fifth-grader Mayse Fritz frequently uses the standing desks, which is simply a tall projector stand with two ledges converted into writing spaces. Students can either stand next to the ledges or sit on an elevated stool.
"I like it because when you stand, it gives you time to stretch your legs," Fritz said.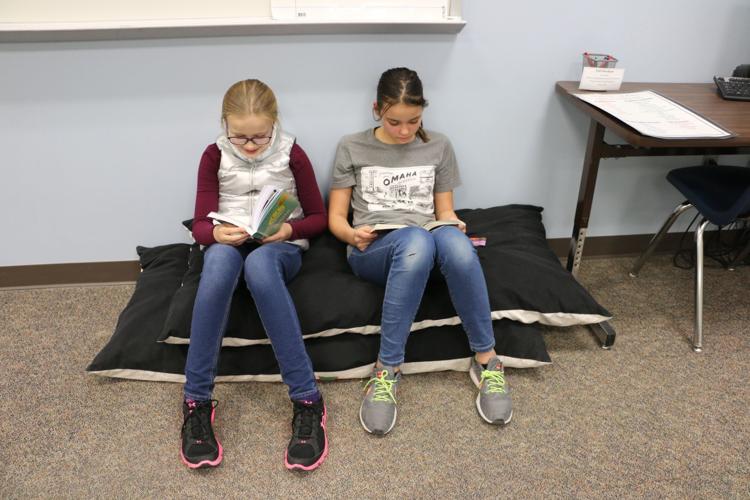 When interviewed last school year, Peter Sarpy first-grade teacher Lanette Starbuck also had standing desks in her classroom. Hers closely mimicked traditional school desks, but were capable of being at standing height. Each desk's height is adjusted to the individual student. At the bottom, desks have swing bars or bouncy bands for student's feet to fidget with.
"I have several students that, when they're sitting, they don't raise their hand," Starbuck said. "As soon as I moved a couple of kids to the standing desks, all of a sudden their hand was up or their head's not on the desk anymore."
In St. Bernadette second-grade classes, seating can be a table raised on stilts or a low-to-the-ground table with carpet squares.
"If they can be where they work best, they do," St. Bernadette second-grade teacher Betsy Harding said. "They aren't getting up to get tissues 100 times or asking 50 times to go to the bathroom or sharpening pencils. It really cut down on that."
Harding also said she's had a lot less missing work this year than in years past. However, it's hard to compare different groups of children.
Some students still crave structure, Belleaire Elementary School second-grade teacher Christy Coy said. She replaced the majority of her desks and with flexible seating, but she kept a few around for those children. It's all about creating a kid-friendly learning environment, she said.
All these options usually come at teachers' expense. While teachers are given a classroom budget, it's generally not large enough to cover flexible seating expenses. Bookless said she's "frugal" with her flexible seating.
"A lot of them are either hand done or I garage sale them or I buy-sell-trade them," Bookless said.
The BPS Foundation provides some BPS teachers with class innovation grants for many purposes, including teachers seeking to create this type of environment.
21st Century Classrooms
Omaha Public Schools' Bryan High School — along with South High School — is testing two "21st century classrooms." This is typically defined as a collaborative and flexible learning environment.
If the second phase of the OPS bond passes, two new high schools would be built, and, if all goes well, the new schools would incorporate more of those rooms.
Bryan social studies teacher Nick Wennstedt and English as a Second Language teacher Mary Malone moved into the classrooms after they were completed this January.
Many of the walls are whiteboards, one on which a Promethean interactive board hangs. Multiple seating options are available, including wheeled desks, wheeled chairs up to tables and wobble stools. A higher table is available to stand at or use high chairs.
Wennstedt said the furniture is about flexibility in how students learn and in classroom layout. From his observations, students are more energetic and collaborative in this type of environment.
The newest school in Bellevue, the private Quest Forward Academy on the campus of Bellevue University (formerly known as Next Generation Learning Academy), was also designed with collaboration and flexibility in mind.
"It's really designed so they can be where they're most effectively going to learn or going to work," said Jennifer Dalbey, Quest Forward social studies and English mentor.
Among the furniture options, small tables for three to four students double as whiteboards for practice problems in math class. When working independently on quests, students are often free to sit wherever they choose — at a table, desk, couch or beanbag.
Movement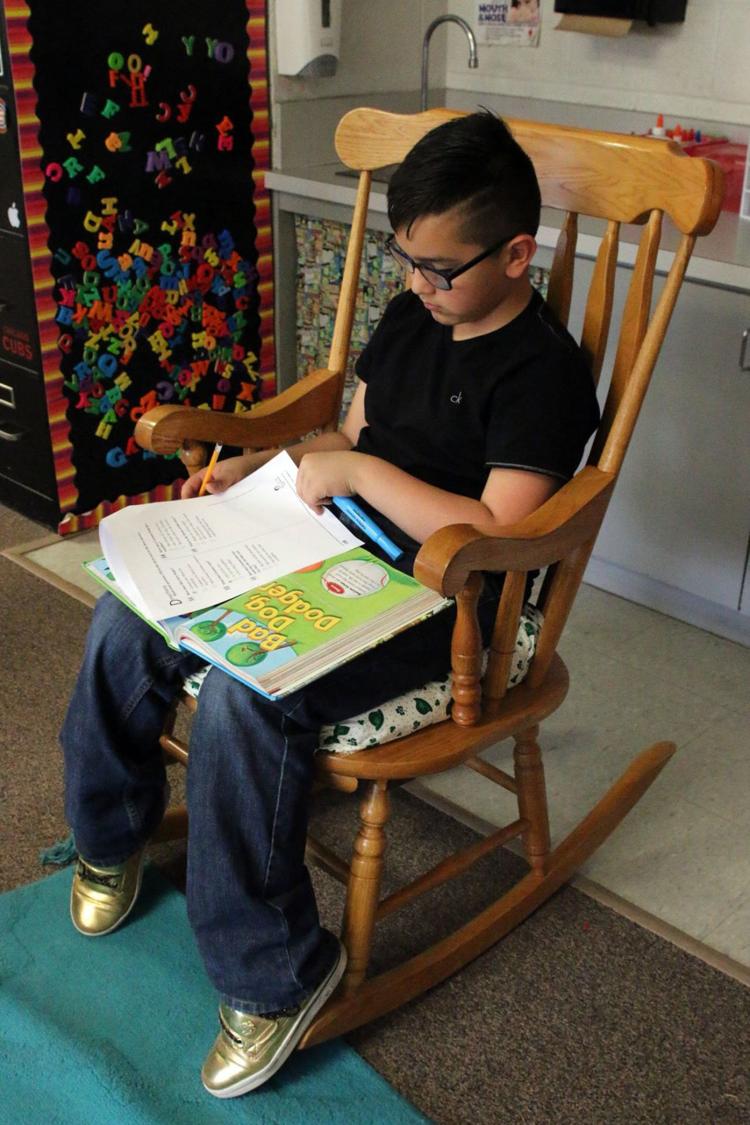 These environmental changes allow for more movement throughout the day. Through standing, bouncing on the balls, rocking in chairs, switching from seat to seat and more, students are letting out more energy than those sedentary all day.
Teachers have noticed a correlation between increased movement and increased student engagement and productivity.
"I want the students to move," Malone said. "The first day the students were twisting and then they stopped when they saw me. I was like no, please do that. I want you to move … We're meant to be in motion. This facilitates that."
Dr. Patrick Anderl, family medicine primary care physician at Nebraska Medicine — Bellevue, said an increase in energy expenditure could result in students being more attentive in class (though not all studies backup that theory), as well as improved mood and behavior.
One way or another, children need to release energy throughout the day. A physical distraction, such as bouncing on a ball or standing while swinging their legs, allows them to concentrate, Anderl said, which could result in better academic performance.
Students in more traditional classrooms still attempt to release energy, but can often be in less productive ways, such as leaning back in their chair, blurting out in class or other discouraged behaviors. Therefore, allowing students to release energy by moving and fidgeting reduces behavioral problems without distracting others, he said.
"It's almost like an organized chaos sort of feel," Coy said. "But, it's such a good thing, I think, because they're able to move, get those wiggles out and yet they're still focused on their learning."
Looking to the future, changes have come to school and will continue as technology advances. While no one knows what the future has in store, school will always be school, anyway you slice it.