Ben Burbridge began his journey into saving lives at age 18.
He has been involved with paramedic work for 12 years and been with the Bellevue Fire Department for 10.
Burbridge said separating his emotions from work was hard at first because at 18 it was difficult to understand the totality of what a first responder does.
"People are calling you because they are having the worst day of their life and you got to put everything else on the back burner, focus on them and get them taken care of," he said.
Putting out fires and saving lives is what Burbridge calls the easy part of the job.
"You're just doing things you have already been trained to do," Burbridge said. "All you have to do is follow your training and you're fine."
The time after the call, when the sirens fall silent is when Burbridge said the job gets hard.
Separating his work life from home has not always been easy and Burbridge said he is lucky his fiancee works in a similar environment at the hospital.
"There have been times before where I kind of shut down and she understands why," Burbridge said. "Most of the time I'll just tell her I had a bad night and she understands."
Talking through calls with his fiancee is how Burbridge moves forward.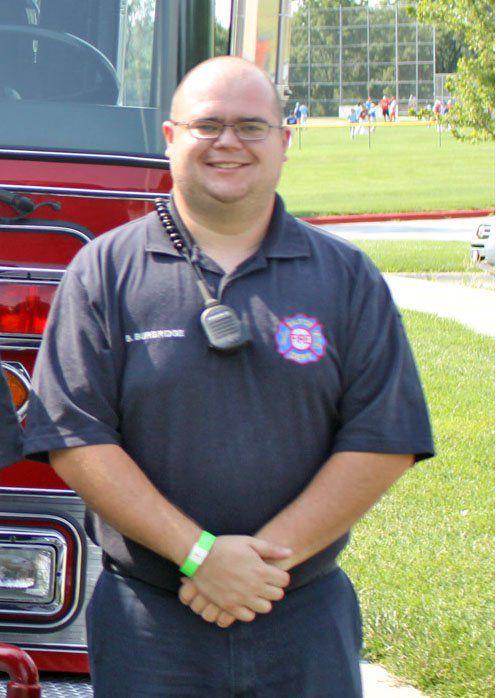 "It's an emotional roller coaster you go through a bit after," Burbridge said.
This year, Sarpy County has seen 20 people die as the result of vehicle-related incidents. Ten of those deaths were juveniles.
According to data provided by the Sarpy County Sheriff's Office, the death total is the greatest number of vehicle-related fatalities in Sarpy County in the last seven years.
In fact, more vehicle-related deaths have occurred this year in Sarpy County than the previous two years combined.
Burbridge pointed out one demographic that hit hard for most paramedics.
"Almost everybody has issues with a difficult call that involves a kid," Burbridge said.
"You don't want to see something bad happen to anybody, but it's almost multiplied when it's a kid because they're so pure and innocent and haven't done anything wrong."
Papillion Fire Chief Bill Bowes said there are three lines of defense aimed at decreasing the cumulative effect calls can have on his paramedics and firefighters.
"Our first line of defense is the crew itself, the second line is our peer support personnel and a third line is the state's critical stress incident stress management program," Bowes said.
The Bellevue Fire Department has a similar bond between crew members that enables it to look out for each other.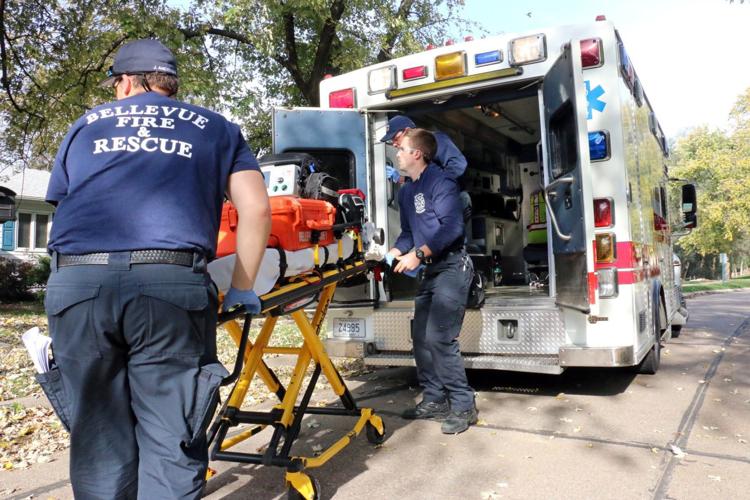 Shari Lentsch, EMS supervisor for BFD, said the department has the option to reach out to the state to assemble a team to debrief anyone involved with a difficult call.
"The fire department is very much a brotherhood, so if there is a crew that was on a call that was particularly difficult these guys are pretty good at keeping track of each other making sure that everybody is managing OK," Lentsch said.
The toll a call can have on a first responder can be high and Bowes said calls can have a lasting impact.
"You carry the call for the rest of your life," he said.
Bowes said dealing with stress on the job does get easier as time goes on.
"My first thought was, no, it gets a little bit harder because there is a kind of cumulative effect associated with the calls," Bowes said. "Yet to some extent, the more you get exposed to calls like that the better you are able handle it."
Burbridge said having somewhere to turn to deal with a first responder's mental health hasn't always been the case.
"Before I started it was more like you have to eat it and that's just the nature of the beast," Burbridge said.
He said that was an unhealthy way of thinking and is glad there was a paradigm shift within the fire department.
"We have a better chance of hurting ourselves than getting hurt in a house fire right now because we had years of not taking care of ourselves mentally," Burbridge said.
Burbridge said as one of the responders that's been on the department the longest, he tries to help the new people out.
"I want to show them that it's OK to be doing this type of stuff in order to have a long career," Burbridge said.