The message was simple Sunday as Bellevue's First Presbyterian Church congregation gathered to celebrate the renovation of its historic church in Olde Towne: Here's to eight more generations.
First Presbyterian held a worship service and celebration Sunday at its historic church to commemorate the restoration of the steeple and other exterior work over the summer.
Built between 1856 and 1858 and added to the National Register of Historic Places in 1970, the church on Franklin Street is believed to be the oldest surviving church in Nebraska.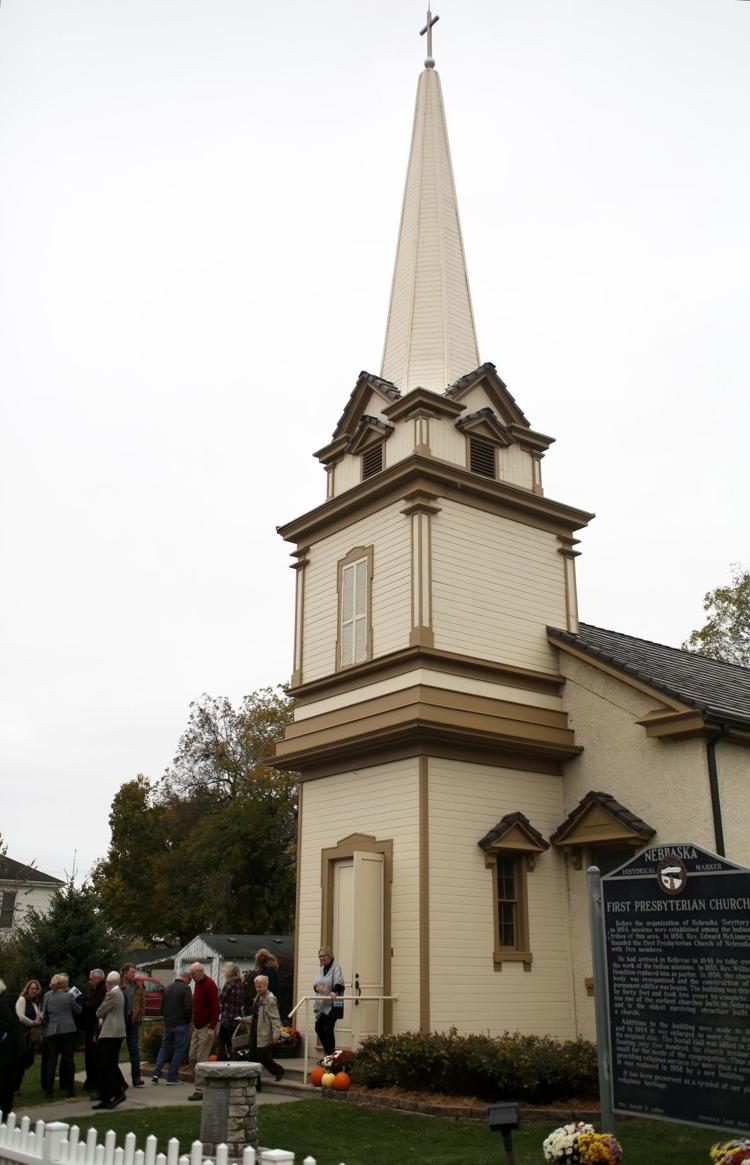 The church's congregation outgrew the space and moved to its current location on Bellevue Boulevard in 1958. Wear and tear on the Olde Towne church had left its steeple in need of repairs, and the city paid $115,000 to renovate the building.
The Rev. Dr. Michael Elliott, pastor at First Presbyterian, led the worship service and praised the congregation for sustaining the church, which has seen eight generations fill its pews.
"We are here to celebrate and to bear witness to the faith that has come before us," he said.
Tom Blazek, a member of the church and emcee for the restoration ceremony, said faith, love and determination sustained the church and the community it served.
"This church and the community have lived, grown and thrived together. It is impossible to separate the two," he said.
Ben Justman, director of the Sarpy County Museum, took those in attendance on a history tour through the church's history, which included Bellevue's ups and downs, tornadoes, revivals and the church's role in establishing Bellevue College.
"It has been the people for more than the last 160 years who have built this historic church, celebrated here, worshiped, and as we recognize today, continue to preserve this historic and cultural icon of Bellevue," he said.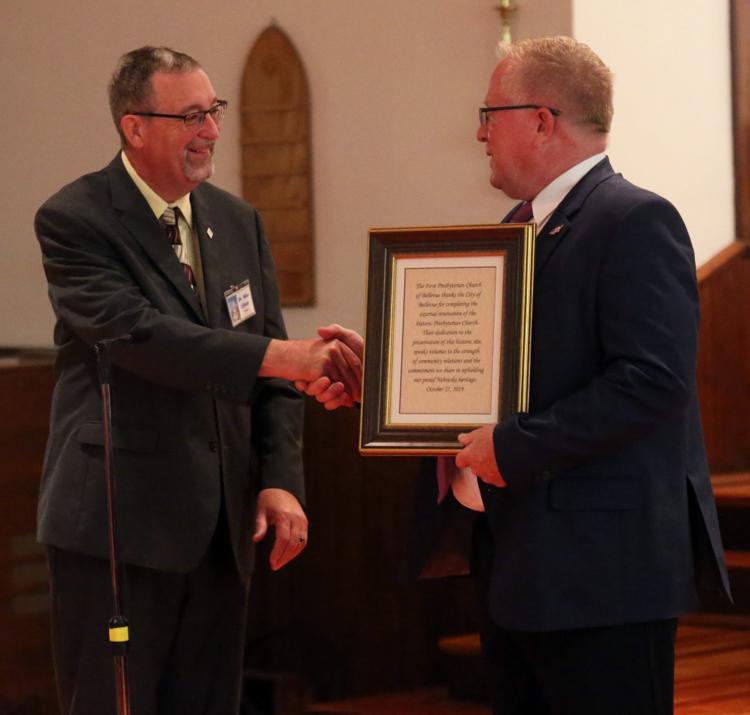 He went on to say, "As a historian, I give thanks to you to keep history alive in Sarpy County."
Becky Berg and Anne Webster, two longtime members of the church, recognized other longtime members and recounted their memories attending services in the Franklin Street church. Lorraine Jeffus of The Questers said she was deeply appreciative of the city for funding the restoration.
Bellevue Mayor Rusty Hike made the final remarks of the ceremony. He said his ancestors arrived around 1890 and joined the First Presbyterian congregation.
He also recounted his memories of standing on the lawn of the church when a time capsule was buried there in 1976.
"I can remember what's in there, I just don't know if I'm supposed to say it," he said. "I'm keeping it a secret."
Hike added he frequently drives by the church and said it was an iconic symbol in Bellevue.
"We need to protect our history and it's the city's job to do that," he said.