Two peregrine falcons were paraded past Mutual of Omaha employees at the company's headquarters Wednesday. Those present were catching a glimpse of birds soon to be set free.
Minutes later, the falcons, about 10 to 12 weeks old, took flight from the building's roof. And just that quickly, the years-long effort to develop Omaha's population of peregrine falcons took another step forward.
The two hatched in May at Mutual of Omaha headquarters, 3300 Mutual of Omaha Plaza.
The young falcons — one male, one female — had unsuccessful first flights in June and were found, either weakened or injured, within five blocks of their nest. Saul J. Lopez, a city planner for the City of Omaha, found one of them, the female.
Lopez, who was picking his daughter up from a restaurant in midtown on June 22, noticed what looked like a bird on the ground near 33rd and Dodge Streets.
"I know a little bit about birds, so I was intrigued," he said. "I thought it might be injured."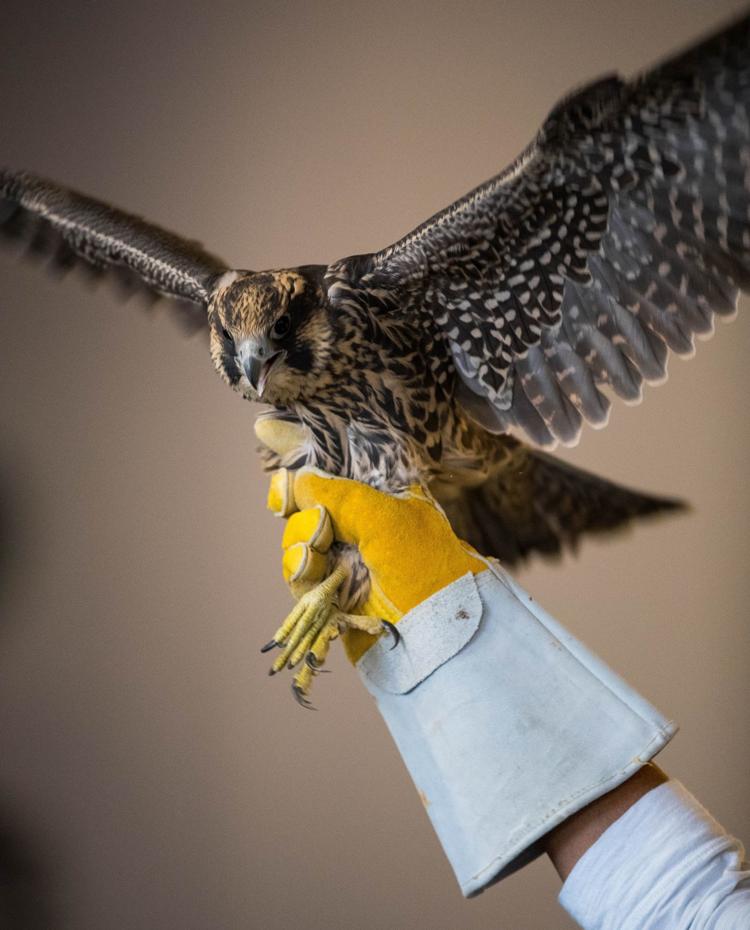 Lopez was lucky, he said, to have a towel and a box in his car. He took the bird home and in the morning called the Nebraska Humane Society, which then took it to Fontenelle Forest, where two other siblings also wound up.
Fontenelle had been nursing the trio back to health for the past three weeks. Denise Lewis, Fontenelle's director of raptor recovery, said Wednesday's flight was "really good" and that both birds not only had a strong takeoff, but also turned around and passed over her.
"(They're) more than strong enough to fly safely," she said.
The third falcon is still with Fontenelle.
The male falcon already has a name, Fowler, in honor of famed wildlife expert Jim Fowler, who died in May. Fowler hosted the TV show "Mutual of Omaha's Wild Kingdom." The other two falcons, both female, will be named later.
They are among four falcons that hatched at Mutual this year. One has already flown off.
Mutual of Omaha's peregrines aren't the first to fledge in the metro area this year. Three young falcons — named Jimmy Falcon, Oprah and Ellen — took flight from Woodmen Tower about three weeks ago.
Lewis said that fledging seven young falcons between Mutual and Woodmen is "pretty darn good." She noted that falcons also are nesting at the Omaha Public Power District's North Omaha Station.
"Whoever started all this, kudos to them," Lewis said of Omaha peregrine conservation efforts. "For this community to have that many peregrines is amazing. We should be proud of that. ... We need to remember how they almost went away, but we can really celebrate all the hard work that people have put into this."
Photos: 106 of our favorite shots of Omaha's Henry Doorly zoo creatures through the years
Through the years, Omaha's Henry Doorly zoo has cared for animals as large as elephants and as small as tree frogs, offering the public a broad look at the earth's biodiversity.