LINCOLN — Nebraska isn't alone in being dissed as a destination for tourists.
But at least one marketing professional says the flurry of publicity created by the state's new edgy tourism motto — "Honestly, it's not for everyone" — may help the state escape the travel cellar dwellers.
"The amount of buzz that's coming out of this, that's what an ad agency wants," said Steve Cohen, a senior vice president with MMGY Global. "They want talk about this. They want people and the travel press to pick it up, to read about Nebraska when they might not otherwise."
Cohen has some expertise in this area. Over the past 28 years, his firm has published an annual "Portrait of American Travelers," which is used by tourist attractions and promoters like the Nebraska Tourism Commission to aim and refine their vacation pitches. The survey quizzes 3,000 recent travelers, selected randomly, with incomes of more than $50,000 a year.
Nebraska ranked at the absolute bottom in the last survey in 2017, sharing the basement with fellow mountainless Plains states Iowa, Kansas, Oklahoma and North Dakota. Only 3 percent of those surveyed said they would consider visiting those states in the next two years.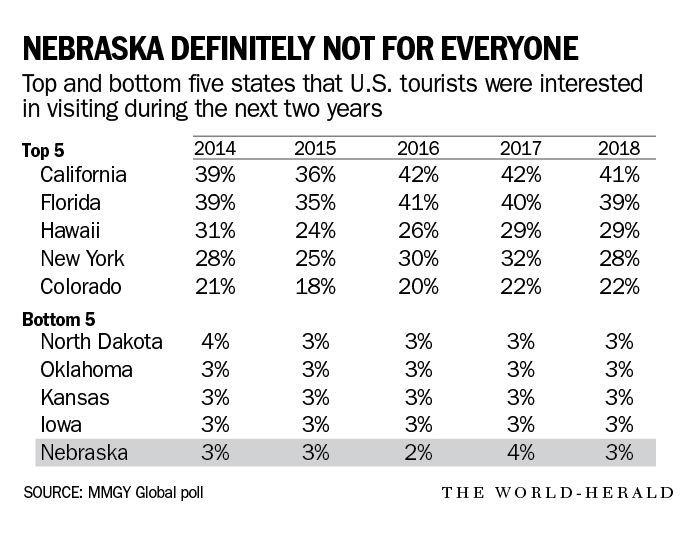 But on Friday, Cohen, from his office in Orlando, Florida, was fielding calls about Nebraska's tourism potential for only the second time in his three-decade career. The state's new tourist pitch was striking a chord for the Cornhusker State in a travel world dominated by states with beaches and ski resorts, like California, Hawaii and Colorado.
"I saw it as, 'Well, that's clever,' " he said of Nebraska's self-deprecating tag line. "It's kind of different, and I like it."
Cohen has been down this road before. A few years back, his firm was hired to handle tourism promotion for Cleveland, which didn't top any list of trendy destinations.
So the campaign sought to turn that notion "on its head" by acknowledging that the city might be the butt of jokes but really was a great place.
The campaign used by Cleveland — "Never mainstream, never meant to be" — landed the Ohio city on the New York Times' list of "52 Places to Go in 2015." It was a first, Cohen said.
Nebraska tourism officials, meanwhile, say the state has lots of work to do to join such a list, though the new slogan continued to hit home runs of publicity last week.
As of Friday afternoon, stories run by media outlets like the Washington Post, ABC News Radio and NPR's "All Things Considered" had reached a potential audience of 460 million people. The hoopla was worth an estimated $4.3 million in free publicity, according to Erin Lenz of the State Tourism Commission.
Lenz said those numbers did not include television reports.
Requests for state travel guides, she said, were three times higher than normal late last week, and traffic on the Visit Nebraska website showed a significant increase.
Nebraska's main problem, according to Lenz and State Tourism Director John Ricks, is one of perception. Travelers, including Nebraskans, perceive that there's nothing to do here, they said.
Travelers don't have a negative perception about the state, they said, but most have no opinion, which creates an opportunity and a challenge.
Jessica O'Riley of the Iowa Tourism Office said her state, as well as the rest of the Midwest, share the same obstacles. Plus, we Midlanders aren't great promoters, she said.
"We're pretty modest, humble people," O'Riley said. "We don't brag about what we have. We're not necessarily our best ambassadors."
But, she said, Iowa has its share of attractions, including the "Field of Dreams" baseball field in Dyersville and the covered bridges west of Des Moines featured in "The Bridges of Madison County."
"We certainly have things to do here," O'Riley said, though Iowa's attractions are more regional in nature, drawing visitors who drive rather than fly.
Ricks said Nebraska will be testing the effectiveness and analyzing the costs and benefits of the new campaign after it is rolled out next year. The first ads, shown only in nearby states, will feature the state's world-renowned sandhill crane migration. The rest of the ads will begin in March and may run into August, he said.
Cohen, the Florida tourism tracker, said marketing can make a difference. A couple decades ago, Las Vegas tried to bill itself as the perfect place for a family vacation, a message that fell flatter than the Platte Valley. But when the casino hot spot changed its pitch to a slightly naughty, "What happens here, stays here," interest took off.
So, Cohen said, Nebraska is not necessarily doomed to trail the tourism pack.
"There's certainly opportunities to move up."