GRAND LAKE, Okla. — Wanda Clark can look out a window on one side of her home and see Grand Lake. She can look at the interior of her home and see stars — the celebrity kind.
Walls are packed with photographs of many famous folks Clark encountered over the years. It's not too much of an exaggeration to say she met everybody who was anybody.
PHOTO GALLERY: See photos of Lucille Ball through the years in a gallery at the end of this story
There are more photos of Lucille Ball than anyone else because she's the person responsible for Clark's "fairy tale."
Those are words Clark used to describe a life and career highlighted by a 28-year stint as Ball's secretary and personal assistant.
An actress and comedienne, Ball died 30 years ago at the age of 77. She was America's laugh-inducing sweetheart in TV's early years. She starred with husband Desi Arnaz in the classic series "I Love Lucy" (a No. 1 show in four of its six seasons) and in follow-up sitcoms that bore her name, including "The Lucy Show," "Here's Lucy" and "Life With Lucy."
Life with Lucy? Clark lived it.
"I love her," Clark said. "She was a very generous and warm and loving person. She treated people that worked for her like family — the crew, the cast."
Clark continues to be part of the family. She said she is still close to Ball's children and, in fact, Little Lucie, alias Lucy Arnaz, has visited Clark at the Grand Lake home with her husband, actor Larry Luckinbill.
"I'm about the only one left who can call her Little Lucie," Clark said.
Luckinbill and Arnaz spent the night. Clark cooked for them.
"I didn't want Lucie to think I wanted her just to show her off, so we didn't even go out," Clark said. "We just stayed here and visited."
What caused Ball's right-hand gal to settle on Grand Lake? One of Clark's sisters, Beverly Boultinghouse, spotted the house from a boat and one thing led to another. Clark knew she couldn't afford to retire in California, so she returned to her home state. In addition to Boultinghouse, who lives on Grand Lake, Clark has sisters in Edmond and Oklahoma City.
Clark grew up in Idabel and Oklahoma City. She worked at Travelers Insurance Co. in Oklahoma City for six years before a sister (the sister's husband was stationed at Vandenberg Air Force base in California) asked if she would like to go west in 1960.
In fairy tale verse, that's about when "once upon a time" started.
"I drove to California with them," she said. "And when they got discharged and headed right back to Oklahoma City, I went to L.A. and started looking for work. I happened to find some really good jobs."
Understatement?
* * *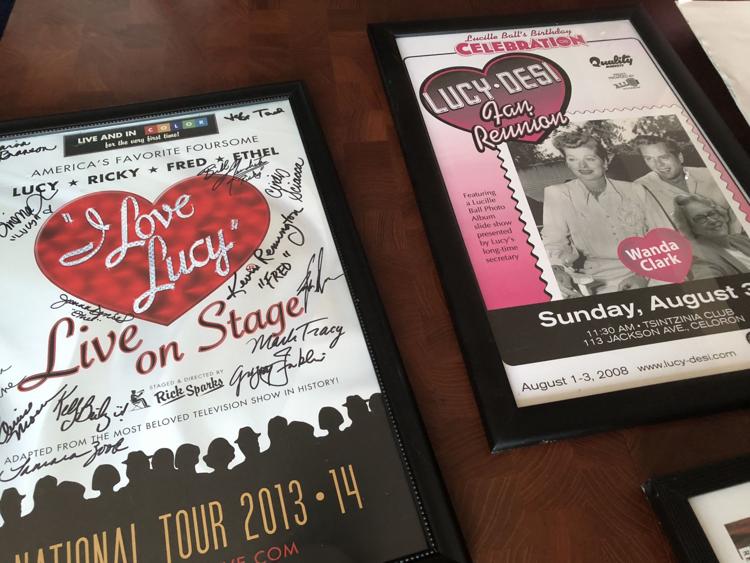 The secretary Lucy needed
Clark took a job at Look magazine, where she worked in the advertising department.
"You remember the show 'Mad Men' on TV?" she said. "That's exactly the way advertising was in the early 1960s. I never saw anyone drink as much as advertising people, but boy, was it fun."
While at Look, one of Clark's co-workers was Cleo Smith, who worked in the publicity department. They became friends, and this would later prove to be life-changing.
Clark left the magazine to work on the TV game show "Queen for a Day." The show was canceled weeks after Clark came aboard. Clark phoned Smith who, by that time, was working at Desilu, the studio founded by Ball and Desi Arnaz.
Smith wasn't just a Lucy employee. She was Lucy's cousin, but they treated each other as sisters because both were raised by Lucy's mother, Dede.
The timing of Clark's call was ideal. Lucy and Desi had split. Lucy bought out Desi at Desilu. A secretary they shared went with Desi. Lucy didn't think she needed a secretary.
"But after a few meetings with department heads, she said, 'Maybe I do need a secretary,' " Clark said.
Smith told Lucy she knew a girl who could do the job. Do you want to interview her? Lucy's response was, "If you like her, she's hired." So Clark got hired sight unseen.
"That's how Lucy was," Clark said. "She trusted her family. And if Cleo liked me, Lucy liked me."
Was Clark awestruck when she started working for the actress?
"I certainly knew who Lucille Ball was, of course, but I had never seen an 'I Love Lucy' show because our family didn't have a TV in the '50s," she said. "I was grown and married and gone before they got a TV."
Clark now is familiar with episodes of "I Love Lucy" and virtually every other Lucy project. She began working for Ball during "The Lucy Show" and has amassed a collection of Lucy-related VHS tapes and DVDs.
Clark, asked if she had secretarial experience before becoming Ball's secretary, said, "No, but I could type and take shorthand. I have never been able to put a job description on my job with Lucy — and a lot of other (jobs with) people over the years."
For instance: "Little Lucie" landed an acting gig in Albuquerque shortly after becoming a mom. Lucy pleaded for an opportunity to take care of her grandchild while Lucie got settled in New Mexico. Lucie consented. But Lucy got sick and her doctor recommended that she avoid flying.
"We had a private plane and everything lined up," Clark said. "So I took the baby to his mother. And I got off the plane and handed him to Little Lucie and got back on the plane and went home. So how do you put that on a resume?"
Because duties are wide-ranging, Clark said secretaries for celebrities now are referred to as assistants. One of her post-Lucy jobs included serving as an assistant to "The Young and the Restless" actress Melody Thomas Scott. But a traditional secretarial skill gave Clark an opportunity to appear in an episode of "Here's Lucy" when a typist was needed.
The job perks, including a front-row seat to entertainment history, were tremendous.
"I would meet Lucy at the car when she pulled on the lot with my folder full of work and a handful of notes, and I would paste them on her steering wheel for her to read on the way home," she said.
"And I would go up and they would have the first table read, then they would go on the stage and get on their feet, and I was right behind her with whatever work I could get together for an excuse to go down to the rehearsal."
The job wasn't 9-to-5, but Clark said that's OK if you've got Lucille Ball for a boss.
* * *
'That's my fairy tale'
Clark said she was "pretty gaga" when meeting celebrities. She said she met just about everybody who was on Lucy's shows and reconnected with Carol Burnett backstage when Burnett performed in 2016 at the Broken Arrow Performing Arts Center.
The list of Lucy guest stars is a Hollywood who's who.
"Lucy liked working with tall, good-looking men," she said. "I think John Wayne did every one of her series."
Dean Martin was Lucy's good friend and a very nice man, according to Clark, but he was used to showing up and quickly singing a song so he could head to the golf course.
"But Lucy made him work four full days (rehearsing) over and over and over," she said. "That's how Lucy worked."
Dick Martin of Laugh-In fame played a recurring character on "The Lucy Show," and Clark said he shared this story at fan gatherings: Jimmy Garrett was the child actor who played Lucy's son on the show. In episodes where the script called for Lucy to give her son a kiss, Martin would let the kid put a cigar in his mouth or have a sip of an adult beverage. When Lucy would get in range for the kiss, she would smell the stogie or the drink and yell Martin's name.
"You shouldn't be giving an 8-year-old kid a drink, but that's him," Clark said.
Desi?
"One time, Desi Arnaz said in an interview ... (that) 'I Love Lucy' was not just the name of the TV show," Clark said. "She just couldn't live with him, but he was really the love of her life."
Ball, after divorcing her real-life and TV husband, married Gary Morton.
Clark gave a guided tour of the photographs on her wall and sometimes told stories about the people in the photos. Among them: Mary Wickes. Bing Crosby. Betty White. Rich Little. Elizabeth Taylor. Richard Burton. Johnny Carson. Little Lucie.
When Little Lucie was in her first play, Lucy loaded up a busload of people — Clark included — and fed them Kentucky Fried Chicken en route to see the play in San Bernardino, California.
Clark said her boss was warm and caring and generous: "She gave me so many clothes of hers. Shoes. We wore the same size shoe. And I wore them out. Had I known celebrity memorabilia was as valuable as it is, I might have saved some. But when she would send the wardrobe lady out to get something for Little Lucie, she would say, 'Get something for Wanda, too.' She would stop and buy me something on the way to work."
Clark said she loves talking about Lucy and could talk about her all day. She previously shared her recollections with John Erling for the Voices of Oklahoma oral history project and, if you listen to it, you'll be treated to a funny Jimmy Stewart story. Clark, who seems to be in demand, said she speaks at service organization meetings and in nursing homes about her friend of 28 years.
Near the end of a recent interview, she said, "Anyway, that's my fairy tale."
Boultinghouse, who sat in on the interview, said she was happy for her sister.
"What a wonderful life with so many adventures and things you don't expect to happen," Boultinghouse said.
"I had a good time," Clark said. "If I hadn't gone to California in 1960, I probably would have retired from Travelers Insurance Co. It would have been a fine life. But it sure wouldn't have been as much fun."
---
Photos: Remembering Lucille Ball
Thirty years ago, actress and comedian Lucille Ball died at Cedars-Sinai Medical Center in Los Angeles on April 26, 1989. Ball was 77. Here are some photos from her career and personal life: