LINCOLN — A "staffing emergency" declared this week at the state's largest prison can't be solved without hiking wages of corrections officers by $3 to $4 an hour to compete in a tight labor market, a leading state senator on corrections issues said Friday.
"It's frustrating to us to see a problem that can be solved by simple economics," said State Sen. Steve Lathrop of Omaha.
A union official told Lathrop and other state lawmakers that the Douglas and Sarpy County Jails regularly lure away state corrections employees with higher wages and less required overtime.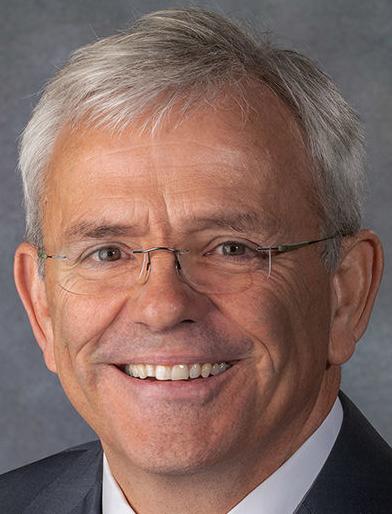 Mike Chipman of the Fraternal Order of Police Lodge 88 said corporals start at state prisons at $18.44 an hour, compared with $21.25 an hour at the Sarpy and Douglas County Jails.
"And we need to raise pay higher than the counties to try and get some of our guys back," Chipman told a panel of state lawmakers.
The comments came at a state legislative hearing to discuss problems plaguing the state's prison system, which include chronic overcrowding, high turnover and record-high overtime expenses to cover vacant posts.
On Thursday, a staffing emergency was declared at the State Penitentiary in Lincoln after weeks of staff shortages forced the prison to frequently cancel family visits, recreation time and rehabilitation programs.
The emergency allowed the state to order all security staff to immediately begin working 12-hour shifts as the state and union work on "long-term solutions" to staffing problems that have left about one in four security posts vacant at the penitentiary, which holds about twice as many inmates as its design capacity of 718.
State Corrections Director Scott Frakes testified Friday that the staffing emergency may last six months and that it will mean two to three hours a day less for inmates to have recreation, group Bible studies or club meetings.
Frakes, like Lathrop, said he couldn't directly raise corrections officer salaries — that's a function of labor contracts negotiated by a union and state negotiators. But Frakes said he can offer hiring incentives, such as the $10,000 hiring bonuses he announced this week for new workers at the penitentiary and some other state prisons. The bonus is more than three times a current incentive, and Frakes expressed hope that it would boost hiring success.
The prison chief didn't respond when asked how high state wages needed to be raised. But when Lathrop, who has visited nine of the state's 10 prisons this year, gave his estimate, Frakes responded: "I appreciate that you shared that."
Chipman, the union official, said a negotiator with Gov. Pete Ricketts' office had reached out to the union this week about discussing amendments to the union contract. In April, the state and union signed a new contract granting immediate raises of up to 12.5% for some veteran staff and providing regular "merit raises" as incentives for workers to remain employed with the state.
Chipman said that while that was a great first step, it hasn't been enough to halt high turnover of security staff, particularly among new hires. Frakes said Friday that the penitentiary had lost 70 corrections officers and corporals in the past seven months. Currently, about 90 of the 350 security posts are vacant, he said.
The prison director disputed that the state was losing staff to county jails. Frakes maintained that excessive overtime and the inability to count on time off were bigger reasons for staff to leave.
He said that moving temporarily to 12-hour shifts, which means working 48 hours a week, would be the equivalent of adding 50 new staff members. Frakes said the state is also planning to hire 40 corrections officers in Omaha and transport them by vans each day to the penitentiary in Lincoln. The state is already paying to transport 80 officers a day to the Tecumseh State Prison, about an hour's drive, to fill vacant posts there.
Friday's hearing before the Legislature's Judiciary Committee also dealt with the use of "restrictive housing," or solitary confinement, which provides inmates with only about an hour outside their cells per day. Recently, a state legislative watchdog reported that Nebraska's use of solitary confinement was much higher than in other states.
Frakes said that on Friday, 326 inmates were being held in restrictive housing. That is a significant decline from 2018, when an average of 404 inmates a day were held in solitary confinement.
Doug Koebernick, the Legislature's inspector general for corrections, said that 326 still represents a high rate of the use of solitary confinement, a practice that can mentally damage inmates, and that 45 of those inmates have spent more than two years in such confinement.
He also said the state has added housing units that fit the definition of solitary confinement, due to the short out-of-cell time, but are not included in their statistics.
Notable crime news of 2019
Read about some of the biggest and strangest crime stories in Nebraska and western Iowa.