An energetic husband and wife veterinary team who say they "don't like sitting around" is adding another chore to their already busy lifestyle: starring on a reality TV show.
The show, "Heartland Docs, DVM," premieres Saturday at 9 p.m. CST on the National Geographic Wild cable channel, and features Erin and Ben Schroeder, Hartington vets who not only nurse local critters back to health but also have restored a number of aging buildings into showplaces.
And they also coach local basketball teams and raise two teenage sons.
In Hartington, a farm town of 1,500 north of Norfolk, they've been compared to the fun, telegenic couple on "Fixer Upper," a reality show about renovating homes in Waco, Texas.
Getting a reality TV show has thrust them into the role of being "ambassadors" for veterinarians, the Midwest and Nebraska.
"What we hope this will do is get people visiting Hartington and really make this a destination location," Erin said.
Think what "American Pickers" and their antique store has done for Le Claire, Iowa, and what Joanna and Chip Gaines have done for Waco with their Magnolia Market store and related businesses. Reality TV tourists filled the American Pickers store when our family visited.
They've also turned a neglected 1901 clothing store into a handsome reception hall and an upscale, upstairs apartment for their family. Two veterinary clinics and two homes have also been fixed up by the Schroeders and their helpers, mostly in the hours after pulling calves and ministering to mutts is over.
There's already been some economic impact in Hartington — the film crew stays at the Hotel Hartington, bowls at the local bowling alley and eats at local restaurants.
Erin Schroeder said that three different production companies contacted them after a World-Herald story about their renovating hobby and veterinarian work appeared in 2018. After the pair auditioned over Skype, one production company came to town and decided that the adventures of a pair of small-town veterinarians was the real "story" to tell.
"They just fell in love with that story," Erin said.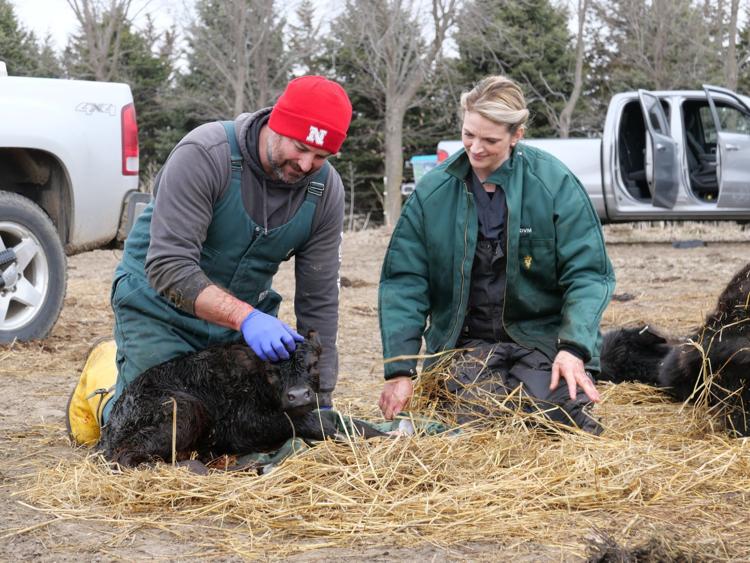 The stars of the show include pigs and a pet goat, along with cows, kittens and other critters doctored by the Schroeders. Their office staff gets some airtime, as do their two sons, Chase, 14, and Charlie, 16.
Erin, a former basketball player at Syracuse University, and Ben met in veterinary school at Kansas State, then took over the practice of Ben's father in Hartington, Cedar County Veterinary Services.
Erin said some adjustments were needed to work in the shooting schedule for the first six episodes of the show, which involved a camera crew following them around six days a week for 12 hours a day over 3½ months.
"At the end of the day, we need to narrate (what happened)," she said. "It really makes our day longer."
So much so that Erin gave up coaching, for now, and hired others to run the hotel and coffee shop.
The show also required some adjustments for the Schroeders' clients, who wondered why three vehicles full of people were pulling into their farmyards.
The couple held a premiere of sorts for the show this week at the Hotel Hartington, and local people who were filmed got to see what the show was all about — the relationships between the vets and their clients, and their animals.
There are already plans to shoot eight more episodes, and hopes that the show may extend beyond season one.
"We feel so honored to be able to do this," Erin said. "To be the ambassadors of Nebraska and the Midwest."
When you sign up for a digital subscription, not only will you have access to all of our coverage, but you'll have a better online experience,…
That was even after Nelson showed up at a town hall meeting hosted by Gov. Pete Ricketts with a sign reading "Please Grant This Car Clemency."
Nelson, who has an auto shop in Wahoo, now has a champion. His local state senator, Bruce Bostelman, introduced a proposal in the Legislature to allow someone like Nelson, who has a car built before 1940 that has a "junk" title to obtain a license to drive the car on state roads.
Legislative Bill 831, despite being about slow, antique automobiles, is on a fast track. A public hearing on the measure was held Tuesday, the first day of such hearings.
Thanks to those who responded to my musings about the lack of an official state dessert in Nebraska.
South Dakota has one (kuchen) as do several other states. Why not Nebraska?
Several readers suggested an apple dessert of some kind, given that so many apples are grown in Nebraska City. Kolaches got some love, as did the cinnamon roll (though one reader said that's no dessert, but a breakfast pastry).
But now we're getting somewhere.
Bayard Sen. Steve Erdman introduced a resolution this month to declare the tin roof sundae served at the Potter Sundry in his Panhandle district as the official state sundae.
The tin roof sundae was created back in the 1930s by Pinky Thayer, the son of the local druggist, who named it after the tin roof in the pharmacy/soda fountain that is a required pit stop, just off Interstate 80.
The concoction of vanilla and chocolate ice cream, topped by marshmallow and chocolate sauces and peanuts already has some standing as Nebraska's top dessert. It was so proclaimed by the Food Network in 2018.
Check out nearly 100 stunning photos of Nebraska
Check out some of the most beautiful images of Nebraska.