LINCOLN — Deb Fischer's family ranches near Valentine, Nebraska. For more than three decades, she has worked with and represented agricultural groups as an elected official at the local and state level and now in the U.S. Senate.
But opponents in her primary and general election contests continue to attack as a weakness her performance on behalf of agricultural interests — a performance that she and outside observers describe as a strength.
Much of her criticism of Fischer concerns Trump's public trade spats with China, Canada, Mexico and Germany, all reliable customers of Nebraska agriculture, which is responsible for 1 in 4 Nebraska jobs.
The cost of such trade disruptions is real, helping shave 15 to 20 percent off of soybean and corn prices in the past two months, said Brad Lubben, extension ag policy specialist at the University of Nebraska-Lincoln.
The fight's timing is bad for farmers and ranchers. Many in Nebraska have been struggling for four years after reaching record highs for commodity prices in 2011 and 2013, Lubben said.
Raybould, a grocery executive, cites those depressed prices, decreasing farm profits and increasing farm bankruptcies as evidence of Fischer's lack of results for Nebraska's most important industry.
She questions Fischer's ability to act independently of Trump or GOP leadership, saying that were she in the Senate, she'd be holding up Trump's appointments, spending bills, doing whatever it took to get action on trade.
"She is not standing up for our agricultural economy," Raybould said in Lincoln at the headquarters of B&R Stores Inc., her family's grocery store chain. "She is not using her authority as a senator to influence the president on trade."
Fischer dismisses such talk as political opportunism by a candidate who is desperate for attention. The senator said she "didn't need a lecture on agriculture from someone playing farmer in new boots."
"The public fully understands my support for agriculture," Fischer said in an interview in Omaha. "I have a record in the Legislature, in communities, in economic development and in the Senate of getting things done."
The three main tools of a U.S. senator are making policy or law, providing congressional oversight and representing constituents, said Randall Adkins, a professor of political science at the University of Nebraska at Omaha.
Traditional approaches to lawmaking are more often successful but rarely newsworthy and harder to see, Adkins said. More aggressive approaches, while less often successful, tend to draw more attention to issues, he said.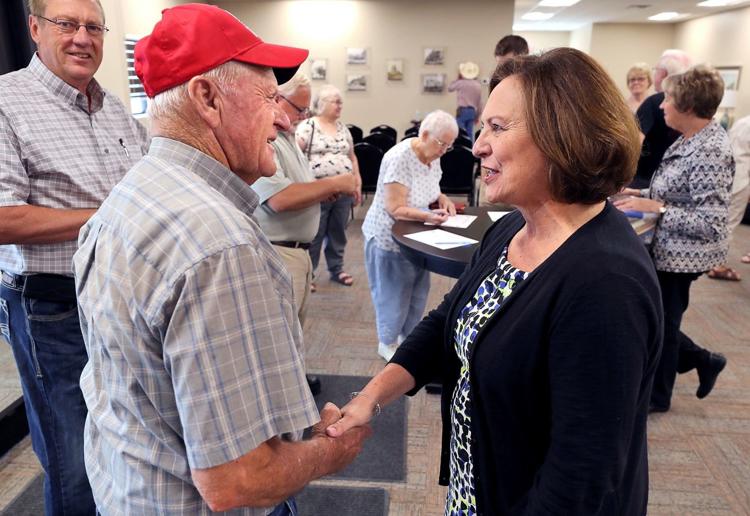 Fischer's legislative record is lengthy on ag and trade. Recently, she's worked to combine multiple federal offices working to promote agricultural trade so people know where to go, what to spend and how to weigh results.
Her re-election bid has been endorsed by the largest farm and agribusiness lobbying organizations in the state and nation. She has hosted the state and federal ag secretaries at her ranch.
She meets regularly with farmers, ranchers and ag groups, including soybean farmers last week. She talks with Agriculture Secretary Sonny Perdue and his undersecretaries, as well as with Commerce Secretary Wilbur Ross.
She says she tells Trump about the tough economic times Nebraska farmers and ranchers are facing and about the economic dangers of trade disputes when ag and industry face fixed costs, including property taxes.
The president recently commented on the plight of farmers, saying they hadn't had a good year in 15 years, which Nebraskans would dispute. He also said he would have their backs in trade negotiations with other countries.
The Constitution, as written, grants the approval of tariffs to Congress, and the Senate, in its design, holds approval rights for trade deals. Congress, decades ago, handed its authority to the executive branch in statute.
Fischer says she stands up for legislative branch prerogatives. She backed Pennsylvania Sen. Pat Toomey's farm bill amendment that would have restricted the president's tariff authority, requiring congressional approval. She was one of 88 senators who approved a non-binding resolution last week asserting the Senate's authority on trade.
But, unlike Sasse, she has yet to publicly express support for any of several standalone bills to restrict presidential authority on trade or to co-sponsor one of the bills, a reticence Raybould says electing her would remedy.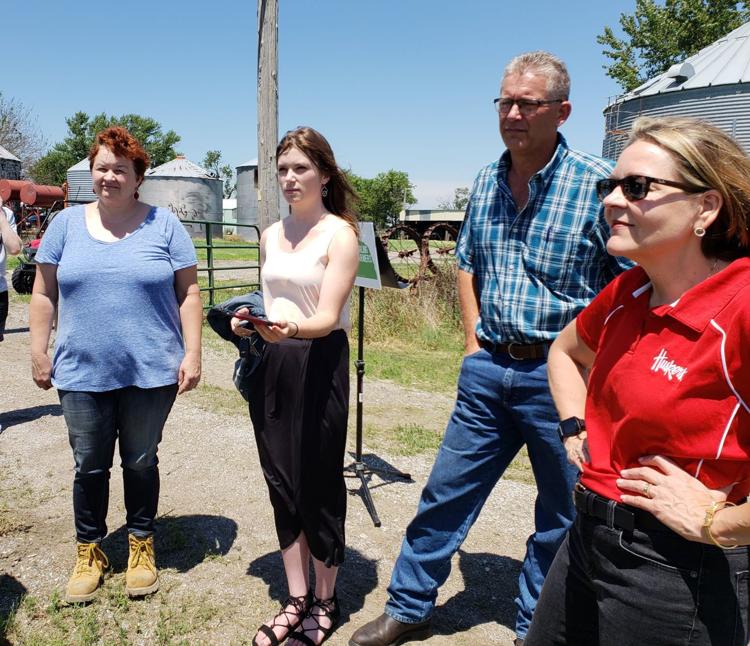 Raybould says Nebraskans deserve more commitment from their senator than statements that bill sponsors have yet to make a compelling case. The threat of a new farm crisis on the horizon should be compelling enough, she said.
Fischer explains her lack of bill sponsorship as a remnant of her eight years in the Nebraska Legislature, when sponsors would sign up to back a bill then see it changed completely in committee or on the floor.
"I only support bills when I know what they say," Fischer said.
Fischer says she won't resort to the "obstructionist" tactics Raybould promises because she says they'll only harden Trump in his positions on trade, not move him, and risk cutting the state off from help producers need.
It's better to have a seat at the table than to throw it over, Fischer said, and Cabinet officials return fewer calls to people who anger the president.
Among the consequences of holding up nominations and federal spending bills, Fischer said, is the potential of a government shutdown, resulting in delayed farm payments or closed extension offices.
Raybould said she wouldn't be immovable. Her model for exerting power as a red-state Democrat would be former Sen. Ben Nelson's negotiations for his vote during the fight to pass the Affordable Care Act, she said. He secured more money for Nebraska, a move Republicans locally and nationally criticized, branding it the "Cornhusker kickback."
More aggressive action on trade and tariffs is necessary, Raybould said, to preserve jobs and markets for Nebraska products and manufactured goods. She said Americans need to maintain relationships with international customers.
Raybould points to Mexico's recent decision to look to South American countries including Brazil and Argentina to replace grains Mexicans order from the United States, including Nebraska.
Fischer "needs to use her authority as a senator, her leverage, every tool in her toolbox," Raybould said. In the grocery business, she said, if she treated customers the way the U.S. is treating buyers, they wouldn't have many.
Fischer pledges to continue to advocate publicly and work behind the scenes for agriculture and agribusiness with Trump, his administration and other members of Congress, including Democrats.
Raybould says she would be more direct and public about her disagreements with Trump, that she would take whatever steps are necessary to advance Nebraska's agricultural and agribusiness interests.
Farmers supporting Fischer have said they understand how Washington works and that making a scene won't do them as much good as having influence.
Farmers supporting Raybould have said many producers have debt and bills to pay and cannot afford to wait to see who, if anybody, wins Trump's trade wars.
The political complication in Nebraska is that many farmers and ranchers wanted the president to pick fights on trade because they didn't believe the old system was fair, said John Hansen of the Nebraska Farmers Union.
His members would like to see both Senate candidates have a more substantive discussion about how trade agreements should be improved. Instead, he said, they're arguing about style and approach.