Every day, Omaha is being forced to dump about 65 million gallons of raw, untreated sewage into the Missouri River.
The putrid flow is expected to continue for weeks, if not months, until repairs can be made to the city's flooded wastewater treatment plant near Bellevue.
The plant typically treats and cleans about two-thirds of what the Omaha area flushes or sends down a drain. But it had to be taken offline in March after floodwaters inundated about half of its buildings.
The sewage discharge is legal because of exceptions under state and federal environmental law for events beyond an operator's control. But officials are concerned about potential health impacts downstream from Omaha.
Until now, three days was the longest sustained stretch that the plant had ever spewed sewage into the Missouri River.
That discharge occurred after the facility sustained tornado damage in 2017. The plant kept operating during the 2011 floods, despite water on the property.
Not this time. Without the plant functioning, sewage has been spilling into the river for more than two weeks, since March 15.
That's in a city spending more than $2 billion to separate its sewers from storm sewers to limit much smaller flows of raw sewage into the river.
Rebuilding the plant to full strength could take two to three months, Omaha Public Works Director Bob Stubbe recently told the City Council.
Sign up for World-Herald news alerts
Be the first to know when news happens. Get the latest breaking headlines sent straight to your inbox.
Restoring even partial water treatment could take a month or more, said Jim Theiler, assistant director for environmental services.
The city's repair timeline could complicate some flood recovery efforts downstream, where health officials worry about exposure to bacteria.
Sewage-related bacteria is most concentrated near the Bellevue-area plant; it must travel about 30 miles downstream, past Plattsmouth, before it is diluted enough to significantly reduce health risks, experts say.
Nevertheless, Omaha and Nebraska officials have warned downstream water systems that pull from the Missouri, including St. Joseph and Kansas City, Missouri.
Those municipal water systems should be able to use chemicals to keep their local drinking water safe, officials say.
Downstream wells inundated by flooding will need to be tested, said Bruce Dvorak, a professor of civil engineering at the University of Nebraska-Lincoln.
Even without Omaha's sewage, the floodwaters would not be safe because of human waste from septic tanks, animal waste and chemicals from farm fields, along with chemicals from urban and suburban parking lots and industrial sites, experts say.
Threats from those contaminants make it hard to tell whether Omaha's sewage is making things worse, said Sheri Bowen, public health administrator in flooded Mills County, Iowa, about 20 miles downstream of Omaha.
But Omaha's prominence in the environmental threat may increase over time, officials said, because the sewer flows are expected to continue weeks after the floodwaters recede.
"If there's flooding, you need to assume there's sewage in the water," Dvorak said. "Anyone downstream no longer needs to assume. They know it (the water) is contaminated."
Exposure of open wounds, mouths and eyes to such water risks infection, said Dr. Mark Rupp, chief of the division of infectious diseases at the University of Nebraska Medical Center.
Still, experts said, there's no reason to overreact. Municipal wastewater treatment plants often have to pump raw sewage into waterways after major floods.
Flooding along the Missouri River in the 1990s forced communities, other than Omaha, to pump untreated sewage into the river. A similar thing happened after Hurricane Harvey in Texas last year.
More than 30 wastewater treatment plants across Nebraska were knocked out of operation for at least a little while after this year's floods, state officials say.
Testing of the river and other waterways by the state, local natural resource districts and others will resume once the flooding subsides, the state says.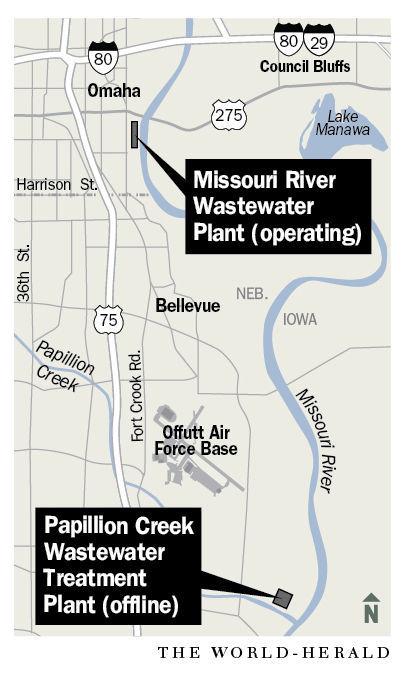 "We don't anticipate any long-term environmental impacts from the discharge," said Reuel Anderson of the Nebraska Department of Environmental Quality. "Really we're going to see more impacts from the flood than we are from this discharge."
Hard as it is to imagine, the situation could have been worse. The city's other wastewater treatment plant, the one just south of the South Omaha Veterans Memorial Bridge over the Missouri River, also nearly flooded.
All that saved the plant from flooding were temporary berms and a whole bunch of sandbags, Theiler said.
It's not yet clear how much repairs to the Papillion Creek plant will cost. The city privately insures the plant and will receive federal disaster aid, Stubbe said.
The Public Works Department gained access to the waterlogged property for the first time this week. They had to drive over a levee because the plant's driveway remained underwater and in need of inspection.
Employees are assessing the extent of damage to the plant's pumps and electrical systems.
From the air this week, the plant still looked like an island. On the ground, the plant "smells like a "septic tank," officials said.
The city is working with the Omaha Public Power District to restore electricity. Workers will have to clean up a gross mess, officials said. They'll bring in contractors soon to rebuild.
Higher levees probably would not have stopped this year's flooding, because so many tributaries of the Missouri River flooded at once, said John Winkler of the NRD.
But the extra protection could have bought more time for sandbagging and temporary berms than the hours plant operators had before they had to shut the plant down for a rising river, he said.
"I think it would've probably still inundated and shut down the plant, but they'd have been able to get back in there faster, and it would've probably done less damage," Winkler said.
The flooding did expose a low spot in the levee system near the plant that the NRD and corps will address, he said. That area could be built higher.
World-Herald staff writer Steve Liewer and chief librarian Sheritha Jones contributed to this report.
Floods devastate Nebraska, Iowa in March 2019