Pretty much everyone says, in theory, that civility in politics is a good thing.
And though it's a vague concept, experienced lawmakers say it's important, that the simple act of treating each other with respect is the only way to start to compromise — and that's the only way to break partisan gridlock and get anything done in a democracy.
Still, it's clear that there's been a rise of incivility around political discourse.
"It certainly feels to me that it's become much more acceptable to engage in incivility when it's politically driven than it has in any other part of life," said Kathy Castle, the assistant chair of the Department of Communication Studies at the University of Nebraska-Lincoln.
What one person sees as incivility another might see as reasonable protest. The civil rights movement, for example, was considered uncivil at the time but is now regarded as resulting in great progress.
But politicians and communications experts said civility doesn't mean agreeing all the time or getting along, but rather treating others with respect even during serious disagreements. And they said, at worst, incivility that gets personal or physical can shake people's faith in the system.
Omaha's congressman, Republican Don Bacon, has made civility a centerpiece of his campaign, and frequently accuses his opponent, Democrat Kara Eastman, and some of her supporters of using vitriolic language.
Bacon belongs to the Civility and Respect Caucus and brought Rep. Salud Carbajal, D-Calif, to Omaha to promote bipartisanship.
And yet earlier this month, Bacon shared a stage with President Donald Trump in Council Bluffs, where the leader of the free world referred to Iowa Democratic House candidate Cindy Axne as "Cindy Tax-Me."
Trump also led a chant of "lock her up," as he often does, in this case about Sen. Dianne Feinstein, D-Calif. This week, the president praised a Montana congressman's assault of a journalist. And of course the president is well known for going after political opponents or others with all-caps tweets.
Bacon has criticized the president's tone but says he supports most of his policies. And he quickly points to protesters who have chased Republicans out of restaurants or thrown drinks on them.
"I just think we've lost our sense of balance on what is normal discourse," Bacon said, adding that he tries to hold himself to a higher standard when it comes to civility.
Bacon believes a lack of civility led to a failure of Congress to pass compromise immigration legislation earlier this year. And more concerning, he said, is that it feeds into Russian efforts to divide Americans.
Eastman, the Democratic former nonprofit executive running against Bacon, said civility is important to her.
"Our democracy depends on bargaining, debate, compromise, conversation and working with people that you may not agree with ... for the common good," she said.
Eastman said she doesn't support acts like throwing drinks in the face of a conservative commentator. And she often says that she promised her teenage daughter that she would not compromise her integrity in order to win a campaign.
But she also said a private citizen throwing a drink isn't on par with Trump's actions.
"I think that we are in dire times," she said. "In my lifetime I've never seen this kind of uncivil rhetoric coming from the president of the United States. And I think that anyone who thinks the parties are remotely equivalent on this, it's treating the president as if he's not the president of the United States. We have to take that really seriously right now."
Some proponents of liberal candidates and causes see calls for civility as a way to suppress protests.
Aaron Duncan, a professor in the Department of Communication Studies at UNL, said the rise of the Tea Party in 2010 led voters on the right to insist on candidates who refuse to compromise. Now, he said, the left increasingly wants similar attitudes from its Democratic candidates.
He said primary elections encourage that, because a smaller number of more passionate voters on each side choose the party's eventual nominee.
And the increase in incivility on both sides leads a lot of potential voters to tune out because it's hard to sort through the noise.
"They're unable to differentiate," Duncan said. "They no longer know where to go to get neutral factual information and it's easier not to think about it."
A new CBS News Battleground Tracker poll this month showed that 84 percent of registered voters surveyed say the overall tone and civility in politics are getting much worse.
U.S. Sen. Ben Sasse, R-Neb., penned a new book on the topic called "Them: Why We Hate Each Other — and How to Heal." His advice, in short: build stronger connections with family, friends and community so we don't have to rally against common political opponents to feel part of a team.
Incivility often comes not from candidates but from outside groups, and it's not confined to federal politics. The issue of civility came to a head at a recent forum, when Democratic state legislative candidate Machaela Cavanaugh talked about Nebraska Republican Party-funded mailers that criticized her.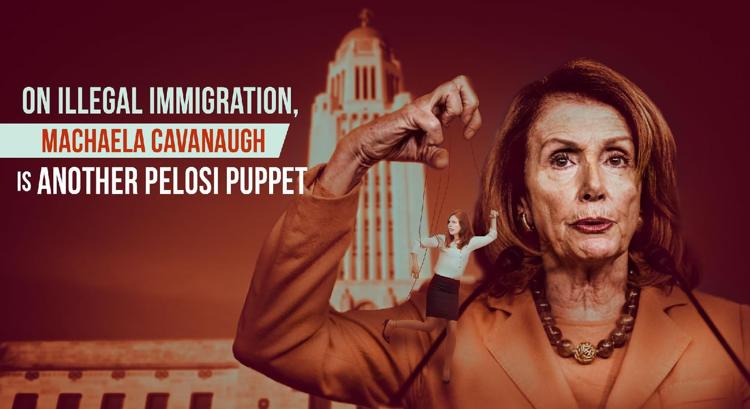 The mailers mention her husband's position on the board of an immigrant organization, have Cavanaugh's face on another woman's body and show a giant Nancy Pelosi using Cavanaugh like a puppet. The general theme is that Cavanaugh is too liberal on issues like taxes and immigration.
"I don't think that we, as a society, have to accept that this is normal," she said in a later interview.
Kenny Zoeller, the executive director of the state Republican Party, called the mailers "factual contrast pieces."
At the forum, Cavanaugh's opponent, Republican State Sen. Theresa Thibodeau, apologized to Cavanaugh. She said that someone had come to her house while her children were with a babysitter and stomped on a yard sign with her name on it, scaring the kids.
"This is not how we campaign in Nebraska and we need to campaign on our qualifications," Thibodeau said.
Craig Moody, a Democratic member of the Omaha Public Power District board, campaigned on a platform of clean energy and now, as a board member, he's working with colleagues with competing interests. And he said civility is the only way that several people with sometimes opposing views can come together on a compromise.
That compromise, however, means that the voters who voted for a clean-energy candidate might not get everything they want from the final deal.
"The tension for me is really about the balance between making progress and keeping a certain constituency happy or keeping everyone happy," he said. "One of the things I've learned is you can't have both."
Castle from UNL said incivility comes when each side identifies the other with the most extreme parts. For example, Democrats tying all Republicans to white supremacists or conservatives associating anyone who leans left with the antifa movement.
The solution, she said is "creating space where it's OK and expected and actually considered valuable to have a difference of opinion."
Former Nebraska Sens. Bob Kerrey and Chuck Hagel are giving a talk on civility Monday at UNL.
In interviews, the two agreed that civility is an important part of the legislative process, and a rise in incivility has led to an undermining of American institutions. Civility allows room for compromise, they said, which is how things get done.
Hagel called civility "an essential glue that holds together societies."
"If the purpose and efforts that go into supporting your candidates and your party is just about power, then you fail your country," he said. "Yes, you need power just to get things done, but I think it needs to be bigger than that."
To understand that incivility is not new in American politics, one has to look no further than the hit musical "Hamilton."
Not to spoil the ending, but in "Hamilton" (and in history books) Vice President Aaron Burr shot Alexander Hamilton, his political rival, to death in a duel in 1804.
In 1856, South Carolina Democratic Rep. Preston Brooks attacked abolitionist Massachusetts Republican Sen. Charles Sumner on the floor of the Senate with a walking cane in a beating that almost killed the northerner.
"We've always had a disagreeable streak in us," Kerrey said.
To him, yelling or speaking harshly to the point where you have to apologize — those aren't the problem with politics today. Kerrey said his concern is lies or exaggerations designed to lead Americans to believe things that aren't true.
"Incivility in the pursuit of destabilizing our democracy, that's what I object to," he said.
Kerrey, a Democrat, said the president "gets a lot of credit" for the rise in destabilizing incivility.
Hagel, a Republican, said that Trump is a product of the incivility that already existed.
Perhaps they can show the audience Monday how to disagree without being disagreeable.