Nebraska and Iowa continue to reel from rising floodwaters that have devastated towns and crops and taken lives around the state. Get the latest updates from The World-Herald below.
Road opened into Fremont
Highway 36 into Fremont is open to one-lane, the Nebraska Department of Transportation said Monday. Traffic will be directed by a pilot car.
Some local and county roads still may  remain impassible, officials said.
Fort Calhoun nuclear storage called safe by OPPD
OPPD is decommissioning and deconstructing the former nuclear power plant north of Omaha that saw significant flooding in 2011, and the parts that remain have been protected from Missouri River floodwaters with artificial barriers and sandbags, officials said. 
The fuel sits inside steel-lined, air-tight, waterproof concrete casings on the pad.
You still can't drive from Omaha to Valley/Waterloo
People still can't drive between Omaha and the towns of Waterloo and Valley, Douglas County officials said Monday afternoon. County crews are working to clear debris from the roads, officials said, but they still are not safe for travel.
>> Waterloo and Valley residents are encouraged to register on the Nextdoor app either on mobile devices or on the website, www.nextdoor.com. The Douglas County Emergency Management Agency will use this app to send out key messages in the coming days to those who live in the affected areas.
>> Anyone with concerns about pets in flooded areas can contact the Nebraska Humane Society at 402-444-7800. The humane society was headed to western Douglas County on Monday with rescue personnel to check on animals.
>> Any affected people with unmet needs can contact 211 for assistance, officials said. Family reunification needs also can be directed to 211.
In addition, officials with the Metropolitan Utilities District said drinking water provided by MUD continues to meet all state and federal standards. MUD is monitoring conditions on the Missouri and Platte Rivers and at all of its facilities.
Water starting to recede at Offutt 
Tech. Sgt. Rachelle Blake said water has moved east about 10 feet since Sunday morning. But none of the 60 structures that flooded over the weekend — including the 55th Wing headquarters and two large aircraft maintenance hangars — are yet accessible.
Little change in the water level is expected before Thursday.
Rural Columbus woman dies
An 80-year-old woman has died after rescue teams were unable to free her from her home in rural Columbus. The Platte County Sheriff's Office said Monday that officials had learned that 80-year-old Betty Hamernik was trapped in her house by floodwaters from the Loup River on Thursday.
Rescuers from Lincoln's Urban Search and Rescue Water Rescue Team were unable to get to Hamernik because of the fast current, high waves and wind gusts of 60 mph, according to the sheriff's report.
Getting the bigger picture of extensive damage
A view from above — way above — can show the catastrophic, almost unimaginable extent of the devastation.
In these before-and-after visuals, using imagery from the EU's Sentinel-2 satellite, you can see whole Nebraska towns fall victim to the floods. Waters rise, trapping communities, and the previously identifiable river banks disappear into a hazy mass. Here's one example, showing the Omaha area: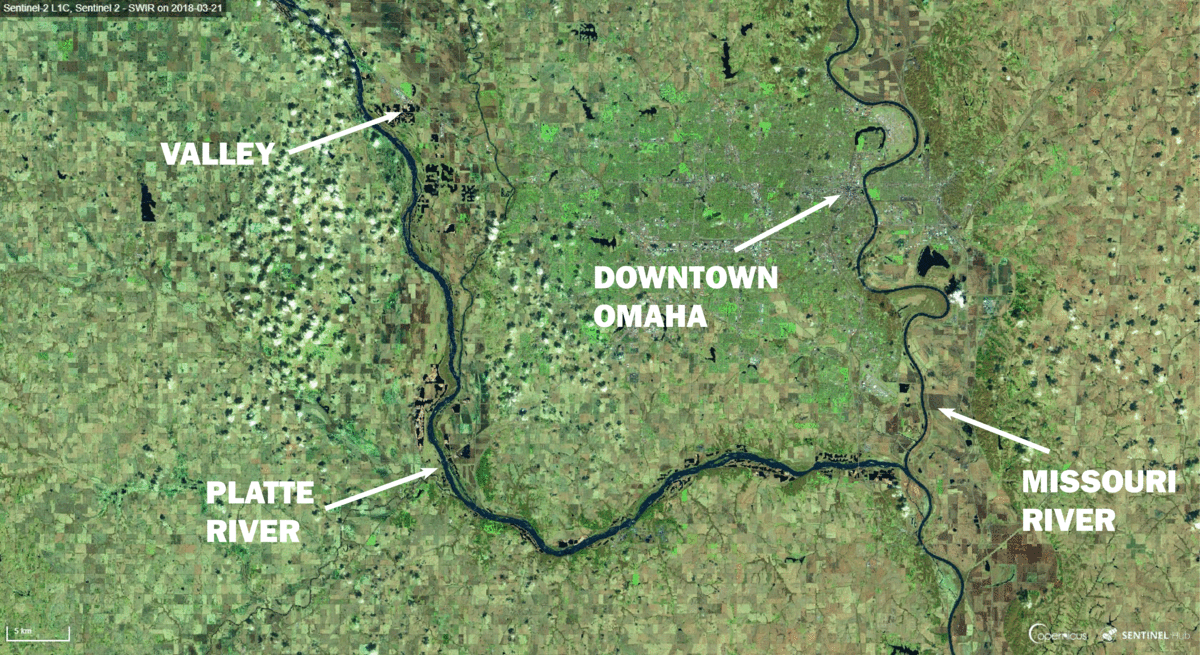 Elkhorn River receding near Waterloo
The Elkhorn River at Waterloo was receding Monday and should be below its flood stage of 14 feet by 7 p.m., according to the National Weather Service. The river depth was measured at 18.36 feet at 6:15 a.m., over 6 feet below the crest of 24.63 feet just 24 hours earlier.
The Missouri River at Omaha was at 34.17 feet at 7:15 a.m. Monday, according to the weather service. Flood stage is 29 feet, and it is estimated it will be Saturday before the river falls below that depth. 
Platte River crests at Louisville
The Platte River crested at a record 13.75 feet at Louisville, the National Weather Service said. It's now in minor flood stage there. At Leshara, it crested at a record 12.6 feet and also is in minor flood stage. The water is quickly receding at Louisville and slowly receding at Leshara, the weather service said.
Commute to Omaha area slowed
Commuters heading to Omaha or surrounding cities took much longer to get to work Monday because of roads closed by floodwaters, and some people weren't able to make it to work at all. Click here for more.
Motorists who ignore barricades could face charges
Rain in the forecast, but river levels should continue to fall
As of Monday morning, the weather service forecast about 0.10 of an inch of rain for the Omaha area during daylight hours Tuesday. The system is expected to produce about half an inch of rain in southeast Nebraska near the Kansas border.
Amount of damage to roads called 'alarming'
As floodwaters recede, officials with the Douglas County Emergency Management Agency will focus on assessing the damage left behind.
"The amount of road damage in this short time has been alarming," said Paul Johnson, director of the agency. "During the 100-day flood of 2011, we expected (widespread) damage, but the amount of damage we're seeing (now) is surprising."
Three factors contributed to the damage to roads, he said: widespread flooding, a fast current and low temperatures.
"Those things all combined and (the flooding) came upon us quickly," Johnson said. "We also had frozen soil, heavy snowpack in the mix for a disaster that we hadn't seen before."
Before officials can assess the damage, they need access to affected areas.
"We need to be able to see what repairs are needed," he said. "Then we can get started."
Johnson said affected homeowners, when they are allowed back in, can help themselves by documenting the destruction with photos. Insurance adjusters, he said, can learn a lot from photos.
Bridge collapse closes highway
U.S. Highway 275 is closed between Wisner and Beemer as a result of a partial bridge collapse. The closure is expected to be lengthy as a result of bridge damage, state transportation officials said.
Highway 275 is, however, open from O'Neill to Wisner.
Pacific Junction, Iowa, grapples with widespread flooding
Many people in Pacific Junction, Iowa, packed up and evacuated Friday and Saturday. The town began flooding Sunday night.
Postal deliveries pick up 
The U.S. Postal Service was resuming deliveries Monday in some of the areas hit by flooding, while service in other areas remains restricted or suspended. 
Deliveries will resume in the Nebraska cities of Beemer, Elba, Ericson, Ewing, Gibbon, Hoskins, Niobrara, Norfolk, Pleasanton, Schuyler, Spencer, Wood River and Staplehurst, a Postal Service spokeswoman said. Service also will resume in Missouri Valley, Iowa and P.O. boxes in Cedar Creek.   
Retail service — but no deliveries — will be available in Pacific Junction, Iowa. In Nebraska, Cedar Bluff, Craig, Hooper, Scribner, Staplehurst and Uehling will have retail service but no deliveries. 
All operations are suspended in Nebraska for the cities of Fremont, Cedar Creek, North Bend, Plattsmouth, Winslow, Nickerson, Waterloo and Valley. Operations also have been suspended in Hamburg, Iowa.
Live updates via @OWHweather
Photos: Major flooding hit Nebraska and Iowa towns in March 2019