SHELTON, Neb. — Zion Lutheran Church sat on the southeast corner of the intersection of Sioux and Grand Island Roads, north of Shelton, at the top of the hill.
"It was a landmark," said Ron Meyer Sr. of rural Shelton, which is east of Kearney.
The landmark went up in smoke Wednesday morning.
Firefighters were called to the scene at 53125 Grand Island Road after a report of a structure fire at 7:05 a.m. At 7:12, the church was reported to be engulfed.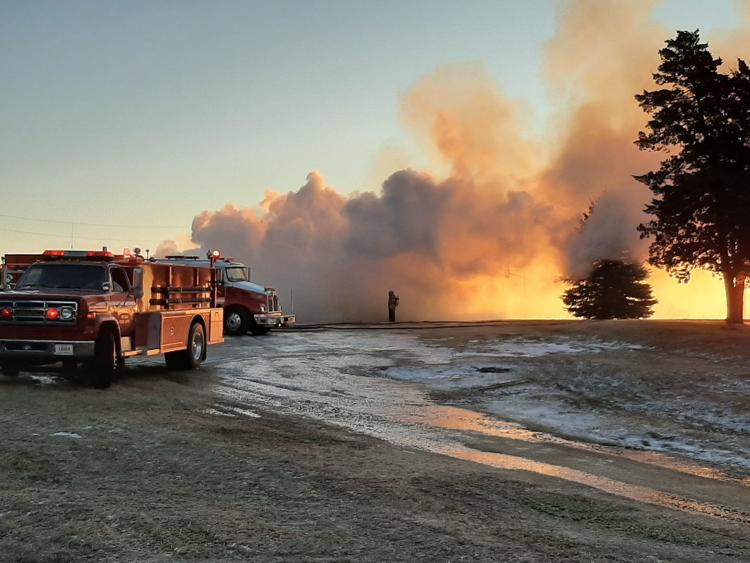 As the smoke diminished around 9:30 a.m., a few remnants of the church were visible, including the metal railing along the front steps, a metal basketball hoop and a swing set behind the church.
Though the church is being considered a total loss, firefighters were able to salvage one piece: the steeple.
The cemetery just to the east of the church remained unharmed, but most of the building now is gone.
Meyer and his wife, Opal, sat in their pickup at the church grounds watching firefighters put out the blaze. The couple was married in the church 64 years ago.
"It's hard to see," he said.
A lifelong member of the church, Ron said he grew up just an eighth of a mile from Zion Lutheran.
The church is said to have 50 members with an average Sunday attendance of 30.
The church's first congregation was reportedly organized in 1885.
Photos: Our best shots of 2019 (so far)
Take a spin through the best of our staff photos from 2019. The gallery will be updated throughout our journey through the next year.