The brand-new sportsbooks at Iowa casinos put up big numbers in their first 3½ months of operation, fueled in part by Nebraskans crossing the border to place bets that are illegal in their home state.
More than $152 million worth of bets were placed at the 19 state-regulated casinos across Iowa between Aug. 15 — the date legal sports betting commenced — through the end of November. In gambling parlance, that's called the "handle."
The handle is close to what some analysts predicted for the entire first year, said Keith Miller, a professor of gambling law at Drake University in Des Moines.
"It's a new activity. People are trying it out," Miller said. "Even if the pace would slow down, it could be a $250 (million) to $300 million (first year) handle."
The gusher of sports wagers has added more than $1.1 million in tax revenue to Iowa's state coffers so far.
The three Council Bluffs casinos (Ameristar, Harrah's and Horseshoe) racked up $26.6 million in sports wagers. Half was bet at Ameristar, and the other half at Harrah's and Horseshoe, which are both owned and managed by Caesars Entertainment.
Ameristar's $13.3 million handle was the largest for in-person betting in the state. Paul Czak, Ameristar's general manager, attributes that in part to the $750,000 spent on upgrading its steakhouse into a full-scale sports bar, plus betting windows and kiosks.
Sign up for The World-Herald's afternoon updates
Receive a summary of the day's popular and trending stories from Omaha.com.
"It's in the bars and restaurants, where we made all the investments," Czak said. "I'm really happy with our numbers."
Samir Mowad, who manages Harrah's and Horseshoe, said wagering revenue is about what Caesars projected when the two casinos' sportsbooks opened. Football weekends have been busy. Weekdays, not so much.
"It's been good, but not overwhelming," Mowad said. "In some ways, it's been exactly what we expected."
The largest number of bets — by far — were placed on Nebraska football, Mowad said. The team's disappointing season was a boon for the casinos. Nebraska covered the spread in only three of its 12 games. In the nine others, the house won.
Czak said the biggest day of the year was when Nebraska and Iowa squared off on the day after Thanksgiving.
"The room was packed the whole day," he said.
The Bluffs casinos are just across the Missouri River from Omaha, serving a market made up mostly of Nebraskans — who, under state law, must place their bets from within Iowa's borders even when using a mobile app on their cellphones.
Neither Ameristar nor Harrah's/Horseshoe has yet developed a mobile app, though both have said they plan to introduce one sometime next year. For now they rely on customers who come in and place bets in person.
As a result, the casinos have built areas catering to casual bettors, who come in to place bets while watching games and grabbing snacks or a meal.
"The sports environment with the book is really helpful," said Brendan Bussmann, a former Nebraskan who is a partner in Global Market Advisors LLC, a Las Vegas-based gambling and entertainment consultant. "It's about having fun and spending money on food and beverages."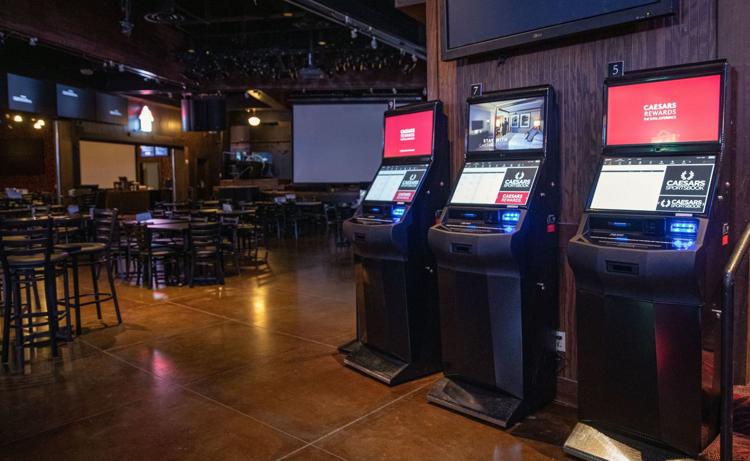 Mowad said a casual bettor who comes in to spend a few hours watching games and wagering small amounts is more valuable than a serious bettor who stops by, drops a large wager at a betting kiosk, then leaves.
"Having them stay, eat, drink, hang out, I'm going to make more money," Mowad said.
Despite the attention paid to sports betting since the U.S. Supreme Court tossed out congressional restrictions on it in May 2018, it is small potatoes compared to the cash brought in from other forms of casino gambling.
In November, for example, the handle on sports betting in Iowa casinos was $59 million. Bettors playing slot machines spent $1.1 billion. An additional $63 million was spent on table games like poker and roulette.
"The casinos view (sports betting) as being an amenity," Miller said. "It's a drop in the bucket compared with overall revenue."
Bussmann said sports betting will certainly grow once more casinos add mobile apps so bettors can place wagers using their smartphones. So far, only six of 19 casinos have them.
He points to Prairie Meadows Racetrack and Casino, near Des Moines, which had pulled in $56.3 million in sports bets by the end of November, more than one-third of the statewide total. (Ameristar Council Bluffs' $13.3 million total was second.) More than $50 million of the Prairie Meadows handle was bet via the Internet.
"Prairie Meadows highlights how much mobile makes a difference," Bussmann said. "As mobile products continue to go online, that revenue is probably going to continue to grow."
Iowa's sports betting law requires online bettors to visit a casino in person to set up an account — but only until Jan. 1, 2021. Then Iowans can set up online accounts from home.
"There's going to be incredible competition," Miller said. "Six months after that, we'll have a very good sense of what the market is."