Russell Hathaway found his cat, but the future still holds so many unknowns for him and the town of Pacific Junction, Iowa.
Last Saturday marked the first time that some residents could officially return to their flood-swamped houses since everyone was evacuated one month ago during record flooding. The final mandatory evacuation order was lifted Thursday, putting Pacific Junction's recovery behind other affected communities where water receded weeks ago.
Now residents, just beginning the long and arduous cleanup, are weighing difficult decisions: Do they stay and rebuild, or cut their losses and relocate to higher, drier ground?
"I've seen tornadoes, I've seen fires, I've never seen anything like this mess," Hathaway said as he stood in the ruined living room of his rental home. He still has to trudge through 3 to 4 inches of stinking, standing water to reach his front door.
Pacific Junction sits just southeast of the confluence where the Platte and Missouri Rivers meet. One firefighter described the city as shaped like a cereal bowl — as nearby levees failed, water came pouring in, reaching 6, 7, 8 feet in some houses and businesses.
Mayor Andy Young said no buildings were spared — the grimy high-water marks on so many buildings pay testament to that.
Electricity and running water is still cut off, and only the south side of town is open to traffic. Water remains on the east side, where eight out of nine city pumps are still working to bring water levels down.
"Could you smell it when you came in?" resident John O'Connor asked. "My granddaughter said it smelled funky."
Most homes have green tags that say, "Enter at own risk." Young said those are preliminary assessments and no homes have been condemned.
With fewer than 500 residents, any population loss will be keenly felt in Pacific Junction. The town's demographics already skew older than the rest of Iowa, according to U.S. census figures.
"You lose a quarter of the population … the houses aren't on the tax rolls anymore, you lose your foundation," O'Connor said.
The Glenwood Community School District draws students from Glenwood, Pacific Junction, Mineola and Silver City. Nearly 140 students were displaced from their homes due to flooding, Superintendent Devin Embray said in an email.
"We are trying very hard to keep them in our communities," he said.
Wearing donated jeans, rubber boots and a disposable face mask to protect against mold, O'Connor said he keeps going round and round in his mind.
"I'm divided," he said. "I don't know if I want to undertake this."
Sign up for World-Herald news alerts
Be the first to know when news happens. Get the latest breaking headlines sent straight to your inbox.
He and his wife bought flood insurance after the Missouri flooded in 2011. Pacific Junction stayed dry then.
But that was before the floodwaters of 2019 forced open the doors of his garage. Now, as volunteers with nonprofit Team Rubicon pried up muddy floorboards and swept up broken tiles inside, O'Connor, the retired Glenwood police chief, crunched over the corn stubble littering his yard and listed off all the improvements he and his wife had made to their home built in 1876.
There was the bamboo flooring. The new siding (worth the investment considering how it held up to fetid floodwaters, O'Connor had to admit).
There was the landscaping, the garage, the fence, the custom kitchen cabinets and the high-powered gas stove that O'Connor called his pride and joy. It was now sitting at the curb, along with nearly all his clothing and a pile of soggy drywall from which a garter snake slithered.
While the first floor had been taken down to the studs in less than two days by the volunteers, the second floor was eerily untouched. Curtains fluttered in the breeze, the carpet was pristine and photo albums stashed upstairs in a hurry when the evacuation order was issued were still piled on a guest bed.
He and his wife are staying with friends in neighboring Glenwood, where he said the town's residents have been welcoming. Right now, he's considering parking a camper in his yard and living there during the rebuild — if that's what he and his wife decide.
Young, the mayor, is optimistic. He knows the town may lose some people, especially renters who sign new leases elsewhere. He estimates that about 70 percent of residents own homes there, versus 30 percent who rent.
But others will choose to renovate or rebuild.
"A lot of people down here in this town have a lot of heart," said volunteer firefighter Andy Roker, who lives in Glenwood but owns a towing business in Pacific Junction.
He and other firefighters hosed off mud inside the fire station as a truckload with 20 pallets of donated bottled water arrived. Workers and volunteers from organizations including the American Red Cross, Southern Baptist Disaster Relief and State of Iowa Incident Management Teams checked in with residents and Young, who took call after call on his flip phone. (He doesn't text.)
Jason Andrews, who's with the Iowa team, lives in Cedar Rapids, Iowa, which flooded badly back in 2008. Arriving in Pacific Junction, "it was déjà vu," he said. "Literally, the smells, the sounds, what we saw, the emotions of the residents."
After about five years in Pacific Junction, Hathaway is done.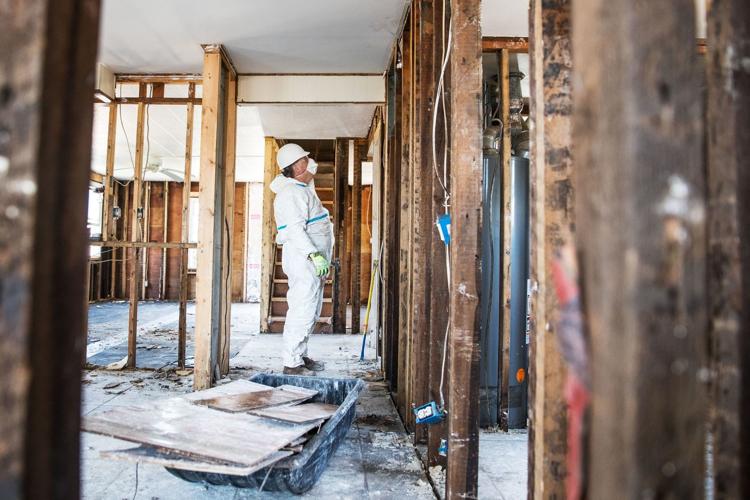 He has bad arthritis and receives disability benefits. His wife is a double amputee. They're now living in another rental in Glenwood.
"It's a nice little town, but the damage done to my place, if it's half as much as anyone else had, they should bulldoze it," he said.
Like a blender, floodwaters scrambled the interior of his house. The TV is on the floor. Classic rock records are scattered about, a step stool balances precariously on the corner of a mirror on the wall and Hathaway found a kitchen measuring cup on his shower rod. Most everything is covered in a layer of muck. The couple is applying for FEMA aid, and Hathaway can only hope they get something to offset the cost of all they have to replace.
And yet, he was able to rescue for his wife a little crystal perfume bottle shaped like a genie's lamp that sparkles iridescent in the sunlight, kept safe inside a china hutch. A photo of her grandmother was retrieved.
Against all odds, their cat Toast was found stuck in a bedroom, hungry and dehydrated but alive, one month after the couple fled.
Volunteers with Muddy Paws Second Chance Rescue had grabbed Hathaway's two other cats after he and his wife had trouble corralling them during the evacuation, but Toast proved elusive.
"When I came in, I expected to find my cat dead," Hathaway said. "It's amazing."
World-Herald photographer Chris Machian contributed to this report.
Photos: Residents return to Pacific Junction after flooding